Your Fiji Airways experience will, inevitably, start at booking. And the new Fiji Airways website is vastly better than the old Air Pacific one. Sure, it won't tell you basic stuff like food on board or movies, but it will at least let you see the aircraft you are booking onto, and indeed the price differential between economy and business class, and show the price difference between different days.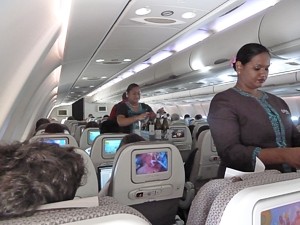 Fiji Airways The inflight meal trolley
Indeed, it will almost zealously try and encourage you to upgrade to Business Class on the page after you book flights: this can sometimes be a very good deal.
Then, when you try and book seats, you'll have to deal with the Fijian Call centre. This may be the first time you get to experience Fiji Time. It can help if you look online to check you can get exactly what you want.
The second chance to upgrade comes at check in; here, all the regulars know to ask the question "are you selling space-available upgrades to Business Class". It can be much cheaper to upgrade at check in than when booking, but of course you aren't guaranteed a seat. More about 'checkin upgrades' here.
Check in itself varies between airports. In Australia Qantas staff handle check in their usual professional way. In Hong Kong Cathay staff are brought in. But in the Nadi hub, it's purely Fiji Airways staff, and here there can be organised chaos, particularly if the flight from the day before has been delayed until today, or worse, tomorrow. There are two check in lines - for Business and Economy. However in Business it seems that every Fijian passenger brings in their entire family to the check in line to wave them off: there can be a lengthy wait as they debate to exact seat they want. Mind you, your mileage can vary, and it can be a breeze or a right pain in the backside.
The same comes for the almighty rugby scrum that is boarding the aircraft: there should in theory be two lines for Business and Economy, but these are rarely policed.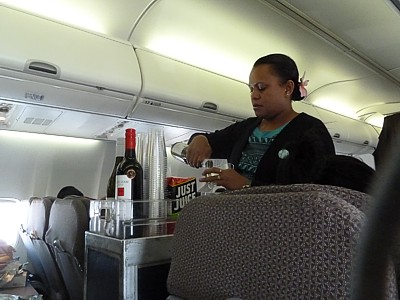 Fiji Airways The drinks trolley
Fiji Airways Economy Class Experience
Fiji Airways Economy Reviews show the class is just that: you get a seat, a seatback TV on the Airbus aircraft, and a small quick snack. That's it. Headphones for the IFE are in your seatback pocket.
On the A330 once the flight is in the cruise the crew will come around and ask if you want to pay to have the full set of movies on the Fiji Airways Inflight entertainment system (the Bula Bundle) rather than just the one free complementary film. It's rare for there to be too many takers for this. The IFE is only turned on after this point.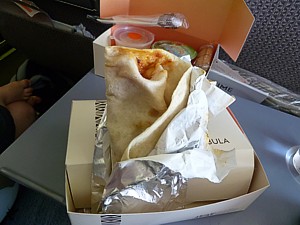 Fiji Airways The meal bento box
About a couple of hours into the flight, the crew begin service, with two trolleys per aisle at the front, slowly working all their way to the back. The first trolley does drinks (one free beer or one wine, but always free juice). The second hands out the Bento-Box. This Bento-Box is the Fiji Airways inflight meal - and normally you'll get a choice of two: chicken or beef. In a wrap. And that's it. Unless it's breakfast time when it's either egg or bacon, in a wrap, in a box. The wrap actually tucks into the front of the box, which contains a couple of small pots of coleslaw and juice.
In economy on the A330 you can of course order off the touchscreen TV in your seatback, and order anything from Pizza to more wine, but inevitably, at the end of the order process you need to press the call button to let the crew know that you've ordered something, and the Fiji Airlines crew frequently either ignore call bells, or there can be a delay of a good half hour before they come along and ask you what you want, which pretty much defeats the purpose.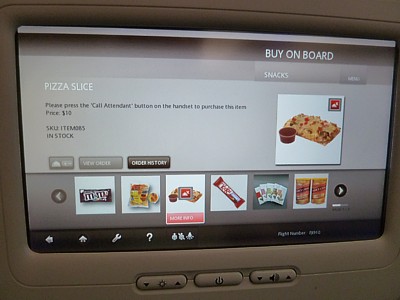 Fiji Airways At seat pizza order
On long-haul flights (to Los Angeles and Hong Kong) about three hours before the end of the flight the crew snap on the lights, and get everyone sitting bolt upright - and an hour and a half come along serving the breakfast 'snackette'. Suffice to say, regulars know when this nonsense starts you have to go through the routine of sitting up when the crew check you, and then setting down for another hour and a half sleep with a blanket over your head.
An hour before landing the IFE system is turned off, and the crew collect headphones. Again, regular Fiji Airlines passengers know to take a good book.
Fiji Airways Baggage Allowance
Fiji Airways has a pretty standard Luggage allowance.
Cabin Bags: The carry-on Baggage Allowance for Economy is one bag, to a maximum of 7kg, while Business are allowed 2 bags to 7kg each except to Honolulu where just one is allowed. The maximum permitted dimensions ( ensure that you include the bag's handles and wheels) for this item are 115cm (45in).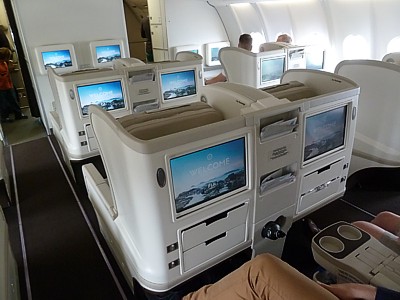 Fiji Airways Business Class Cabin on the A330
Check in luggage: Economy class can check in bags to 23kg, Business class to 30kg. However flights to and from the United States of America (Los Angeles and Honolulu) use the piece concept. Here, Economy can check in 1 bag to 23kgs, while business checks in also just one piece to 32kgs.
Be warned that Fiji Airways used to be very easy going about what you could take on board, but now Fiji Airways do ckeck carry on bags both at check in and at the gate - you can't get away with carrying more weight that you are allowed.
As always, these rules can change. Fiji Airways's website has details of exactly what you can take onto a flight.