There is free food on all Domestic and International Thai flights, even on the small planes just linking Bangkok with Chang-Mai.
Plastic knives & forks are used on all flights, except for international flights where the destination is Australia. Here a decent metal set is offered, even in economy, except for the knife which is still plastic.
In Business there is a decent looking menu, with a good slip in drinks list, with the wine list on the reverse. Meals are laid out with a scrappy and faded tablecloth, on top of which is placed a tray - and then a trolley comes along the isle on with the food and a stack of plates, rather like a moving buffet. You can select the food you want - and the plate of food is then placed on your tray.
In First there is a comprehensive menu, in a menu holder. Courses are brought to you individually, and when you have finished with the previous one. On shorter flights there are canapés, a first course, main and desert. On longer flights you also get a soup course, and the offer of a cheese plate. Breakfast is frequently a disappointment.
Domestic Economy Class - Thai Airways inflight food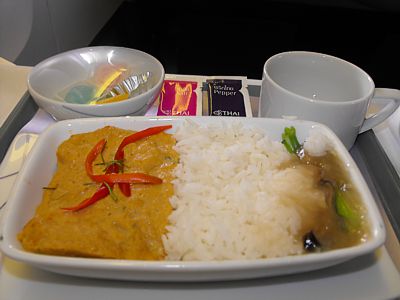 Fish head curry
Stewed fish heads in curry sauce, with rice and oysters.
Oh my life. And this passes for food. Ok, in the 1960s style Thai Airways cabins, it's good to see they also serve fodder that should have been passed over years ago. And so they do.
Utterly revolting, this curry is a disgrace to any airline, and it is one of the few meals I've seen served up on the plane, and instantly returned to the trolley by a good half of the passengers. Except, that is, the Thais, who appear to love it.
Domestic Business Class - Thai Airways inflight food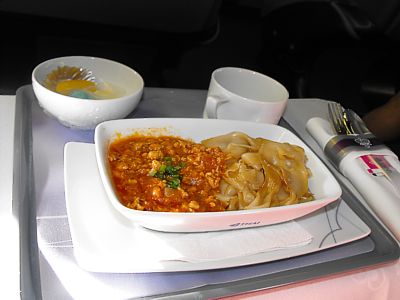 Goat and Fetta Pasta
Diced goat mixed with feta, in tomato sauce. Pappardelle Pasta.
A tub with three boiled sweets.
Errr... if you think it is bad in the cheap seats, try paying for business - it really doesn't get much better.
This should be good - after all, it's not every airline that serves up a decent pappardelle. Alas Thai ruin it by bunging in some goat, sprinkling feta on the top, and then spraying it with a ketchup substitute. It's barfable.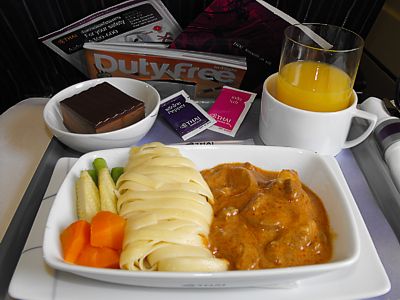 Liver cutlets in red curry pasta
Chopped liver, in curry sauce, with Fettuccine pasta and vegitables.
Chocolate cake.
I kid you not - Thai serve this up on the breakfast run. What a great way to wake up on a plane: be offered some pretty much raw liver.
The moral is clear. If you fly on Thai in business, then just eat in the lounge. There at least they serve up... Sausages in a Crossaint. Yuck.
International Business Class - Thai Airways inflight food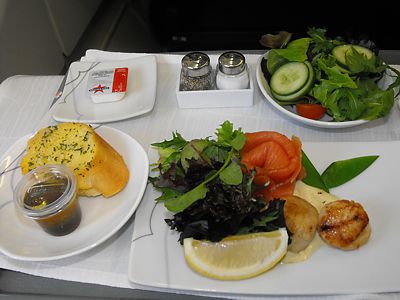 Starter - Giant Shrimp and Salmon
One giant sized shrimp, a lump of raw salmon, on a slice of processed cheese, with a slice of lemon and rocket salad.
Green salad, Garlic Bread.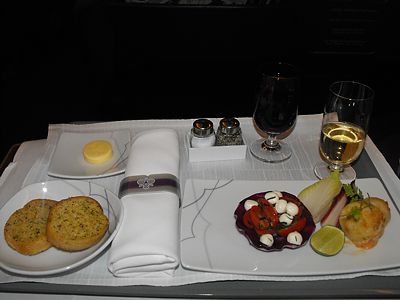 Starter - and mozzarella balls
Cherry tomato salda and mozzarella pearls.
A clam.
Cold processed meat. Half a lime.
Garlic bread.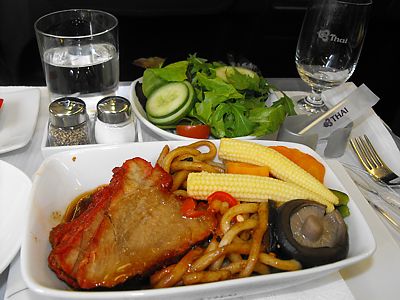 Dinner - Pigs's neck noodles
Roast pork neck with orange marmalade in teriyaki sauce.
Fried egg noodles with baby sweetcorn and surprise forest mushrooms.
Green salad.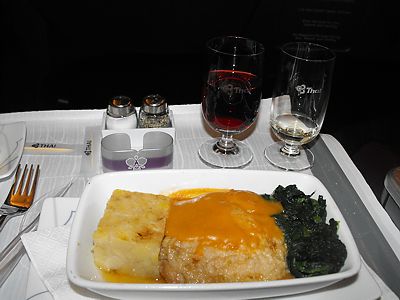 Dinner - half a chicken
Stuffed chicken breast with onion marmalade, port wine sauce.
Mashed potatoes and broiled spinach.
Braised red onion and pumkin relish.
OK, now I'm starting to work out how the Thai kitchen works. Take a chicken. Slice it in two, Bung it in with some pre-formed mash, and away you go,
Yup, on the underside of this chicken was the ribcage. Enough said - return to galley immediately.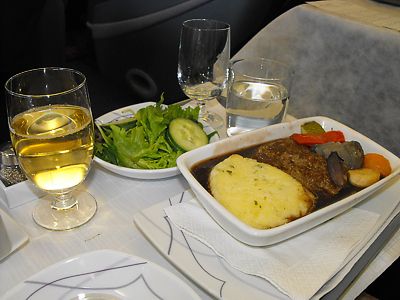 Dinner - Beef and mash
Classic beef brisket.
Mashed potatoes. Sauteed vegetables.
Green salad.
Ah! At last a dinner the Thai kitchen couldn't ruin! It's a mirracle! Ok, the presentation is of the slop-it-on-the-plate school, but this, for once, tastes superb.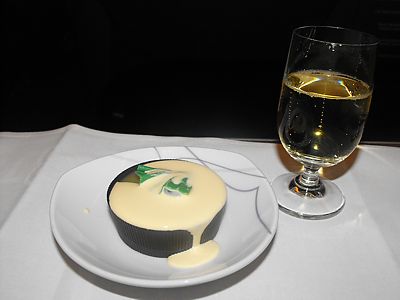 Dessert - Lime tart
Kaffir lime and passion fruit tart, vanilla sauce.
Dessert wine.
This is great - for once, really good food on Thai. It goes well with the really thick treakle like dessert wine.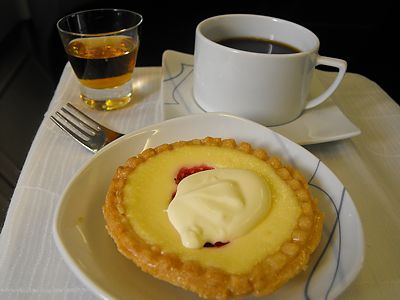 Dessert - Custard tart
A custard tart, with inset rasberry jam. Cream.
Cognac.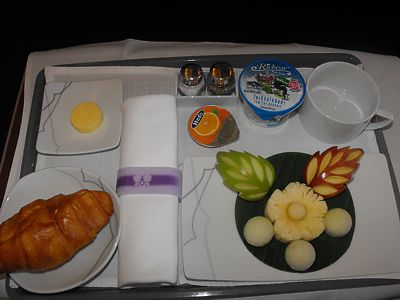 Breakfast - Continental
Six pieces of fruit.
A crossaint.
Yoghurt.
Right, where do I start with this lot. This is was passes for the lighter continental breakfast on Thai. I wouldn't mind, but it's basically just 6 pieces of fruit. Three are cut into intricate shapes that must have taken ages, but the melon balls are just dumped on the plate.
The croissant is baked in traditional Thai style: in effect, made out of heavy bread dough, but with a nice shape. The yoghurt is plain and boring. The only really good part about this is the marmalade, which is superb.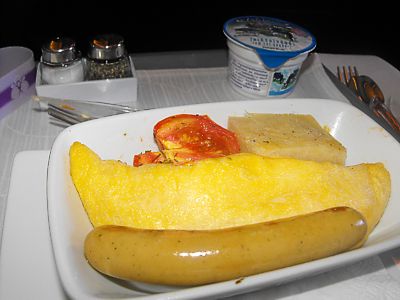 Breakfast - Full cooked English
Pan fried chicken sausage, cream mushroom omelette.
Lyonnaise potatoes.
Half baked tomato with olive oil and fresh herbs.
Why a chicken sausage? I mean, just why? When you get all excited about a load of grease for breaky after a night on the razzle before your flight... and then, with a florish, the crew dump this on you.
Looking as if it's been served up by the back end of a horse, this gives you a shock as you see it lieing on the plate. It doesn't so much say eat me, as "Stay away. A long way away".
International First Class - Thai Airways inflight food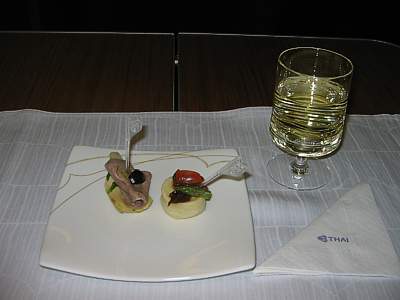 Dinner - Canapes
Cold beef with olive on a lettuce leaf on dried bread.
Tomato, obegene, and radish, on dried bread
A woeful introduction to Thai First, this lets you know what you are in for.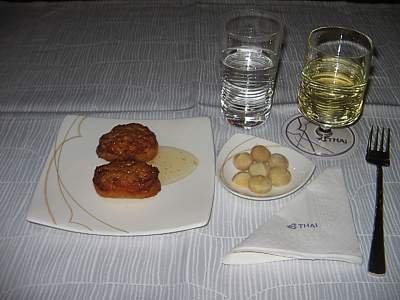 Dinner - Canapes
Toasted prawns on toast.
Nuts.
This is Thai reallying pushing the boat out... alas, it's not by very much. Burnt prawns. Toast. Then have a nut. Hmmm.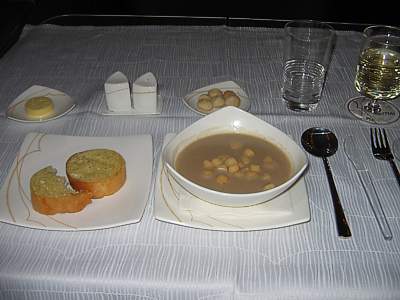 Dinner - Soup
Mushroom cream soup.
Garlic Bread.
On longer flights you will be offered soup between the First course and the main.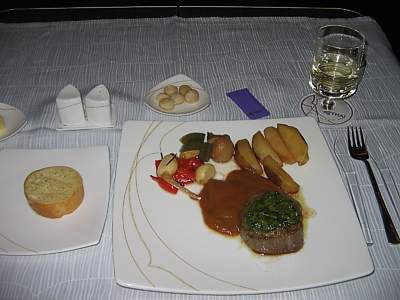 Dinner - Beef
Pan fried New Zealand beef tenderloin topped with Mediterranean basil, pesto, marsla sauce, roasted skin potatoes with fresh thyme.
Garlic Bread.
Amazing stuff, this is done really well. Odd, perhaps, having beef with a thick layer of pesto on top, but in context it works. It really does!
The garlic bread - a Thai speciality - is potent. It's mostly garlic, with a little bit of bread.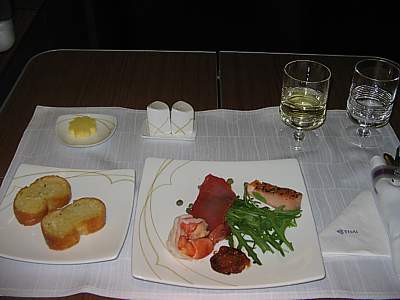 Dinner - Salmon
Hot smoked creole salmon and smoke tuna filet.
Rocket salad leaf. Garlic bread.
Minimalism comes to the fore with this rather poor offering from Thai in First Class.
It's great - don't get me wrong - but there really isn't much, if anything, to get your teeth into.
The garlic bread is tough enough to sink a duck.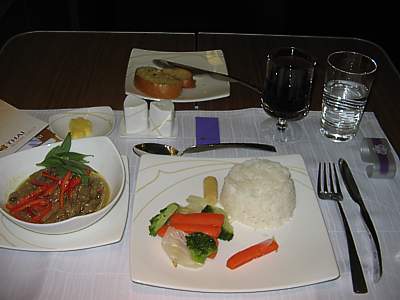 Dinner - Curry
Beef curry "Kiew-wan". Steamed thai Hom mail rice. Stir-fried vegetables.
Garlic Bread.
Just like you'd get from a Thai takeaway in the back streets of Shepherd's Bush, this looks cheap and nasty. And indeed it is. Now, don't get me wrong, if you'd only paid 200 baht for this, it would be OK, maybe even alright after 20 pints of cheap lager. But in First Class? It even comes still in the shape of the container it was cooked in.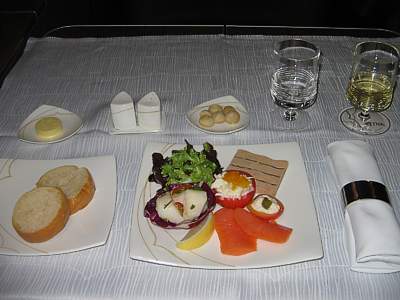 Dinner - America Scallop Salad
US Scallop Salad Thai style with Horseradish in cherry tomato.
Garlic Bread. Nuts.
Light delicate flavours, a small piece of salmon, and even some decent pate (although, admittedly it looks like spam). Brilliant stuff from Thai in First, this would be a great starter. Alas, it's the main, and if you order it, you'll go very hungry.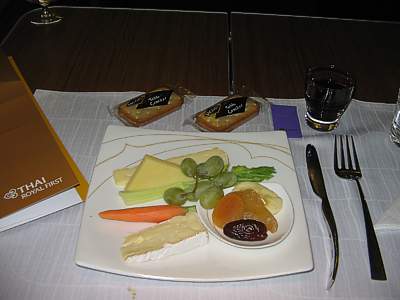 Dinner - Cheese plate
Cheddar, Edam, Brie.
Four Jabob's cheese crackers. Dried fruits. Grapes.
Okish, in a basic economy type way.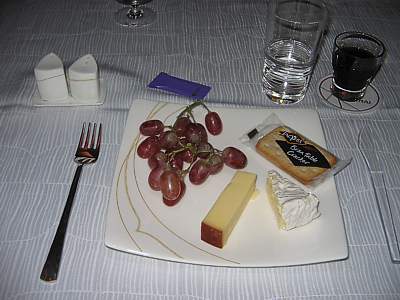 Dinner - Cheese
Brie & dutch smoked cheese.
Grapes. Two crackers.
More minimalism in Thai. Oddly, the crew were tucking into loads of cheese in the flight: I do wonder if they took most of it, and left the poor passengers in First to take the remains.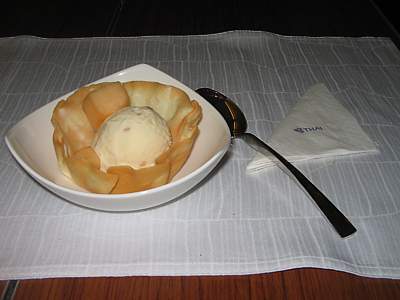 Dinner - Desert
Macadamia Nut ice cream.
Great stuff, in a strange puff pasty shell.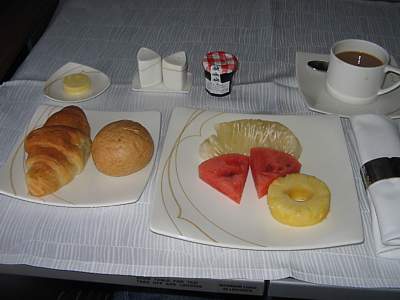 Breakfast - Fruit
One grapefruit, two watermelon, one pineapple.
Very small, perfect flavour, but it'll leave you desperate to get off the plane for some more food.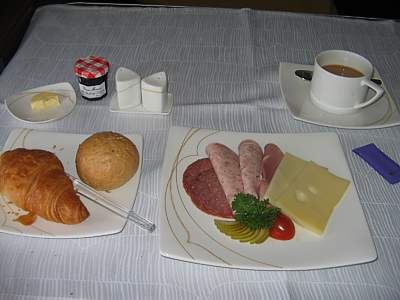 Breakfast - cold cuts
Emmenthal cheese, hunting special easter ham, black forest pepper salami.
Tomato. Garnish.
Hmmm. There is just enough here to make a decent cheese roll, but that's about it.

Intercontinental Business Class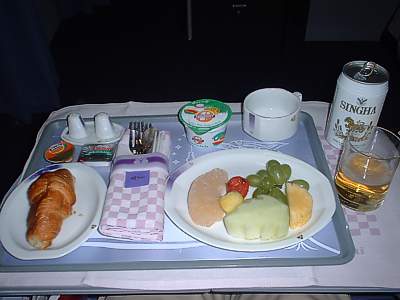 Breakfast - Continental
Plate of fruit salad with one slice of melon (crinkle cut) one half of pineapple, one sliver of grapefruit, one strawberry, and nine grapes.
One croissant (hot), a tub of butter, a tub of marmalade, and a peach yoghurt.
The fruit is kind of ok, with one lovely segment of grapefruit - if only there was more fruit! Some of the grapes had, however, seen better days.
The croissant was rock hard, and made out of normal roll pasty. Each time I have a croissant in Thailand it seems to be made the same way, out of normal pastry, with no air in it at all. I don't know why Thai's have a problem making croissant - they just do!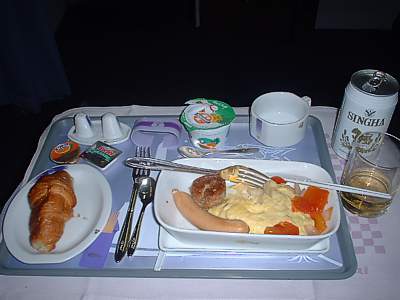 Breakfast - Hot English
Scrambled egg, with a chicken sausage, a chicken burger, mushed tomatoes, and one sliver of onion.
This poisonous looking concoction should - according to the menu - come with the eggs on toast. Alas that idea had bitten the dust by the time it came to me, and the eggs looked like some sort of gluttonous soup. However, in context, it worked. It really did. True, it needed plenty of salt, but thankfully Thai put lovely cute salt and pepper pots on the tray, so that all works out.
The chicken sausage and chicken burger are bizarre. However its noticeable that Thai and Singapore normally serve their hot breakfasts with chicken... a strange oriental custom. They tasted odd, and most people in the cabin left theirs alone.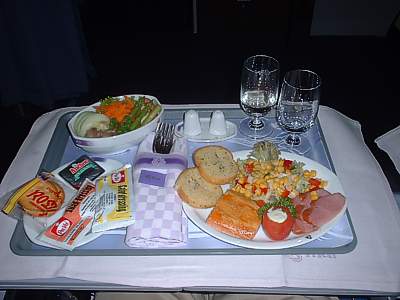 Lunch - First course
Three slices of ducks liver, a stuffed tomato with wasabi mustard, a lettuce leaf sprinkled with sweetcorn and peppers, a square dollop of smoked apricot salmon, and two slices of garlic bread.
A bowl with Thai curry fish mousee cake, containing three artichokes and four slivers of cucumber. The packets of salad dressing - thousand island, and salad cream.
This looks pretty decent - and indeed so it tastes. There's plenty of variety in here, and the salad is done just right. I'm not sure about the salmon, its a bit too weird, but the duck is great. The Thai fish mouse cake takes some getting used to, but its thankfully not too spicy.
Note the plastic packets of salad dressing, which just look cheap. And indeed they are.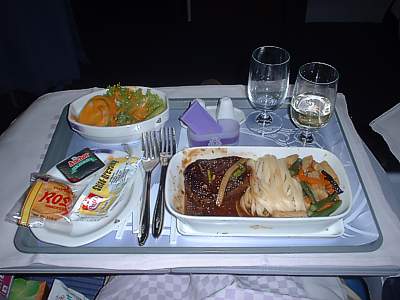 Lunch - Main course
Broiled Tournedos Steak with Teriyaki Sauce. Buttered Egg Noodles, and stir-fried vegetables.
This is foul. A hard boiled lump of some indistinguishable meat, served with noodles that are a rock hard mass. Even the vegetable had all their flavour boiled out of them, and then its left in the oven for days to ensure even the sauce has gone rock hard. Avoid.

Lunch - Cheese
One packet of four cheese biscuits.
A plate with two slices of processed cheese, and a very small sliver of Brie. 12 grapes.
It just gets worse. This even looks cheap. Ok, the brie is good, but its tiny. The packet of cheese biscuits wouldn't look out of place in economy. And the processed cheese had every inch of flavour processed out of it.
Nice grapes though. No Port or Dessert wine is available.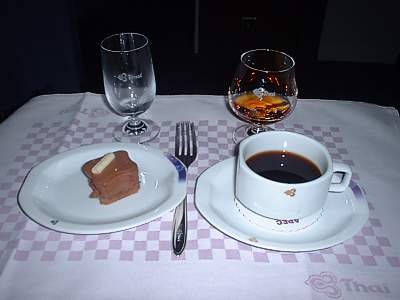 Lunch - Dessert
A mini french chocolate pastry. A cup of coffee. A glass of Hennessy.
At last something decent - the pastries are very good, and Thai can even make a decent cup of coffee.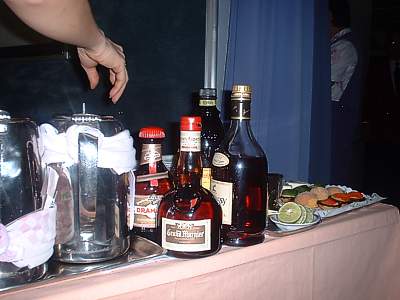 Lunch - Trolley
The main desert and aperitif trolley.
After the main course a trolley comes along with lots of little pastries, and four liqueur bottles.
These are Kahlua, Drambuie, Hennessy VSOP, and Grand Marnier. <