On Thai Airways all wine, beer and spirits, are free.
All wine in economy comes in 187ml bottles. In business it is served out of full sized bottles.
Thai airways operate as a dry airline on domestic flights, and there is no inflight bar. Indeed, if you want a pre-flight drink in the Business Class lounge, it is worth going to the international lounge in places like Chang-Mai, which still has a bar, rather than the domestic lounge, which is also dry.
Economy Class Wine - Thai Airways inflight drinks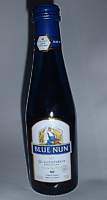 Blue Nun
Joke wine!
This wine is famous, some would say notorious, for a series of TV adverts in the UK in the 1980s, which got the masses drinking wine for the first time... sales rocketed, until everyone discovered real wine. It disappeared from shelves in the UK in the 1990s, however there is still a market for this stuff. On Thai Airways.
Theroetically Rheinhessen Qualitatswein, this is foul jet fuel, so sweet it makes your tongue curl up, this is only suitable for taking off as a souvenir, and never opening!
9.5%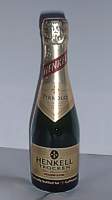 Sparkling Wine Henkell Trocken
Sparkling Wine
The bottle looks great, a really classy bottle, which is only served in business, although the foil top over the metal screw top looks a bit odd.
The Sparkling Wine is very sweet, not really the best mix of grapes, but still worth quite drinkable. It is specially bottled for Thai Airways in Wiesbaden.
11.5%
Business Class Wine - Thai Airways inflight drinks
Fleur de Sparkling Wine
Mc Sparkling Wine
Ask for bubbly at 35,000 feet, and Thai serve this. The cheapest Sparkling Wine money can buy, even the label looks as if it should have Happy Shopper on it. Has a bizarre dried biscuit aroma, which is apparently a selling point!
12%
White Jokay Pinot Gris Vin D'Alsace
Smoked peach flavours
Goodness, this wine is bad. Smell the smoke - or as the menu puts it, smocked flavrs! Only suitable in an emergency, or if the beer has run out.
11.5%
Beer - Thai Airways inflight drinks
There is the same selection of beer in business and in economy. In business you'll get a glass tumbler to put it in. In economy its plastic.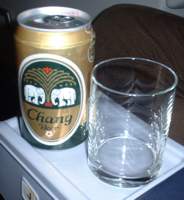 Chang
Heavyweight elephant beer
Chang is much heavier than the lightweight Singha. This lager is on the verge of being a bitter.
3.6%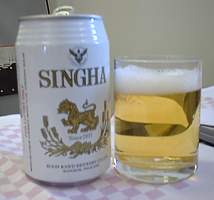 Singha
Lovely light and delicate
The finest beer made in Thailand. Its the usual selection of hops and malt making lager, which makes a mighty fine beer, and it goes down very smoothly. This creation of the Boon Rawd Brewery Co is much stronger than you may think.
Watch out for the specially branded Thai Airways cans, with pictures of Thai destinations on the reverse.
6%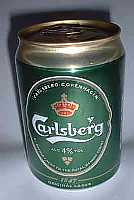 Carlsberg
Very tame
Its the usual dull stuff you get on the ground.
4%
Gin and Tonic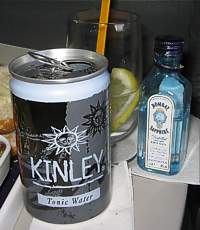 Good cocktails served in minitures
Ask for a Gin and Tonic, and you'll be in for a treat. The Gin and Tonic variant comes with a large miniture for Bombay Saphire Gin, and a mini can on Kinley tonic water. All stired around with a strange Thai Airways "stick".
There is enough in the can and bottle for two servings. If you are in business, you will get a real glass glass.