Royal Orchid Plus is Thai's frequent flier programme, and is part of the
Star Alliance
.
You get one mile for each real mile flow, even on the cheapest fares. Business Class gets 125%, and First Class 150% of actual miles flown. Some Star Alliance partner's discounted fares don't get any miles.
Base Membership - Royal Orchid Plus
Anyone can join the Royal Orchid Plus scheme. However, there are no benefits just for joining. You can sign up
online
at the end of which you'll get a page to printout with the image of your temporary card. Make sure you do this, otherwise you won't get another chance to join. From the first month of joining Thai with post you real statements of the miles you've collected, even if you haven't flown any miles.
Silver - Royal Orchid Plus

Thai 747-400 at Sydney, Australia

Silver level can be achieved at
10,000
miles flown just on Thai, or 15,000 miles on any Star Alliance airline, within one year, where the year ends at the end of the calendar year.
You get 3,000 miles for free, just for getting to this level, and an extra 10kg of luggage. And thats it - not even business class check in.
Royal Orchid Plus Gold
Gold level can be achieved at
50,000
miles flown, or 80,000 miles from enrolment until the end of the
next
calendar year.
You get 5,000 miles for free, just for getting to this level, two luggage tags, and an extra 20kg of luggage. There is business class check in even in economy, plus access to the lounges, and - the best perk of all - one round-trip complimentary upgrade to the next class of service using a paid ticket.

Thai 747 at London Heathrow

Royal Orchid Plus - Redeeming miles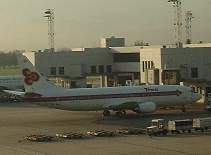 Thai Airbus A330 at Bangkok

Thai organise the world around their hub in BKK. A round trip from BKK to
Singapore
uses 25,000 miles (35,000 business), to
Hong Kong
is 35,000 miles (50,000 business) all of
Australia
is 45,000 (75,000 business)
London
is 65,000 miles (105,000 business) while to get from the UK to Oz uses 85,000 (125 in business).
It is also possible to use your points to upgrade. One-way upgrading from Economy to Business. BKK to Sydney is 30,000 miles, while BKK to London is 40,000.