Reviews and opinions on Thai Airways have not always been favourable - and history of the company is often cited as the cause. There have been several accusations that Thai is often more interested in employing relations of current Thai employees, than in coming up with profit making business ideas.

A rare Thai MD11 at Bangkok in 2003

Thai Airways has its roots back in 1947 as a domestic carrier, Siamese Airways Company Limited which merged with Pacific Overseas Airline (Siam) Limited to form a small airline, the Thai Airways Company Limited (TAC).
By 1960 it was clear that the airline should be trying to fly internationally, and joined forces with the Scandinavian Airlines System which took a 30% share, with the Scandinavian carrier initially providing a 30% share capital of two million Baht. SAS also provided operations, managerial and marketing expertise, and accordingly within a year the airline was flying to nine overseas Asian destinations from Bangkok. Thai nationals, through training and experience, were gradually able to assume full managerial responsibility and the number of expatriate staff duly reduced until, in 1987, expatriates accounted for less than one percent of staff based in Thailand.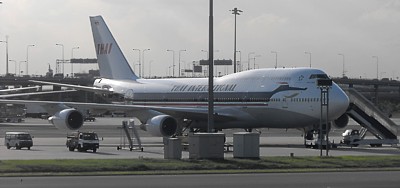 Thai Airways Boeing 747 in historical livery at Bangkok

By 1971 it expanded to Australia and the UK, operating as a low-cost competitor to BOAC and Qantas on the Kangaroo route. By 1977 it was ready to go it alone, and the Thai government bought out the SAS shareholding, to get ready for the merger in 1988 with it's domestic cousin, and the present company, Thai Airways International, was formed.
The company went public in 1991, and listed its shares on the Stock Exchange of Thailand. It continued to expand, although it was blighted by common problems in Thailand of patronism and also the Asian Financial Crisis, which forced a severe scaling back of operations in 1998. By 2000 Thai was ready to expand again, and launched new routes to the US, including Los Angeles via Tokyo.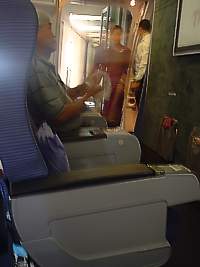 The best seat in the house: Bulkhead 11D in Thai MD11 Business Class

In 2005 the airline changed livery from the old dated livery since creation to the current purple livery with 'swoosh' marks. It also received the new ultra long haul Airbus A340-500 aircraft, and started a new nonstop Bangkok to New York service direct. It didn't last long, and was axed three years later, even though the airline had been able to fill 80% of the seats. These aircraft were later switched onto the Los Angeles direct service, which is still a very long haul from Bangkok.
In 2007 Thai airways moved from Don Mueang to the new Suvarnabhumi Airport at Bangkok. Things didn't go well to start with, and in 2008 Thai were caught up in the November protests, which stopped all flights at the new airport for two months. These brought the airline into financial loss for the first time in 40 years.