Reviews and opinions are mixed about Thai airlines - if only because the experience of flying Thai isn't great. The airline tries, but ends up with a rather tied looking product, that is just a bit scuffed around the edges. Its rather like going back in time to the 70s.
Be warned that Thai is now the only airline left that will let animals be carried in the main cabin, so you're likely to have your long-haul flight interrupted by yapping, smelly dogs. This is very rare, but it is altogether an experience you'd probably rather forget.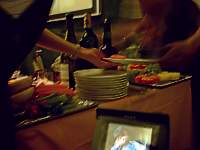 Thai Business Class Service

In
Economy
there are very few frills. No newspapers, no hot towels, and only a scrabby bit of wool for a blanket. The pillows have definitely seen better days. The drinks trolley comes round once before the main meal, but the crew are at least fairly good at fetching beer for you in the flight if you press the call button.
In Business things are rather like economy on most other airlines, particularly when you consider the seat. You are not greeted at the door, or by name at any point in the flight. No newspapers are offered, and the blankets are the same as in economy. However there are hot towels before and after each meal.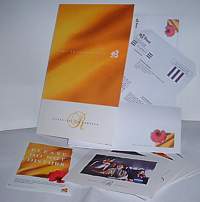 Royal Orchid Service folder

In the loos there is a tube of special Thai handcream which is actually pretty good, and a couple of bottles of very bad aftershave. In the seatback pocket there is also a special Royal Orchid Service folder, with several postcards, a Do Not Disturb sticker, writing paper, envelopes, and a comment card.
There is a decent looking menu, with a good slip in drinks list, with the wine list on the reverse. Meals are laid out with a scrappy and faded tablecloth, on top of which is placed a tray - and then a trolley comes along the isle on with the food and a stack of plates, rather like a moving buffet. You can select the food you want - and the plate of food is then placed on your tray. After the main course a trolley comes along with lots of little pastries, and four liquor bottles.
Thai Airways Longhaul amenity kit
The
Business Class
washbag actually looks pretty good when it comes round: for once on Thai, you may think you are getting your money's worth, and in a way you might be right. Sealed in plastic the loose fabric bag has a Thai logo sew on it, a hook to hang in a bathroom, a pleasant Thai logo on the zip, and an expensive feel. Alas, the contents aren't quite so great.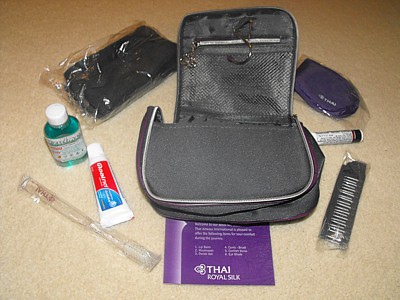 Business Class the latest Thai Airways Amenity Kit in Royal Silk Class

There are very cheap and nasty socks, a purple Thai logoed eyeshade, Colgate toothpase, a full sized toothbrush, Oralmed mouthwash, and a ChapIce lip balm. A strange folding hairbrush with a comb for a handle completes the delights of this business class perk.
There is an Older style Business Class washbag that is still occasionally handed out, particularly from remote outstations on flights to Bangkok. It is a cheaper bag, but with more content, and is labeled Royal Executive Class. The leather box looks big and chunky. Inside there's a decent pair of silver coloured socks, a silver eyeshade, a small blue plastic toothbrush, and a large tube of American Rembrant toothpaste.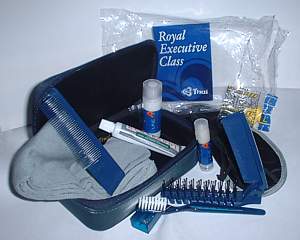 Business Class Thai Washbag

Theres a big tube of Line A Moisturiser and Lip Balm. A packet of Swedish Earplugs. Oddly theres also a comb, and a combined folding comb and hairbrush. While this won't give you great thrills when you take it home, its ok for using on the plane.
In First Class the washbag is again sealed in plastic with a big Thai logo. Inside is a Eau D'Orange Verte washbag, with a vile orange interior colour. It contains Eau D'Orange Cologne, Eau D'Orange perfumed body lotion, a 50ml aerosol of Evian water (this really works to make you feel refreshed if you spray it on your face before landing), a ChapIce lip balm, some cheap orange earplugs, a hairbrush (folding) eyeshades, and socks.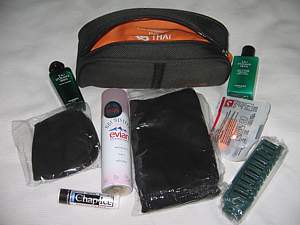 First Class Thai Washbag

Thai Airways Luggage Allowance
Thai has a pretty standard baggage allowance for each flight, although there are fewer perks for premium classes than on other airlines.
Cabin Bags: Passengers in all classes can take hand luggage of one bag weighing up to 7kg (15lbs) into the cabin. They must be no larger than 25 x 46 x 56cm (approximately 10 x 18 x 22 inches), which is a bit larger than most airlines; however Business Class and First are still restricted to only one bag. Curiously, Thai say that "a woman is allowed to carry a purse as well" but that a laptop bag counts as the main cabin bag: you can't take both. Rules on contents (such as liquids) apply.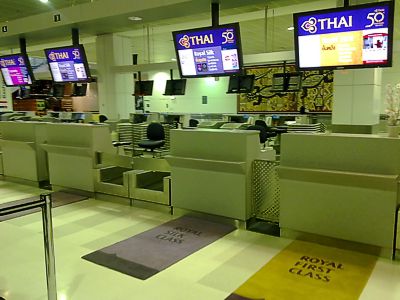 Thai Airways Checkin Business to the left, First on the right

Check in luggage: On all routes except to the United States economy class can check in one bag weighing 20kg, business class can check in two bags up to a total weight of 30kg, and First class can check in three bags up to 40kg. Routes to or via the United States use the piece concept, with all classes being permitted two bags up to 32kg max each bag. There are no extra benefits in First or Business on US routes.
Royal Orchid Plus Silver Card members (and Star Alliance Silver) Frequent Flyers gain an extra 10kg checked in luggage allowance, Royal Orchid Plus Gold Card (and Star Alliance Gold) gains an extra 20kg of checked in luggage allowance (but no extra benefits if via the US).
As always, these rules can change. Thai's website has details of exactly what you can take onto a flight.