Lufthansa Tips
Cheap Seats
On inter-European routes, Lufthansa review their loadings exactly three weeks before the flight. If all the cheap seats have been sold out by this point, then Lufthansa will release some more.
Changing non-changeable seats
Lufthansa's restricted economy seats are just that. Normally you cannot make any changes to very cheap economy fares (in booking classes L&T). However if you book true (non-codeshare) Lufthansa flights to Germany from the UK via Expedia.co.uk they are often booked into Q class. Despite all the warnings on the Expedia site that the flight cannot be changed, the timings & date of the return portion can be changed (after taking the outbound portion) by calling the normal Lufthansa ticket line and paying ó5. A neat trick with this is to change onto a flight with only one Q class economy seat left - meaning that if you have Miles&More status, there is a chance of an upgrade.
Lufthansa Operational Upgrades Lufthansa are very good at upgrading passengers on busy flights.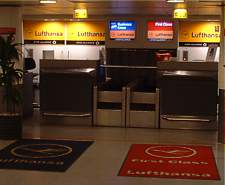 Checkin at LHR


It's always worth while asking, particularly if you are silver or gold level on a Star Alliance frequent flyer scheme.

Operational Op-Ups happen more often on Lufthansa than on some other European Airlines. Here, LH will upgrade you to business class if economy is full. If you want to increase your chances, plan in advance, and book on the fullest possible routes (Friday & Sunday evening and Monday mornings are good, as are Eurowings flights and those operated by a 50 seat CRJ).

Lufthansa at home bases is very unusual compared to most other airlines in that on very busy flights checkin will decide their upgrade list in advance, and if moving up passengers from economy to business will move up all Senators before the flight opens - and regardless of the time you checkin, or even if you use a self checkin machine, you will automatically be moved up to business (and to full revenue earning 'C' class).

At remote outstations a different system applies, where it is left up to the gate (or sometimes at LHR, the lounge, who will call down to the gate) to make last minute moves through the curtain. Here, Gold Star Alliance members are treated almost as well as Miles&More Senators, but it is down to either the checkin or the gate agent to size you up and see you are suitable for an upgrade from the few people they need to move. At these location if there are just one or two passengers in it, you'll have to hang around the gate, and look keen. Gate staff are often pretty woeful at noticing Star Alliance passengers with status, and it is frequently incorrectly recorded on your booking (your PNR) and then marked as a non-status level on your boarding card. If you are Gold, always check to see if your boarding card is marked *G, and get staff to correct it - you won't get upgraded unless they do.

For passengers without Lufthansa or Star Alliance status, if the flight is very full and it is obvious that someone will be left behing it may help if you make it clear you'll be happy to accept a place on the Vol-Off list (to be offloaded voluntarily) if you get cash and an upgrade on the next flight.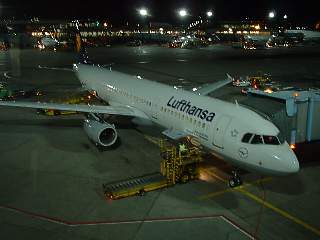 Lufthansa A320 at Frankfurt

A very useful trick when trying for an operational upgrade is to look at the main Lufthansa website, and try to book flights - it will say if a particular in/out combination is Sold Out. Often you can book yourself onto this flight via consolidation agents like Expedia, despite economy being full. With luck, you may find you are moved up to Business.
Note that at LHR a lot of Senator Miles&More passengers travel economy, but checkin at LHR's First Class Checkin. The staff here are very bored with Senators asking for upgrades, so tend to ignore requests. You can have better luck if you checkin at the business, or even economy, desks.
However if you can find something to complain about, do, and then ask if you can get on the "on-availability upgrade" list. Then make sure you're on the emptiest possible flight - if there's a spare seat in the front of the plane, you'll get it.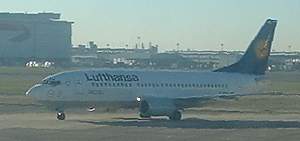 Lufthansa 737 at LHR


Often customer relations will promise to put you on this list, but the check-in staff are so busy they won't notice. Make sure you point it out to them.

As always, my advice on dressing properly in how to get an upgrade applies.
Lufthansa website
The website is the same as all other parts of Lufthansa; clean, efficient, with all the information you need to know - and precious little extra detail.

The booking process isn't the best - as it tries to think for you, often with annoying results. On the main booking page the "Flexibility" option doesn't refer to how flexible you want your ticket - oh no, it simply means how willing you are to take different days. If you select this you'll go through a different page where it'll show you a grid of departure and return dates with the prices. Yellow squares are the cheapest fares.

Next up - or if you select no flexibility - you get two pannels with outbound and return possibles, and with two fare option on the top. Select one flight and it's return companion at the same price comes up highlighted yellow. But woe betide you if you want to select a flight with a non-matching return. The system just won't let you. Ever. It will drive you mad.

Main website: www.lufthansa.co.uk
Lufthansa Luggage Allowance


Next page: Lufthansa inflight meals & food >>>
All images and content copyright airreview.com