Lufthansa inflight experience
Reviews and opinions are mixed about Lufthansa airlines. Many non-German speakers have problems with the attitude of the check in staff and cabin crew. Be warned that vacuous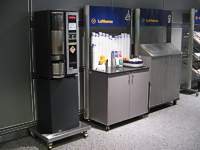 Coffee free at the airport stand


smiling Americanese it isn't. Instead you'll get what you paid for, in a very direct way, and woe betide you if you let the system down. Lufthansa ground staff have been known to shout "Schnel" to get passengers on board quickly, just so the plane doesn't miss its slot. However, you'll get there on time.

The trick is to be polite, but business like. Be firm about what you want, and don't mess around with pleasantries before you ask. Ensure you are absolutely definitely there on time. A few words of German, like please and thank you may also help.

At check-in some airports still operate the Zone system. This is now rare, but some outstations still operate it. Here you will be given a zone on checkin. The plane is boarded in zones, and everyone except for First Class passengers have to follow the zone boarding procedure. If you're flying business, and you are in Zone 6, you will still board last, so tough.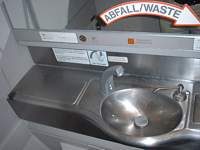 Business spartan loos in a 747-400

At all airports in Germany, Lufthansa have a tea and coffee machine for the use of all passengers - for free. Sometimes it can be a little tucked away, particularly for flights to the UK which have to pass through extra security, but it is a nice perk.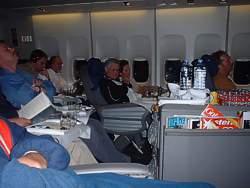 Business The buffet pod in the 747 nose

For most short-haul flights at most airports including LHR there is a rack of Newspapers at the gate, with a very good selection, for all classes. Financial Times on the Frankfurt route go very quickly. Oddly, at most German airports on routes to the UK, you will be offered American papers like the Herald Tribune and USA today, with no English papers. Many passengers have complained bitterly about the lack of English newspapers in Germany. For a little fun, try it: you'll be handed an American newspaper with a bemused smile.
Trans-Europe in Economy (particularly on the CRJs) on all flights the drinks trolley first goes through business, and then through economy. Note that on flights to Germany, service in economy begins at the front, so on short flights it pays to sit as close to the curtain as possible, which should just about give you enough time to enjoy your G&T before landing. On flights from Germany the reverse is true, and the trolley wizzes through the cabin after the business service, and then trots backwards. Here, it does pay to sit at the back, even in the noisy "bleeder" rear seats of the CRJs.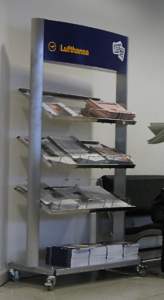 Newspapers the airport stand

In Business newspapers are handed out in the cabin for business pretty much soon after takeoff, but the only "English" ones are Time or Newsweek, and a request for a UK newspaper will often turn into the USA Today. Bemusing. About half an hour after takeoff the drinks trolley comes round, half an hour later it appears again, and your food request is taken. Finally an hour and a half in the films start.
On short haul packets of cold sealed towels are handed out. Long haul hot towels are handed out before and after meals.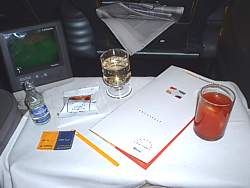 Business Menu, TV screen, and drinks

On Long Haul 747 routes, there is a central buffet pod in business class in the nose of the plane. For the first two hours of the flight magazines are piled here along with beer, 2 reds, and 3 whites. Later in the flight this just turns into bottles of water. The loos in business on these flights are however very disappointing. There is no difference between economy, with no goodies in the loos at all.
In business another perk is that there are postcards in a rack at the front of cabin.
Long Haul business class gets a full food Menu, on weird feeling paper. Turn to the middle pages to get the English translation, and the back page for the wine list. Watch out for the items marked Flight Line (sic). These are the lightweight versions for people watching their weight, and which offer miniscule portions.
Lufthansa Longhaul amenity kit
The amenity kit in Economy has been scrapped: you get nothing now, although there are headphones in the seatback pocket.

Business gets a large grey bag which looks good, but actually contains less than most airlines offer in economy. There is a bar of Lufthansa branded Milka, a very good pair of socks, a thin and poor eyeshade (branded Lufthansa) a toothbrush with a very small tube of toothpaste, and a sheet of Do not Disturb / Wake me for food stickers.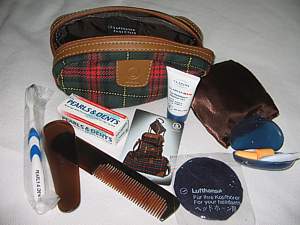 First Class Lufthansa Bogner amenity kit

In First Class you get much more in the amenity kit: a Bogner tartan washbag, which contains a small tube of Clarins Moisture Gel, a small packet of a tube of Pearl & Dents toothpaste, and a Pearl & Dents toothbrush, an unbranded comb and shoe-horn, a silk packet with silk eyeshades, earplugs in a blue box, and spare pads for your headphones. It isn't overly luxurious, but it's pretty decent. These washbags fetch quite high prices on Ebay.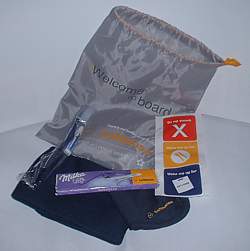 Business Class Lufthansa amenity kit

Lufthansa Luggage Allowance
Lufthansa has a pretty standard baggage allowance for each flight.
Cabin Bags: Economy Class passengers can take hand luggage of one bag weighing up to 8kgs, business class can take two. They must be no larger than 45" / 115cm (length + width + height). Rules on contents (such as liquids) apply.
Check in luggage: Your free baggage allowance on Lufthansa is now determined according to the 'Weight Concept'. This recent change means that Lufthansa look at the total weight of your baggage, rather than by the number of bags. On all routes economy class can check in any number of bags weighing 20kg (44lb) plus 1 ski bag, business class can check in any number of bags up to a total weight of 30kg (66lb) plus 1 ski bag , and First class has a maximum baggage of up to 40 kg (88lb) - plus 1 ski bag and plus 1 golf bag. Routes to or via the United States now also have the free baggage allowance is defined by total weight of your baggage, rather than by the number of bags.
Miles&More Frequent Traveller (and Star Alliance Silver) Frequent Flyers gain an extra 10kg checked in luggage allowance, Miles&More Senator & Hon Circle (and Star Alliance Gold) gains an extra 20kg of checked in luggage allowance. This means that a Gold Frequent Flyer in First Class can check in three bags to 60kg, and carry on 14kg.
As always, these rules can change. Lufthansa's website has details of exactly what you can take onto a flight.
Next page: Lufthansa frequent flyer loyalty scheme >>>
All images and content copyright airreview.com