Lufthansa History
The history of Lufthansa goes back to 1926, when a small airline in Berlin called Deutsche Luft Hansa was formed in Berlin. It didn't last long as an independent entity, and little was left following the defeat of Germany in World War II.

Although having no legal connection to the previous entity, with the rise of post-war Germany was a demand of civil aviation again, and Deutsche Lufthansa Aktiengesellschaft was relaunched in 1955, with domestic and international services. From the outset it was designed as a Trans-Atlantic outfit, and with a couple of months was flying to New York using Lockheed Super Constellation aeroplanes.

Lufthansa A320 at Helsinki

A curious dispute arose within months that shaped the route map of Lufthansa decades late. The East German government also created an airline called Lufthansa at exactly this time. The GDR lost the rights to the name, and started its own airline Interflug, however it succeeded in stopping all Lufthansa aircraft from flying into West Berlin. Even after the fall of the GDR it was 2001 before Lufthansa started flying to the UK from Berlin, a route it abandoned within a year, and it was 2010 before the old hub of Berlin could start serious European and long haul operations.

Lufthansa CRJ at LHR

The aim to fly to the US above all else was clear when within two years Lufthansa bought four Boeing 707s to fly to New York from Frankfurt, which was rapidly turning into the airline's hub. The fleet rapidly expanded to bring in Thailand, Japan and Hong Kong. Johannesburg, a long time stamping ground for Germans, started as early as 1962. Around Europe Boeing 737s started to be used by 1968.
Boeing 747 stated an expansion of the wide-body fleet in 1970, and Lufthansa was the launch customer for Airbus's initial offering in 1979, the Airbus A300 with an order for twenty-five aircraft. Some continued in the fleet until 2009, being a regular on the Heathrow run.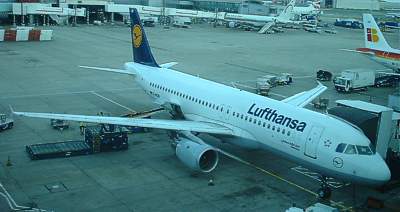 Lufthansa A320 at London LHR

Lufthansa adopted a new corporate identity in 1988. The fleet was given the new livery that pretty much lasts until this day, while cabins, city offices and airport lounges were redesigned in the current bland style. Airbus A320s were also ordered, to update the fleet and brought a strong move to Airbus from the Boeing camp.
By 2003 the airline was continuing to expand, and opened its vast new terminal at Munich Terminal 2. This rapidly became a new hub.
In a thinly disguised takeover, Lufthansa merged with Swiss airlines in 2005, followed by Austrian Airlines in 2008, and bmi British Midland international in 2009. Although the airlines continue to operate within their own branding, direction comes from Germany.
In another buyout, 19% in US-based low-cost airline Jetblue was sold to to Lufthansa in 2007. This is the first major ownership investment by a European carrier in an American carrier since the EU-US Open Skies Agreement became effective. The following year Lufthansa acquired a 45% stake in Brussels Airlines, and sponsored Brussels Airlines to join Star Alliance.
In 2010, Lufthansa started flying the Airbus A380 Superjumbo for the first time.
Lufthansa History
Next: Lufthansa Tips >>>
All images and content copyright airreview.com