Lufthansa inflight drinks
Wine, beer and spirits, are free. All wine in economy comes in 187ml bottles. Occasionally on some short (and domestic) Lufthansa Cityline flights, in economy, there is only beer and sparkling wine on the trolley.
Lufthansa Economy class wine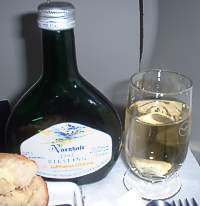 Riesling Varnhalt
Unusually shaped bottles from the Black Forest
The small Varnhalt company, located in the Blackforest around Baden Baden (in Strasburg, the Rhine Valley). Although branded for Lufthansa City-Line this wine appears on all flights, including Eurowings. Fairly sweet, it is never the less acceptable, and even worthwhile swiping, if only thanks to the unusually shaped bottle.
11.5%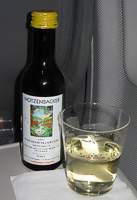 Motzenbacker Trocken
Sweet and bland
The German Motzenbacker Paradiesgarten Trocken is farily bland with little to recommend it. This wine derives from one of the best vineyard sites from Deidesheim, the Paradiesgarten (in English, that would be the paradise garden). UK or Australian drinkers will certainly find this wine much sweeter than they would normally like, however this is unfortunately the usual wine which is handed out in economy on Lufthansa Cityline.
12.5%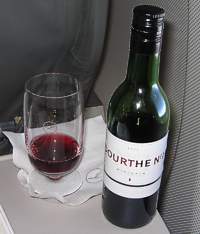 Bourthe Bordeaux
Classic Bordeaux
This is a perfectly acceptable Bourdeaux, and while a little tart, it does travel well. This is not a Lufthansa special, and probably benefits from that. Whatever you do though, don't spill it on your shirt. 12.5%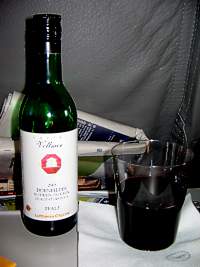 Dornfelder Pfalz
Rotwein Trocken Pfalz
This is foul jet fluid, something that you can use as antifreeze, or for scaring unwanted guests. The 2003 Dornfelder Rotwein Trocken Pfalz should only be taken if there is no alternative. 12.5%
Business class wine
Reisling Spatlese trocken
From Mosel-sarr-Ruwer
Pretty sweet, with the aroma of apricots and peaches. Very good.
11.5%
Trumpeter Tupungato Chardonnay
From Familia Rutini, Agentina
A very deep yellow colour, its almost off-putting in the glass. Its got a lot of body, and is that decided rare thing for a Chardonnay, of being almost heavy.
13%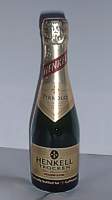 Sparkling Wine Henkell Trocken
Airreview is a non-commercial, not for profit blog, written by a non-trading individual, which does not market or promote any product listed on this page, and does not make any direct or indirect commercial use of any name, and as such assert my rights as an individual writing a (non-marketing) review to be exempt from the relevant parts of Australian RSA regulations, UK licencing laws, and EU laws regarding alcohol, promotion, designation, and marketing. Also note that some products listed here are no longer sold, and some have either changed their name, product line, designation, area, or some other facet of their product. As such these wines, beers and spirits must be legally viewed within a historic context, in some cases dating back over two decades, when the product could legally be called and promoted under its original designation. Airreview promotes the responsible use of alcohol, and also respects the legal drinking age in countries where it is restricted. Airreview aims to correct innocent mistakes as soon as they are pointed out, and apologises for inadvertent omissions, but will not pay your costs in this respect. Correspondence on this matter will not be entered into. By browsing this site you agree to these terms and conditions.
Sparkling Wine
The bottle looks great, a really classy bottle, which is only served in business, although the foil top over the metal screw top looks a bit odd.
The Sparkling Wine is very sweet, not really the best mix of grapes, but still worth quite drinkable. It is specially bottled for Lufthansa in Wiesbaden.
11.5%
Lufthansa inflight Beer
Very unusually for an airline, all beer served in all classes on all planes except for Eurowings short haul is served in bottles.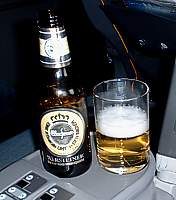 Warsteiner Pils beer
Bottled beer for business
Yes, its possible to get real proper beer in a bottle on board. The Warsteiner Pils has a lovely creamy head.
6%.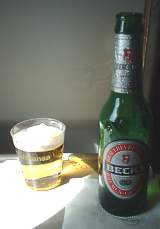 Becks beer
Bottled beer in every class
Even on European short haul flights it's possible to get beer in bottles - Becks is always available in evey class, at any time of day. True, it is rather bland, but who is to turn down an airline which serves it the proper way.
4%.
Cocktails
Gin and Tonic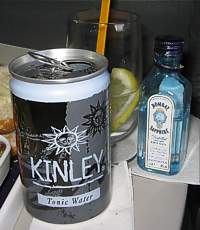 Good cocktails served in minitures
Ask for a Gin and Tonic, and you'll be in for a treat. The Gin and Tonic variant comes with a large miniture for Bombay Saphire Gin, and a mini can on Kinley tonic water. All stired around with a strange Lufthansa "stick".
There is enough in the can and bottle for two servings. If you are in business, you will get a real glass glass.
Next: Passenger reviews >>>
All images and content copyright airreview.com