Lufthansa Reviews
Lufthansa fly a vast fleet, with over 700 aeroplanes in service (280 among the mainline operation, and nearly 500 amongh various subsidiaries) it has the second-largest passenger airline fleet in the world.

Some of the planes are getting decidely elderly by now, and business class seating is variable, depending on whether the aircraft has had a refit, however by and large most of the aircraft now offer the new seating. Lufthansa though are well known for investing in their product on the ground (such as superb First Class lounges) as opposed to making sure the seats are espesially innovative or state of the art.

On all long haul planes, three classes are offered. Lufthansa has chosen not to go down the route that many airlines have taken, of axing First and offering a premium economy class. Instead, there is just the usual First, Business, and Economy. Now that so many airlines have removed First class, it is a delight finding an airline that still offers a full First service on many routes.

Long Haul:

Lufthansa has introduced a new First Class product aboard the Airbus A380 and plans to gradually introduce it on all of its long-haul aircraft, however for many aircraft there is the old first, and this feels decidedly retro in many respects, most notably the way the 2+2 seats are not separated from each other.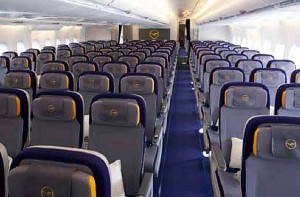 Lufthansa A380 economy class seats
Lufthansa are adding flat-beds in Business Class. The new "PrivateBed" has a flat surface, however it doesn't go entirely level, instead it reclines to nine degrees. There is a fold-away TV screen for IFE, and there are laptop power outlets (Euro Plug and US plus only). The seat is of course fitted to the new Airbus A380, and it has been retro-fitted to all the other Airbus planes (the A340-600 and A330-300s) however only some of the 747-400 have been retrofitted.
In Economy Class Lufthansa have a standard 31 inch pitch, except on the long haul A340 which offer 32 inches. For a long time Lufthansa were notorious for not offering seatback TV screens in economy class, but that has all changed. Now, all Lufthansa A380s all have state of the art in flight entertainment (IFE), with seatback TVs that have Audio-Video-On-Demand (AVOD) screens in Economy Class (called MediaWorld). All of the other long haul airbus aircraft (Airbus A340 and A330) have been retro refitted with seatback TVs and AVOD, however only a few of the Boeing 747 have had the screens fitted. It is a great advance, but it is still vital to check your aircraft type if you want a seatback TV on Lufthansa. ... read more about IFE TV screens on Lufthansa.
Short Haul:
Business Class uses the same seats as Economy Class. The only difference is that the middle seat flips down to form a small table between the seats. It has a 31 inch pitch. There is no in flight entertainment in any class. New slimline seats developed by Recaro are being fitted to the Airbus fleet.
Lufthansa are well known for chaning their aircraft at short notice to match demand, and as such, even if you carefully pick your seat in advance, be aware that the plane might have been changed for something different when you arrive at the gate to board and your plans might be scuppered.
Lufthansa Airbus A380-800
Lufthansa has launched flights with its Airbus A380 superjumbo - and with it, unveiled its newly developed First Class. The A380 has a total of 526 seats, including eight in First Class, 98 in Business Class and 420 in Economy Class. The A380 will be used on routes including Frankfurt to Tokyo, Beijing and Johannesburg. Lufthansa will eventually have 15 in the fleet.

The A380 is a vast plane. Lufthansa have dedicated the ground floor to economy, while on the upper deck there is First Class at the front, and then business class. The German airline is making much of the fact that it is the first commercial airliner with air humidification.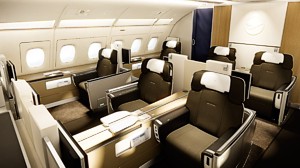 Lufthansa A380 First Class cabin
Economy quite frankly isn't a major advance, but it's certainly up there in the world class. There are slimmer seat backs which makes the seats a bit harder, however this also gives slightly more space - an additional five centimetres of personal space and legroom at knee level no less. Alas seat pitch is a pretty woeful 31inches, although that is 2 inches more than on other Lufthansa planes. There is a decent sized TV screen, which also has a USB port, so you can plug in your own music, films, or documents to read, or use it to charge cameras & ipods. There is also a power connector for laptops, which fits UK plugs, as well as all the other standard variants (except South African). One last inovation was actually created by McDonalDouglas in the 1970s - a beverage holder which works without the table having to be folded down.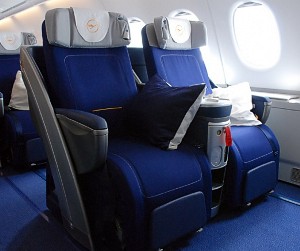 Lufthansa A380 Business Class cabin
Business Class is equally not that inovative. Lufthansa's standard Business Class seat is at least a flat bed, and the seat that converts into a comfortable, two-metre-long bed. It's been tweaked a bit, and has a few extra functions. There is a slightly larger luggage bins, and side storage at the window which is quite good. The TV is a large 10.4 inches, and like economy has a USB for charging or playing media from your mobile devices. Business class is on the upper deck of Lufthansa's A380 sharing with First Class, and like First Class, boards straight from the lounge into the upper deck of the plane, so you never have to see those in the cheap seats. What you do have to see is the passenger next to you, because unlike airlines like Finnair the seats come in pairs: not what you want if you pay so much for your seat.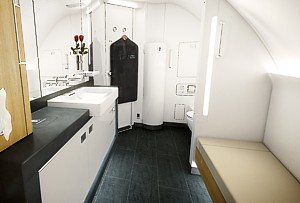 Lufthansa A380 First Class bathroom
First Class is where the really big changes come in. However Lufthansa haven't gone for any of the big changes such as double beds (with Singapore) or inflight showers (in Emirates). Nor are there the individual cabins and sliding doors that make some First Class areas a narrow corridor. Instead, there is a pretty standard clean cabin, with 8 seats, in two rows, of a 1-2-1 layout.
The seats are much better than the old First Class Lufthansa seats, is dark brown, and with a vast table. There are no overheard luggage bins giving high ceilings. Instead storage is in the footrest and sides, with a personal lockable closet with garment bag. The seat converts into a totally flat 2.07 metres (82 inches in length) bed, 80 centimetre (31.5 inches) wide, with a large privacy screen between the seats. Opposite the seat is a small leather Ottoman. Lufthansa's trademark First Class rose is present. There are the usual amenity kits by Porsche Design with La Mer face creams, which complement the amazing First Class lounge in Frankfurt and Munich, with a drive you to the plane in a Porsche service.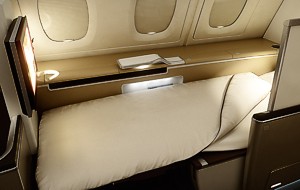 Lufthansa A380 First Class cabin
At the front of the First Class A380 cabin are two areas that each airline has used for a different purpose. Emirates has it's showers. Qantas has a "lounge". And Lufthansa has gone for a vast hotel like bathroom, with wash and changing areas separated from the lavatory area, and even a four seater sofa. There is a huge sink, and even a flower vase, to hold, of course, a Lufthansa rose.
There are personal video screens in every class. Most airlines have had these for years, however Lufthansa had held out for some time in installing them in in economy. Now, however, Lufthansa has not only seatback TV screens in the A380, but also full AVOD (Audio Video on Demand) which allows passengers to stop and start video and music as they choose on the A380 in-flight entertainment system. The Panasonic eX2 IFEC system has a rack of feature films, some documentaries and short comedies, and a long list of CDs which you can combine into a playlist. The video games have also been dramatically improved, and are almost PC standard. There is the usual moving map showing the flight position as a 3D animation, and there are the usual external video cameras that show the landing and takeoff from the tailfin. Airlines like SAS have had them for a decade, but they are a revolution at Lufthansa.
Lufthansa Boeing 747-400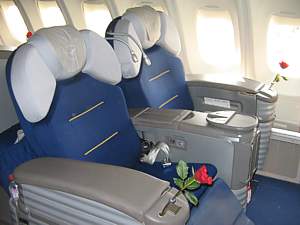 Lufthansa 747-400 First Class seats


Lufthansa have thirty 747-400s in the fleet.

First Class is upstairs in the bubble behind the cockpit. There are just 4 rows of 2+2 fully flat sleeper seats. These are actually not as great as you would expect: for First Class there is little privacy, because you are seated right next to someone else. True, there is a privacy screen, but it offers little real distance from your neighbour. These seats really do go fully flat, so you can get a decent nights sleep on them. A perk on flights over 6 hours is that there is a trolley put next to the exit row seats with wine, beer and nibbles. You also get a rose in the flower-vase at your seat on landing.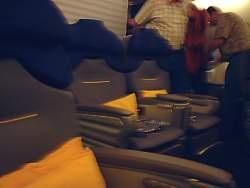 The best seat in the house Business 1A in a 747

Business Class is, unusually for a 747, right in the nose, all the way back to row 15. Seats are in a 2+3+2 formation, but in the nose it tails off to just 2 very lonely middle seats, then just the 2+2 seats right up the pointy end. This is infact the best place to be, because in 1A and 1K you don't have any problem getting out if you are in the window seat, and you have a lot of storage room in the cabinet in front. The crew also start to serve there, and it is very quiet with no traffic passing by. On landing you can even see the runway looming ahead.
The old style upright seats are ok, with plenty of cubby holes to put things in. The headrest slides up, and wings fold out.
Economy Class is in a 3+4+3 formation. Row 24, 32 and 43 are the best, because this is where the doors are, however the wing comes from row 24 to 39, so the view is bad. Seat 43A is generally the best choice.
Lufthansa Airbus A320/A319/A321
Lufthansa is a big customer of Airbus, and has a big fleet of the A320 model, which are replacing many of the older A300 and BAE146.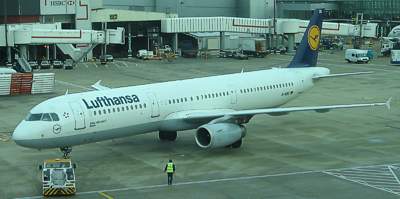 Lufthansa A321 pushing back at LHR


The business class seat is identical to the economy seat, both in pitch and in width, however if you are in business (within Europe, not intra-Germany), and sit on the left, the centre seat is blocked off and the seat arms moved across to give a larger seat - accordingly it is well worth asking to sit in A or C in business. Seat pitch is 32 inches. No models have any entertainment system fitted.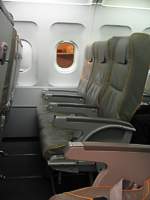 A320 economy seats

There are forty-two A320 which seat 144, with the variable business class seats extending back as far as row 20, although in normal configuration they are only used with the first 3 rows as business class. Row 9 and row 10 are overwing emergency exits - if you ask to sit here, you will get 2 inches more legroom.
The business class seats are in grey leather, but aren't the usual ones with moveable armrests - instead, they have a unique tray table in the middle seat which flips down, and has a drinks indent.
A320 business class seats

There are 22 (and 22 on order) of the larger A321 which seat 182 and are comfortable and modern. Service can be a bit slow, with only a single isle for service. There are no overwing emergency exits, but there is a proper door at row 11 and row 24, so you can as much legroom as you want if you sit in that row, however you do not get any sort of window. Row 6 also has a blanker at the window, so is to be avoided.
There are 27 (and 9 on order) of the rather squat A319. This variant is smaller, seatin 126, and has only one overwing ejectable windows - sit here, in row 9, and you'll get 2 inches extra legroom.
Lufthansa Airbus A330-300 / A340-300 / A340-600

A330 at London LHR


Lufthansa Airlines has two A330-200s, fifteen of the A330-300s, and 26 A340-300, and 24 A340-600. The A330-200 are the newest planes, and as such have much better seats.

Economy seats are in a 2-4-2 pattern, giving a much wider seat than in the 777, and is ideal if you are flying as a couple, as it means the end of clambering over two people when you want to leave the window seat. Row 32 AC, HK are emergency exit seats, as is (very unusually) row 31 in the middle. Row 21 gets a bulkhead.

Business seats are in a 2-2-2 formation, with 8 rows. Row 1 has a bulkhead. At all cost, avoid seat 9A & 9K as there is no window here. Business class has a large TV screen, at 10.4 inches.

It is well worth while hunting out the twin-isle airbus A330 and A340 if you're planning to sit in the cheap seats. Economy has a seatback TV, with a good Audio-Video-On-Demand (AVOD) system. All A330-300 A340-300 and A340-600 aircraft have been refitted with AVOD.
Lufthansa Boeing 737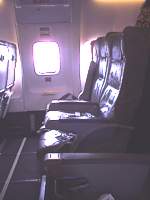 B737 Emergency exit seats


Lufthansa have 33 Boeing 737-300 and 30 Boeing 737-500.

Business Class seats are in a 2+3 layout, with the A and C seats are made from a normal set of three seats, with the armrests pushed closer together to give lots of seat width. It is recommended going for these seats, but here rows 2 and 3 are the best, as row 1 is the bulkhead row, which gives you nowhere to stow bags containing things you want quick access to.

All planes have had a minimum of three business class rows, but with just a sliding curtain that can move according to demand, and sometimes you'll find your seat moved if the curtain moves, thanks to a sudden influx of people in the cheap seats. On the other hand business class can go all the way back to row 20.

CRJ-200 Lufthansa Cityline at Cologne

Economy is in the usual 3+3 pattern, with row 10 being the emergency exit seat, with a lot more legroom.
Lufthansa CRJ-200
Lufthansa has an amazing 60 of the Canadair Regional Jet 200s. They carry 50 passengers. All seats are in a 2+2 layout. Overhead locker space is very limited - you can take a normal sized carry-on bag, however this is taken off you at the door (remember to ask for a yellow tag at checkin for this process). Regular travellers know to take a smaller squashy bag, which will fit in the overhead bins, however there is not really much of a delay in collecting your bag. There is a full (trolley) drink and food service on these very tiny planes.

Business Class is separated from the rest of the cabin with the usual moveable curtain. There are usually three rows of business class (1 to 3 on the left, two rows of 2 to 3 on the right). There is however no extra legroom.

Economy is in the usual 2+2 pattern, with row 11 being the emergency exit seat, with a lot more legroom. Try and avoid row 20, where the proximity of the engines means you'll have a noisy flight and stagger off the flight with your ears bleeding. The only advantage of this row is that you get served first on flights from Germany.
Eurowings BAE-146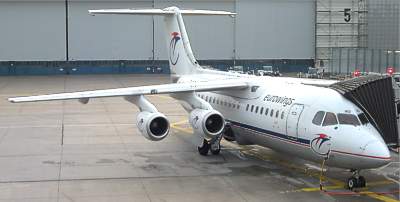 Eurowings BAE-146 at Dusseldorf


Lufthansa's offshoot Eurowings has 26 BAE 146s, carrying 93 passengers. All seats are in a 3+3 layout, and the overhead lockers are normal sized. Most in the fleet are getting decidedly elderly - look at the number of repaints (by the door) to see the age. Although seat pitch is better than most airlines at 31", the width is definitely a bit of a squeeze. The best seats are 1A and 1F, as seats 1B and 1E are never used. In-cabin engine-noise is another failing of the 146, so prepare for your ears to bleed before you land.

Views of the ground are a strong point of the BAE146, because of the high wing above the cabin, so no seats suffer a wing view. Row 5 gives you a lovely view of the engine cowling, but not much else, and row 6 gets a blanker in the window. The overhead lockers in rows 6 to 10 are half size.

It is also worth noting that although beautiful, with great handling characterists, and it can take off from a handkerchief, the BAE146 is not the most reliable of aircraft. The older ones tend to go technical just because there is a little rain in the air.
Eurowings CRJ-200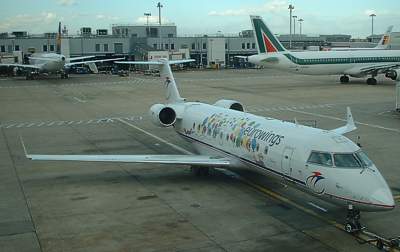 Eurowings CRJ-200 at LHR


Lufthansa's offshoot Eurowings has 12 Canadair Regional Jet 200s. They carry 50 passengers. All seats are in a 2+2 layout. Overhead locker space is very limited - you can take a normal sized carry-on bag, however this is taken off you at the door (remember to ask for a yellow tag at checkin for this process). Regular travellers know to take a smaller squashy bag, which will fit in the overhead bins.

Business Class is separated from the rest of the cabin with a plastic sheet - not even the usual curtain. Row 1 on the left, and row 2 on the right are the bulkhead seats, and give slightly more room. Business class goes back to row 3.

Economy is in the usual 2+2 pattern, with row 11 being the emergency exit seat, with a lot more legroom.
Lufthansa Historical Fleet
Lufthansa Airbus A300
These are quite old planes. Lufthansa look after them well, but the 9 in the fleet still seem old, with particularly old style seats and overhead bins. The A300 is often used on the flights from LHR to FRA, but is now rapidly being retired.

Economy is in a fixed 2+4+2 formation.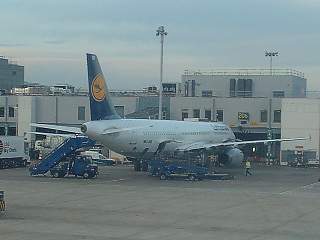 Lufthansa A300 at LHR with retro-fitted wingtiplets

Business Class is in a fixed 2+3+2 formation, in a totally separate cabin. The seats are the same as economy, but the middle seats have folding armrests, giving more width, and there is a bit more legroom. The cabins provide leather seats in the airline's grey livery with yellow piping, and the words "Lufthansa Business" usually adorn the bulkhead, so that you can remind yourself that you are, indeed, at the front of the plane. Rows 16 and 17 get blankers in the windows, so there is no outside view.
Next page: Lufthansa IFE inflight entertainment >>>
All images and content copyright airreview.com