Lufthansa IFE
Whether Lufthansa offer a seatback TV on a long-haul flight depends on the type of plane you are on, however by and large longhaul most Lufthansa planes have seatback TV. There is no inflight entertainment of any kind shorthaul.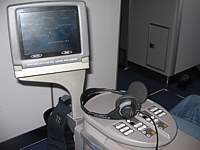 Lufthansa 747-400 First Class entertainment

The new state of the art in flight entertainment (IFE) system with seatback TVs that have Audio-Video-On-Demand (AVOD) screens is called MediaWorld. Films can be started at any time, interrupted, advanced or rewound. Lufthansa are also offering audio-on-demand, which means you can build up tailored CDs.
It is vital to check the type of plane you are on to see if you will get one of the new planes, or a retro-fitted plane, which has the new inflight entertainment system.
All Lufthansa Airbus A380 aeroplanes all have MediaWorld with seatback TVs that have Audio-Video-On-Demand (AVOD) screens in all classes including economy. Business class has very good TV screens, at 10.4 inches.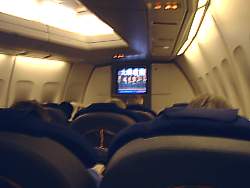 Business overhead screen in a 747-400

All Airbus aircraft Airbus A340 and A330 have been retro-fitted with Mediaworld with AVOD, and economy does have seatback TV, although not as large as with the A380.
Few Boeing 747-400 aircraft, have been been retro refitted with seatback TVs and AVOD. Here, if you're planning to sit in the cheap seats, it is unlikely you will get a seatback TV in economy, although Lufthansa are rapidly rolling out fitting of Mediaworld.
On the New Boeing 747s, Business class has the new screen, 10.4 inches wide, while economy has a 7 inch screen.

Lufthansa A300 at Copenhagen


On the old Boeing 747s aeroplanes, First Class gains individual DVD players, Business has individual TV screens, but they are very small, at 4.5 inches, and film selection is a bit limited, but all the films are very up to date. Lufthansa make much of the fact that their business class has individual screens (with a dual English (odd channels) and German (even channels) soundtrack). It sometimes takes the crew a long time to switch on the films. On channel 1 on the first half hour of the flight (which is not repeated) there is Euronews. This is recorded at 6am and 2pm each day, so normally isn't too out of date. In Economy, there are overhead CRT screens, which show two films in short succession on long haul flight. That's it.

Films are listed in the back of the Magazin, in a pretty confusing way. It starts with pages of film reviews. Then there are the listings from and to Germany for 747s with screens only in business, broken down channel by channel. Then there are the listings for the overhead films for economy. Finally, there is a listings for the new screens with video on demand for all classes.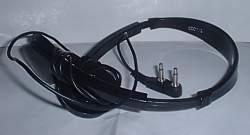 Lufthansa headphones


There are 4 films, all mainstream US imports, a channel with comedies like Friends and Frasier, a documentary channel, and the usual channel with a map.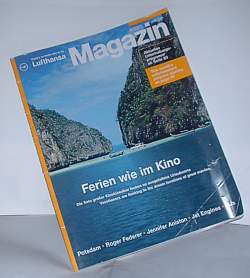 Lufthansa
Magazin
In all classes there are 16 radio channels.
Business and economy use the same headphones - small poor quality ones, with an overhead band, and a twin 3.5mm jack plug. Audio quality is pretty poor, with minimal stereo separation. First Class has decent noise reducing headphones.
Lufthansa Inflight Magazine - Magazin
Lufthansa's magazine is called, in typical business like fashion, Magazin. It's actually a really good read, with lots of travel articles, film reviews and some competitions to win flights.

The first contents page is in German - turn over the page to get the English contents. There's normally a big article with socio-economic analysis of an area, an interview with a European politician, several puzzles, another interview, two travel articles, a page of film gossip, news on new bars and restaurants in travel locations, and miles and miles on Lufthansa news.
Eurowings
Magazin
At the back are details of inflight entertainment.
Lufthansa want to charge €4.50 if you want to take the magazine off the plane. Incredible!
Eurowings Inflight Magazine - Magazin
Lufthansa's small offshoot Eurowings also has it's own inflight magazine - called, similarly, Magazin. It is in all the seatback pockets, along with the Lufthansa version.

It's actually pretty good - but alas, produced just in German, with no English translation, other than the editorial on the front page. There are however some good maps.

Eurowings want to charge €4 if you want take the magazine home with you. Yes, that's right - they show they are just the slightly cheaper version of Lufthansa.

Next page: Lufthansa inflight experience >>>
All images and content copyright airreview.com