News: Etihad Airways has changed it's London schedules. There are now three flights a day, however there will be no return to London Gatwick.
Abu Dhabi is the hub, and most flights run non-stop from here, but there are some routes that hop by another destination – sometimes by two.
Most flights are timed to connect at Abu Dhabi in the middle of the night. While unsociable, this has huge operational benefits for Etihad: at night the temperature is lower, and planes will use less fuel at takeoff.
The flagship route for Etihad is from Abu Dhabi to London Heathrow. There are three flights a day, at 0235 (777), 0850 (777-four times a week), and 1335 (the much better A340, which also lands at a decent 6.15pm in the evening). London Gatwick however will not see any more flights, and the route has been axed.
Dublin has a daily flight, but the time of this varies from either 0220 on Sunday Monday Wednesday and Thursday, to 0915 on other days of the week. Both are on A330s. Frankfurt has two flights a day, at 0215 and 0855. Paris is daily at 0210. Dusseldorf at 0215 daily, and Amsterdam at 0930.
Abu Dhabi to New York gets a flight at 1000 daily. Toronto gets a flight justa couple of days a week, with a Boeing 777, at 0945. Chicago is an odd one: four days a week (Mon-Thurs) there is a Boeing 777 at 0945. Washington has a daily flight at 1000 with an A340-500.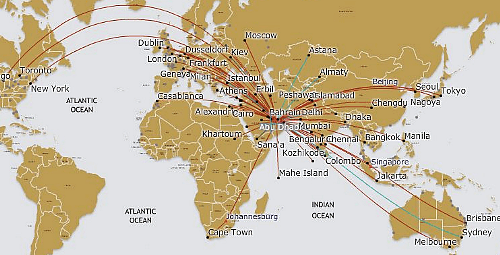 Etihad Airways Route Map
Flights to Australia are complicated, thanks to Etihad's link up with Virgin Australia. There is one main daily flight, at 2200 each evening, which staggers into Sydney 15 hours later at 1810. This flight has recently changed to a 777, which in economy is much more cramp than the previous A340. It's not recommended. Better is the Virgin Australia 777 which leaves at 1035, and arrives at 0620, but this only runs three days a week. Alternate days, Etihad operate this route, leaving slightly earlier at 1015, and this does use the A340.
There is a flight to Melbourne four days a week at 2220, arriving at 1810. There is also a daily service to Brisbane.
Airline schedules change regularly
This information is intended as a guide, but for up to the minute timetables, please consult Etihad Airways at www.EtihadAirways.com