Etihad Airlines Amenity Kit
Etihad First Class
Etihad's amenity First Class kits are rather like the IFE system: impressive specs, but the content is rather woeful. There are two versions – a blokes one which looks like a large, leather cufflink box, while the ladies' version is covered in Swarovski crystals and about the size of a clutch bag.
However the contents is almost the same as in economy, with simple eye masks, basic airline socks and earplugs, and two tiny tubes of La Prairie lip balm and moisturiser. Impressive it is not.
In First you also get a pair of Etihad's pyjamas, which have a long sleeve top with a zip and a pair of tracksuit-style bottoms. They are rather like the kind of affair you see at Aldi on a bad day.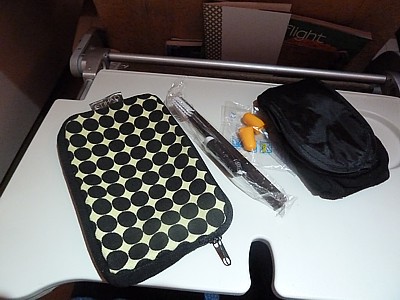 Etihad Economy Class amenity kit
Etihad Business Class
The Etihad Business Class amenity kit doesn't exist. If you are disappointed in First, you will never get the chance to enjoy it in Business. Instead you get the same basic eyeshade and socks as you would in economy, in the bag that contains your blanket.
The crew come round with a basket of lip balm, moisturiser, and toothbrushes just before takeoff. It's pretty cheap and unimpressive.
Etihad Economy Class
The Etihad Economy Class amenity kit is better than most airlines - which is odd, considering the lack of facilities up front. The amenity kit on Etihad comes in a well designed wallet, and contains your eyeshade and socks, plus earplugs, and a toothbrush and toothpaste combo.
Etihad Baggage Allowance
Etihad has a larger than normal standard Luggage allowance: in economy you can check in 30kg, not the usual 20kg!
Cabin Bags: The carry-on Baggage Allowance for Economy a is a mere 7kg, and each item must not exceed maximum total dimensions of 111 cm (such as 40 x 50 x 21, but there is no fixed limit on length or width). Business class and First gets two bags, to a total of 12kg.
Etihad are very lax about what you can take on board, with few checkpoints for weight.
Check in luggage: Economy class can check in bags to a surprisingly large 30kg, Business class to 40kg, and First class can check in a whopping 50kg. Etihad Guest Silver gets another 10kg, while Gold get another 15kg, and Gold Elite 20kg. However flights to and from the United States of America use the piece concept. In economy have 2 bags – maximum for each bag 23kg - while Business and First class have 2 bags – maximum for each bag 32kg. For all three cabin classes on Etihad flights originating or arriving in Sao Paulo, Brazil, two checked in bags weighing up to 32kg each are permitted free of charge.
As always, these rules can change. Etihad's website has details of exactly what you can take onto a flight.