NEWS: Etihad has 41 Boeing 787–9 on order, with which it plans to replace some of its Airbus A330s. It has cancelled half its orders for the Airbus A350-1000, leaving it with just 12 A350 on order.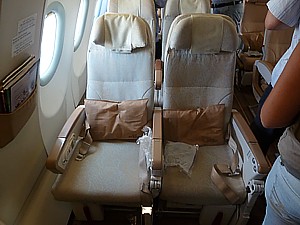 Economy A330 emergency exit 33K
Etihad cabin classes
Etihad Airways is very traditional: it has a rather old fashioned standard three class layout with First, Business and Economy, with the exception of the A320s which only have business and economy.
At all seats in all cabins you will get a seatback TV on Etihad: Etihad's inflight entertainment and seatback TV.
Etihad Premium Economy, while much talked about, is a class that doesn't exist: in the Middle East Premium has never proved to be much of a best seller, and like Emirates, Gulf and Qatar the airline doesn't offer this class.
Etihad International First Class - Diamond Zone
Etihad has a decent First Class cabin: it is quite similar to Emirates, however unlike EK Etihad doesn't have as much bling, or come to that other niceties like an in-flight shower or walk up bar. The cabin also feels a bit cramped, with four first class seats abreast in the A330: compare this to say Qantas which only puts three abreast in its much larger A380.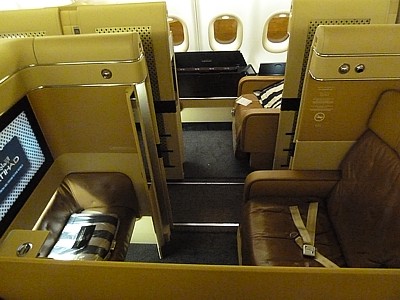 First Class The rather small private cabins
The Etihad First Class cabin is called the Etihad Diamond Zone. Almost all aircraft have Etihad's new First Class Suite, which is very private: it has a sliding wooden door which either makes the seat feel very cocoon like or very claustrophobic, depending on your point of view. The seat is a large leather armchair affair which folds down into a decent flat bed. There is a large wooden table too.
There is a vast 23-inch TV screen, which is great for watching films: there is no squinting at a small seatback TV in this class. There is also a cupboard with a small mirror, and what is hailed as a private mini bar, although in reality it only contains coke and water: the bar is strictly dry. There are USB and 110v power sockets which take every type of plug except UK/HK square pin plugs.
In first you of course get a set of pyjamas: don't change into them at your seat: there is a tiny changing room with a leather fold down seat and a full length illuminated mirror at the back of the cabin.
Etihad Business Class - Pearl Zone
Etihad Business Class is called the
Pearl Zone
. Seats are of the slightly unusual staggered pattern, with a 1-2-1 layout, where each row tucks into the seat in front: it means that you do get a flat bed, but your feet stick into a small hole in the seat in front: if you are over six foot tall, this can be a bit restrictive. It is the standard Solstys seat from Sogerma, very similar to the Emirates' customised version, but without the Emirates problem of having half the seats shorter than the others.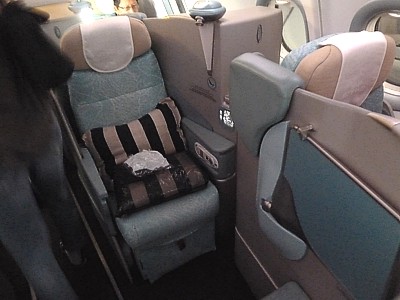 Business Class The older baby blue seats on Etihad
The Etihad Pearl Business Class seat comes in two decidedly unflattering shades of beige, picked out in two different colours. If it is in baby blue it is first generation, and if it is stripey black-brown-beige, you've scored the second generation. However, the differences are minor, mainly related to the table which in the second generation has a huge hinge just where your kneecap will bang it; this is actually an improvement, as before there was a rather small wobbly meal table, but now it is rock solid, even if your legs won't be when you deplane.
There is a cocktail table beside the seat (on top of the feet part of the seat behind) which is very useful: it means you can have your glass of G+T at hand, but not extend the main table.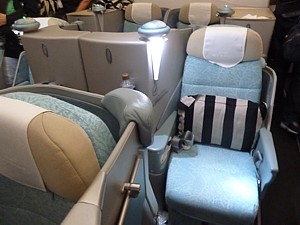 Business Class The small A340 cabin
There is a leather headrest, small ottomans (upholstered by Poltrona Frau no less) and a 15.4 inch TV screen screwed to the seat in front. The seat converts into a decent . 6 ft 1 inch full flat bed and direct aisle access from every seat, but – and this is the issue – your feet slot into a small dog-box into the seat infront.
Etihad Business Class comes with most of the usual trimmings, such as lounge access. A very useful one is the free taxi service to and from the airport with an Etihad Chauffeur ride. Some of the perks are unusual, including the exceptionally good Sparkling Wine Etihad serve on board (Mumm Cuvιe Lalou) and the way you genuinely can order meals at times when you want them – there are no trolleys in the aisle. However meals are served on very economy like trays. Etihad have a good reversible fleece and cotton blanket, but the business class amenity kit is also poor, with just eyeshades and socks on the seat - the crew come round with baskets of everything else.
Etihad Economy Class - Coral Zone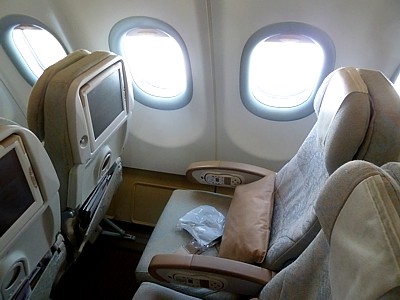 Economy Class Etihad seats have a small 31 inch pitch
Economy Class on Etihad is pretty basic, but also reflects well on the age of the plane: because Etihad could go shopping for the latest generation aircraft and seats, you get a seat with most of the toys even if it is quite standard – it is just a standard recliner. Etihad economy class pitch is just 31.5 inches (32 in some seats), with 20 degrees of recline, but the Etihad A340 economy seat is certainly better than the very narrow seats on Emirates 777s.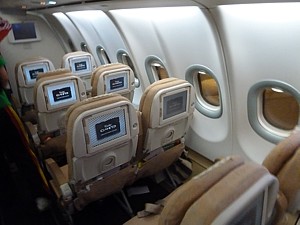 Economy Class On an Airbus A330.
Etihad seatback TV is on every economy seat, and being so new Etihad claims to have the largest economy seat-back TV screens of any airline - 10.4 inches. It is genuinely good, which almost makes up for poor TV selection and woeful user interface. All seats also have an AC power socket (for al plugs – including UK/Singapore square pin 240v variants) and a powered USB ports for tablets: on the 14 hour flight, you'll probably need it.
Service is OK in economy on Etihad, with just a standard trolley service. There is however an amenity kit in economy that is better than the one offered in business.

Etihad Fleet
Etihad flies a vast fleet of Airbus aircraft, with a few Boeing 777s long haul, and a few more Boeings on order. Within a few years Etihad will add some of the new Airbus A380 double decked planes to transatlantic routes.
Long haul you're most likely to end up on a twin aisle Airbus – which is actually the aircraft of choice for couples, because it has twin 2+2 seats on either side of the cabin. It is the classic Airbus widebody, with the A330 for shorter routes with better fuel economy, and A340 for longer ones.
Etihad A340-600 / A340-500
There are 11 Airbus A340-500, and 7 of the larger Airbus A340-600 which are used on the longest of long haul flights.

Etihad A340 At New York JFK
They can be distinguished from the twin engine A330-300 as they have four engines – and the A340-600 can been easily seen, as it is so long. It is technically the longer commercial airliner flying today.
There are two versions of the A340, and these are again split into two sub-types. There is seatback TV on All Etihad A340 with Inflight Entertainment using the E-Box system, which has full AVOD (you can start and stop video as you like), and the system is quite new, with plenty of films loaded – there are about 90, and a good 100 TV programmes, although the actual selection isn't that great unless you are into obscure US TV comedies.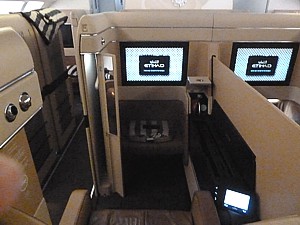 First Class On an Airbus A340.
The Etihad Airbus A340-600 s are the longest commercial airliner in the air. It still has a certain grace as it comes into Heathrow.
The Etihad A340-600 seating plan has just three rows of first class in the nose, with Diamond First Class in a surprisingly cramp 1-2-1 layout.
Etihad A340-600 Business Class
There are two separate ('Pearl')
business class
cabins in the Etihad A340-600, seating a mere 32 passengers. Both of them have 1-2-1 business class seats, but the selection of cabin is pretty crucial on Etihad's A340. The forward cabin – rows 5 to 9 – has five rows the bassinette seats, and could be blighted by screaming children. However in the rear cabin there are just three rows – rows 10 to 12 - all the economy passengers walk past your seat to get in board – in the at the door turn left front cabin you don't get this. Plus, the noise of children at the front of economy doesn't come through either.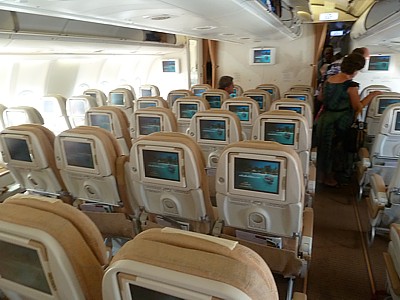 Etihad Airbus A340 Economy Class Cabin
Service is however the same in both cabins – the crew in the middle galley split and (at least in theory) deal with both cabins at the same time, although it doesn't always work this way and sometimes the front cabin gets done first.
There are no overhead centre storage bins on Etihad's A340s in Business, and the few remaining are small Airbus bins: and as a result storage in the cabin is a real problem: you may need to board early if you have a large bag. All seats are the staggered lie flat Sigma seats, which aren't very long at only a fraction over six foot. If you have the new business class cabin – with beige stripes – the massive hinge for the table is a real problem for your kneecaps, but at least it has a universal power socket (which fits UK plugs) and a USB power socket near the floor.
Etihad A340-600 Economy Class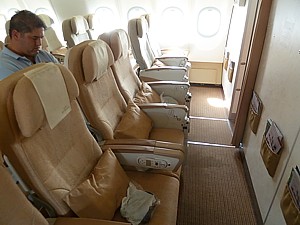 Economy Class On an Airbus A340.
The Etihad A340
Economy
seating plan is a basic 2-4-2 layout. The Emergency exit row is row 34, while row 16 is a bulkhead. Try and avoid row 34 on long overnight flights – it is right by the block of toilets, and you will never get a decent night's sleep with the light spill and noise. Row 20 is special, with an extra six inches of legroom, and is highly prized. (NB: Note – some people claim row 18 is the special row. It was on the old
Etihad A340 seat plan
, but all aircraft have now changed).
Row 36 D to G are the Etihad economy class bassinette seats (the screamer or cot seats, where young children are put on the flip down shelf and often scream thought the flight). Seats around here should be avoided too.
The seat itself is pretty normal, but good new and modern. The Etihad economy seat pitch is just 31.5 inches, with 20 degrees of recline, but economy seat-back TV screens are large - 10.4 inches, and there is an AC power socket and a powered USB ports for tablets.
Etihad A340-500
The
Etihad A340-500
seating plan is similar to the 600 variant, but with less room, having just one business class cabin with seven rows. In economy, the emergency exit row is row 24, while row 15 is a bulkhead.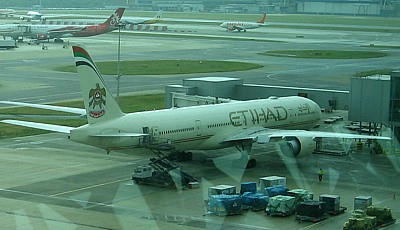 Etihad Boeing 777 At London Gatwick
Etihad A330-300 / A330-200
The Etihad A330 is quite similar to the A340, but much newer – this aircraft is a radical departure for Etihad, which previously had boasted about always having First Class on all longhaul flights. There are none on this, but the two engines – and the fuel saving – make it worth it, which is why Etihad has recently bought this aeroplane. They fly to lower-level Etihad destinations such as Athens. There are 16 in the fleet.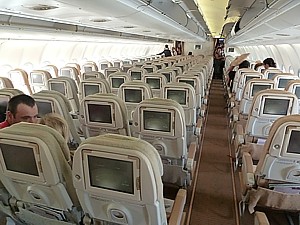 Economy Class The long A330 cabin
The Etihad A330-200 is yet another variant, but without first class. At the front there is just one business class cabin with seven rows. In economy, the emergency exit row is row 33, while row 15 is a bulkhead. Avoid row 33 D to G, which is both a bassinette, and has an odd false wall infront of it and behind row 32, which does little.
Etihad A350
Etihad has 41 Boeing 787–9 on order, with which it plans to replace some of its Airbus A330s. It has cancelled half its orders for the Airbus A350-1000, leaving it with just 12 A350 on order.
Etihad Boeing 777-300ER
The Etihad flagship of the fleet is very much the Etihad Boeing 777-300ER. Alas this doesn't explain why flying the Boeing on Etihad is so much a more uncomfortable and miserable experience than flying Etihad's Airbus twin aisle fleet. The difference is so marked, many loyal passengers on Etihad comment that 'if it's a Boeing – they aren't going'. In general, particularly in economy, avoid this aircraft and take the A340 if you have a choice. If you are more than averagely sized, the Boeing is grim.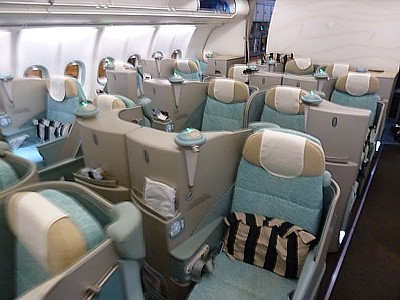 Etihad Boeing 777 Business Class Cabin
The major problem with the Etihad Boeing 777-300ER is that Etihad fit ten seats abreast in economy, instead of other airlines (such as BA) which only fit nine. This makes for a very narrow uncomfortable seat. Emirates get around this problem by making the economy seats longer (their pitch is 34 inches) which helps – a bit. Etihad however stick with a 31 inch seat pitch. With the 777 now used on ultra long haul flights such as to Sydney, this is a real pain.
There are two variants of the Etihad Boeing 777-300ER; one with First Class, and one without.
There are just four Etihad Boeing 777-300ER with First Class there are 8 First Class Lie Flat Suites, with an 80 inch flat bed that is 30 inches wide - that's pretty nearly a yard. The AVOD TV screen is 23 inches wide. There are 40 Business Class seats, with a small mini business class cabin at the front (rows 5 to 7) which is by far the best place to sit. The larger business class cabin has 7 rows (row 8 to 14) and service at the back of the cabin can be very slow. The Etihad Boeing 777 Economy Class is split over three cabins, with a strange micro cabin right at the front with just three rows! (row 18 to 20) This is by far the best place to sit. There are then two much larger economy class cabins, with row 18 and 32 being emergency exits, how the seats are in the same dreadful 3-4-3 seat layout in economy. This is woeful. You have to be lucky –or unlucky – to get on this Boeing, as there are only four of them; alas this aircraft has started to be used on some ultra long (14 hour) routes such as to Sydney, and it should definitely be avoided on the days when it appears.
There are ten Etihad Boeing 777-300ER without First: these have an expanded economy section, and still with only 7 rows of business class. These aircraft tend to end up on high volume low revenue routes, such as Kuala Lumpur. Here there are three economy class cabins, all with the same 3-4-3 seat layout.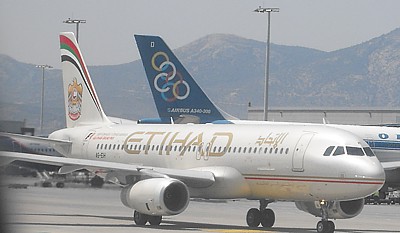 Etihad A320 On the short Athens to Abu Dhabi route
Etihad Airbus A320/A319/A321
Etihad use the single aisle Airbus A320 for some quite long flights around the Gulf - and they even make it as far as Europe. There are fifteen of the classic A320 in the fleet, and 2 of the tiny A319. Seven of the much larger A321 are on order.
Etihad A320s seat 120, in economy with a 3-3 layout. Row 17 and Row 18 are the overwing emergency exit - if you ask to sit here, you will get 2 inches more legroom. Row 18 is highly prized, as the seat here reclines fully. Pitch is 31" and width is 17".
All models have large 14 inch fold down LCD TV screen under the overhead lockers for both classes. Service can be a bit slow, with only a single aisle for service.
Etihad have a good but basic business class seat on the Airbus A320 – it is marginally better than the convertable euro-business seat, but it it nowhere are good as the A330 business class seat. As a result, on routes where both A330s and A320 operate, you should always choose the A330. Threre are 16 seats in Business on the A320.