Etihad Airlines has a few quirks and tricks, and it pays to be aware of them if you are booking flights: one of the most useful, but annoying ones, is that of bidding for upgrades.
Booking Etihad flights online
Booking Etihad Airlines flights on the Etihad website is either a piece of cake, or a notorious nightmare, depending on whether you want a simple point to point, or a multi-leg journey. For longer journeys such as Europe to Australia - which should be Etihad's bread and butter, it screams avoid, and just book them via a third part website.
It's fine if you just want to go from A to B, and the website lists the five options, with typically the direct flights, and some connections on codeshares. It helpfully lists all the options for cheap or expensive flights in each class, and get this - if you select economy flight and if there are cheap business class fares, it will list the cheap business along with economy, so you can book a mixed fare, outbound in one class, and return in another. Simples.
However it appears the designers didn't consider options where there is more than one segment, or where you'd need a mixed class even on one leg of the journey. And forget trying to get a stopover, anywhere. The Etihad website is a notorious nightmare on the classic Kangaroo flights, from Europe to Australia. Here, it will always come up with just five options, four of which result in linking on the same flight, but with minor variants on Virgin Australia at the far end.
And it is truly woeful at booking from Dublin to Sydney, via the UK. These flights should be easy to book with a short connection to start with from DUB to LHR on an Aer Lingus codeshare. Every flight to London has an EY code, but the Etihad website will never show them.
You can of course get around this, by calling Etihad direct and making the booking the old fashioned way over the phone, and pretend we are still in the last century. However, if you do this, make sure you have the exact flight numbers and the booking class you want, or the Etihad ticket office will just repeat the same flights you can see online, which of course isn't what you want at all!
Etihad upgrades: bid for upgrades - Plusgrade Etihad
Etihad now offers you the chance to bid for upgrades via an online bidding system, with a new system called PlusGrade.
PlusGrade emails out upgrade offers five days before your flight, and depending on your bid, your upgrade will get the go/no go two days before your flight.
Upgrades are available from economy to business or business to first - but not both.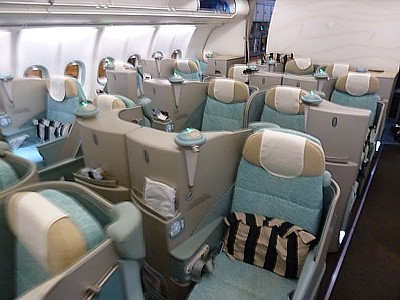 Etihad Airways Business Class - well worth the upgrade.
However you'll need to have booked direct with Etihad either on etihad.com, or through a ticket office, and not via a promotional fare.
When you put in your bid, the Etihad website will give you an indicator of how likely your bid is to be accepted, but this bidding is purely generic, with just red, yellow, or green bars.
If you have a connecting flight you will have to bid to upgrade each part of the journey.
You won't earn the full upgraded class Etihad Guest miles either 0 just an extra 10%.
So what is a good Etihad Plusgrade bid to be accepted? AU$600 generally works from Australia to AUH, and GBP£400 is about right from the UK. However bear in mind that Etihad are good at offering upgrades at checkin if you are willing to pay: GBP£770 is the typical LHR to SYD upgrade fare at the ticket office at the airport.
Etihad - book direct vs travel agents
Should you book an Etihad flight direct with Etihad, or via a travel agent?
Well for a start, consider that Etihad are one of the few airlines left that just won't touch travel agent's bookings if something goes wrong, which can leave you in limbo half way around the world.
Also remember that you won't get an email asking you if you would like to bid to upgrade your flight if you book it via agents.
The moral is clear: while agents may be slightly cheaper, always book direct.
Etihad - what to wear on board
It's quite unusual, but Etihad have a dress code on board, however this is not very well (if at all) enforced, particularly on flights from the UK and Australian. Etihad always state
"National dress is acceptable attire in all cabins."
but equally that's unclear too. Is say lederhosen desirable on flights to Germany?
The rules are:
For travel in economy (Coral) zone the minimum standard of dress is smart casual:
Males: Collared shirt and smart casual trousers. Smart jeans and sports shoes may be worn
Females: Dress, trousers or skirt and top with sleeves. Smart jeans and sports shoes may be worn
For travel in business (Pearl) zone the minimum standard of dress is:
Males: Long sleeved jacket, collared shirt and smart trousers. A tie is not necessary.
Females: Long sleeved jacket, blouse/smart top with sleeves, skirt or smart trousers or a dress
Children under 12: Smart casual. Smart jeans and sports shoes may be worn.
For travel in first (Diamond) zone the minimum standard of dress is:
Males: Long sleeved jacket, collared shirt, tie and smart trousers.
Females: Long sleeved jacket, blouse/smart top with sleeves, skirt or smart trousers or a dress.
Etihad also state that certain items of clothing are considered unacceptable for travel. These include worn-out, dirty or torn clothes, beach or jogging attire as well as t-shirts, shorts, sleeveless tops and beach shoes. In keeping with Etihad's national culture, clothing must not be transparent or reveal shoulders. Blouses and tops that have low necklines, are strapless or expose the midriff or back are not accepted and skirts and dresses must be no shorter than mid knee length.
Ethihad hammer home the rules for staff & complementary tickets: "It is really important that you comply with the dress code otherwise you will be faced with the embarrassing situation of being asked to change. If you do not possess suitable alternative clothing you may not be able to travel."
Etihad Airways website
The Etihad Airways website is pretty snazzy with a good performance.
Main Website: www.Etihad Airways.com
Information on Frequent Flyer