NEWS: SAS have axed all flights to Seattle.
SAS have a strange place in the world of European Aviation. Just like Sweden, it does things differently, but gets the same result. The airline has 3 main bases, Stockholm, Copenhagen & Oslo, and operates as the "home" airline for 3 countries - Sweden, Denmark, and Norway.
Recently the airline has become a low-cost no-frils airline trans-Europe in Economy (no free food, drinks, or baggage transfers), while still maintaining a better "with some frills" Economy Flex cabin, and business class. Long Haul there are still some perks in Economy. Eurobonus, The Frequent Flyer scheme, has had some drastic cutbacks, and it is now hard to obtain redemption seats in Business Class.
SAS used to part own airlines like bmi, which has followed the trend of becoming a cheaper airline (although, noticably, not offering any cheaper fares), however as economics have hit, SAS have sold off anything deemed "non-core", such as bmi. This "rush to the bottom" strategy is certainly aimed at appealing to travellers who fly occasionally for holidays and who may not expect much anyway - however it is rapidly putting off those who used to use SAS regularly for business. As a result, premium loads on SAS have taken a significant dip. It is unclear at the moment of SAS plan to carry on appealing to the cheapest possible passengers and ignoring those who used to fly on them for a premium product, however a campaign amongst previously regular passengers has shown no results as yet.
The airline alternates in its use of either SAS or Scandinavian (Or even the Scandinavian Air Service) as its title, and the logo and planes colour schemes can vary between planes, although less so than in the past.
SAS used to have a low-cost offshoot called Snowflake, however this branding has been effectively erased, as the distinction between it and the mainline SAS services blured to such an extent that SAS started calling it's cheap economy seats "Snowflake" class, when it removed all free drinks and food from the economy class cabin.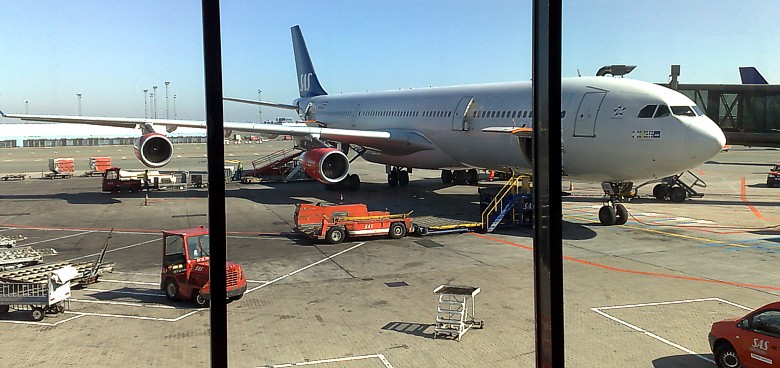 SAS A340 just landed at Tokyo Narita after the long slog from Copenhagen

SAS Classes, seats and fleet
SAS Scandinavian Airlines has three classes short-haul, and two (or two-plus-a-bit) classes long-haul.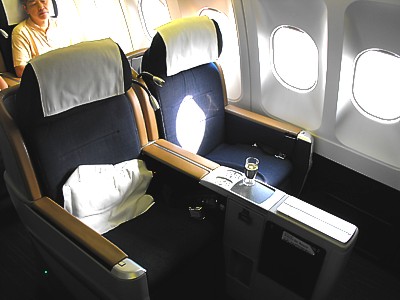 Scandinavian Long Haul business class seats, in row 1 of the SAS A340

Around Europe, short-haul, if you travel Economy, there are two choices. Economy is just that, with no free food, drinks, or Eurobonus Frequent Flyer miles. You can however buy food (so long as the trolley gets to you before the flight lands). Even worse, and unexpected for most passengers is that there are no interlined baggage transfers, and you may be expected on connecting flights to collect your luggage and pick it up again (although some passengers report they don't have to go through this). Known as "Punishment Class" by frequent flyers, SAS prefer to label it as their "Snowflake" class.
Short-haul the other economy option is, for a little extra you can get into the new Economy Flex cabin. This is separated from "no-food economy" by a curtain. You get basic food and beverages on board, and there are special headrests. You also get free rebooking and refunds, priority check-in, and can carry on two bags.
A second word of warning - SAS fly a fleet of ancient Macdonnal Douglas planes. They are well looked after, so the age doesn't matter so much, but even so it really is like going back to the 1960s. These planes have the engines strapped to their backside. Some people rave about them, as the idea (back in the days of really noisy engines) was that its quieter for passengers in the expensive seats at the front. Very true, but if you're late at check in you'll get the window seat at the back of the plane, and spend the flight looking out over a great view of engine cowling. It'll be several hours after the flight lands that your ears stop bleeding and you can hear again. Thankfully these planes seem to be on their way out, and you're more likely to end up on a modern 737 unless you are on the flagship London Heathrow route.

SAS A340-300 & A330-300
SAS has five of the four engined A340s, which are used on the long-haul Singapore, Tokyo, and Bejing routes. There are also four of the two engined A330s, which are almnost the same size and used for the relatively shorter routes to from Arlanda to Chicago & Newark and Copehagen to Washington, Chicago & Newark. SAS manage to fit 261 passengers on these planes.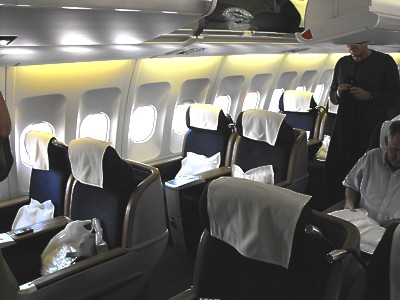 SAS A340 business class seats, in row 2 & 3

SAS run these plane with three classes, economy, economy extra, & business.
Business Class is pretty good. SAS has just installed new Business Sleeper Seats on the A330/A340 fleet, which are better than the old business class seats. The seats may not be quite up to the standards of Singapore but it's better than United and rather similar to Thai. They have a 20" width, and a 79" length. They go flat, but not level, with a 170 degree recline, however there is a hidden lever that brings them fully 180 degrees flat. The TV screen is screwed to the seat infront except if you are in row 1 and 7, where there are flip out TV screens in the arm rest. The table is in one armrest, and the video screen in the other. The telephone is clipped low down in the armrest, so when asleep its possible to accidentally press the call button. There are 3 useful buttons on the bottom of the seat recline adjustment - presets for landing, eating, and sleeping. The seats alas have no footrest, so you can slowly slide down to the floor once you put it into sleep position, unless you use the hidden lever. This is hidden behind a small plastic panel on the isle side, however the crew do not always appreciate you fiddling with it inflight.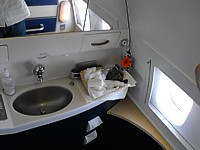 SAS A340 business class toilet

Both the A330 and the A340 have a front cabin, with six rows of 2+2+2 seating in rows 1 to 6. Row 1 is very private, but the angle of the fuselage means that the window seat is a bit narrower, and there are no cubby holes infront of you - just a very small pouch.
There are two business cabins in the A340 (used to Asia where there are more business class passengers), with a mini-cabin of just two rows 7 and 8 of normal business class seats.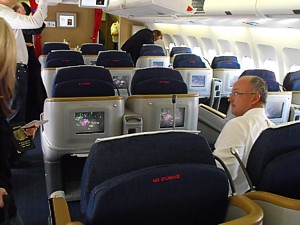 SAS A340 business class cabin

This mini cabin is often a lot quieter than the main cabin, however it's right by the bathrooms so you will get people standing around you, and you may get bumped by service carts coming out of the galley. Some passengers love this smaller cabin, and others hate it: a lot depends on the flight you are on.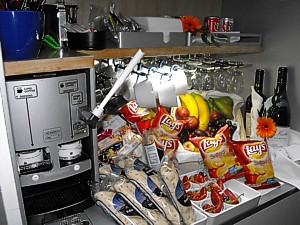 SAS A340 business class snackbar

The A330 & A340 feature a gym (pull up bar) on the right by seat 6G, while on the left is the snack bar & expresso machine by seat 6B. In front of row 7 (D&E) is the magazine rack.
Perks in business, include, bizarrely, the loos. The SAS business class toilets are some of the best in business class; double width they include 2 windows (with a blind you can pull down for use on the ground) and a stripped pine finish, along with mirrors all the way around you, and real towels in the wickerwork basket. The tap is unmarked - rotate right for hot, and press for water.
Economy Extra has slightly more legroom tha you'd expects, with a pitch of 38", and seats in a 2+3+2 formation (giving an 18" width), but the same meals as economy. The seats for these are at the front of Economy, in rows 14, 15, 16, and 17 (plus 18 in the A330). These seats get an inflight power connection for a laptop, and row 14 also has a flip out TV in the armrest, however this restricts the seat width a bit, and also moves the power socket to the wall, which can be a pain if you are in seats B or G.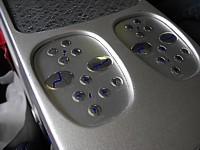 SAS A340 seat controls

Economy has a seat pitch of 32" in a 2+4+2 formation. Row 31 is the emergency exit, and seats 31A+B and 31G+H get more legroom. At the back of the plane, the seats curve in: row 46 is just 2 and 3 rows, which are definately bad news: these seats do not recline much, and you get a lot of people pushing past you to get to the single bathroom on the left of the plane. There's a magazine rack by row 31.

SAS MD82
SAS has 64 of these noisy, bumpy things, and they are the mainstay of the shorthaul fleet.
They have two seats on the left of the aircraft, three on the right - so you're better off in seats A and B in economy. There is a wacky formation with the galley halfway up the aircraft on the left - sit just behind it to get more legroom but a bad view.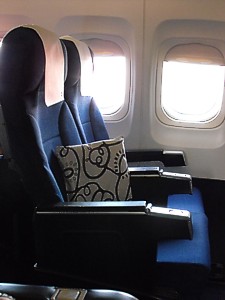 MD82 SAS Business Class seats


SAS MD82 at Dublin in Star Alliance livery

SAS MD87
There is more room in rows 17 & 16. 16 has the best view. 17 is bigger, but is by the emergency exit over the wing. Has two seats on the left of the aircraft, three on the right - so you're better off in seats A and B.

SAS MD90
SAS has just 8 of the more modern MD90s. There is more room in seats 22A and 22F. Has two seats on the left of the aircraft, three on the right - so you're better off in seats A and B. Theres a wacky formation with the galley halfway up the aircraft on the left - sit just behind it if you want to get more drinks in the flight.

SAS 737 at Stockholm Arlanda

SAS 737-600/700/800
There are 27 SAS 737-600s, plus a few of the longer stretched versions, the 700 and 800. Seats are in the usual 3+3 pattern.
Business Class is in the standard seats, with a curtain that goes back depending on demand.
SAS onboard inflight experience
Your flight on SAS can best be reviewed as "distinctly Scandinavian", and indeed it is. That in many ways is a compliment, but not if you are stuck in ecnomy on a flight around Europe: low cost, no frills is the way SAS has gone here. On Domestic flights breakfast is free until 9am, after which sandwiches and drinks are available for purchase from the "CloudShop" buy on board menu.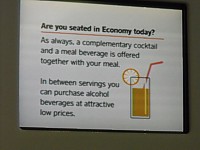 Economy no more long-haul free drinks

Sacdinavian Airlines Longhaul inflight experience
In both cabins there are racks of SAS postcards on the forward bulkhead of each class of cabin. There are actually very pretty, with Scandinavian scenes. They are also just slightly smaller than normal postcards, which makes them seem visually a bit uncomfortable.


SAS at London LHR
Economy. Newspapers are offered on the gate, as per short haul flights. There is a magazine rack onboard intercontinental flights, in the alley way between the loos in front of row 31. The magazines here are often better than in business class, with a good selection (as per the SAS style) of home design magazines. On takeoff hot towels come round, however that's pretty much it for perks. Occasionally you may get a menu with the food choices, but SAS is cutting back sharply on these. There is a drinks trolley from front to back, before the food trolley. Don't make the mistake of thinking the drinks will be back - there is one serving only, so get your complementary cocktail and wine or beer when it's offered, otherwise you'll be charged high SAS prices.
In Economy Extra you get served before the economy cabin, which is always a bonus, and you will get a hot towel as soon as the plane reaches the cruise. Very quickly the drinks trolley comes through (from front to back) with a full service regardless of the time of the flight. You'll get nuts at this time. You'll then have a long wait before the food trolley - so it may be worthwhile getting your G&T and your wine in, at this time. There is of course a good chance of getting more drinks with the food trolley. The coffee trolley comes around later, and you'll be asked if you want a cognac or Baileys with your coffee. Remember that in Economy Extra drinks are free thoughout the flight.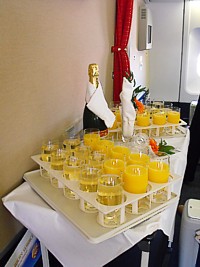 Preflight drinks on SAS longhaul business class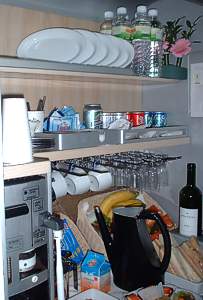 A340 business class Buffet

Business
. On the A330 and A340 Business Class is a real treat. As you sit down you are greeted by your name and offered orange juice or Sparkling Wine in a real glass. More are left on a trolley just by row 2. There are hot towels before and after meals. The pillow is big and fluffy, while the blankets are rather like duvets. Along with the two special loos (both with two windows), SAS have pioneering steam ovens onboard, an exercise bar, and a snackbar. It's worth reading the "Passenger Facilities" silver booklet in the seatback pocket, to see where everything is.
The back stretching pull up bar is on the right hand side of the business galley. Screwed to the ceiling, you can do pull ups throughout the flight, and its a good way to meet the cabin crew. There is also a lovely lighted magazine rack, on the left hand side on the A330 and ahead of row 7 on the A340.
Best of all, is the walk up buffet or snack bar, with beer, sandwiches, pastries, two types of red wine (white is in the galley - you have to ask for it) and a cappochino maker. This can be a bit tricky to use - get a coffee bag, put it in the slot with a cup under, pull the lever, this puts coffee grinds in the machine, then press the coffee button (or rather the section of brushed aluminium marked coffee) and coffee will dribble into your cup.
Scandinavian Airlines Shorthaul inflight experience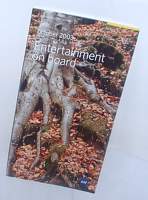 A340 Entertainment on Board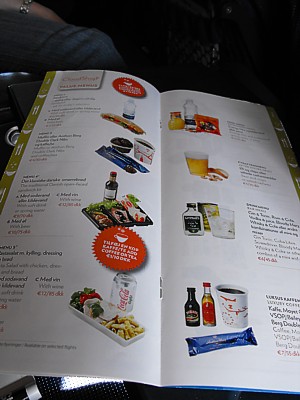 Economy the pay-per drink menu

Newspapers
are easy to come by on SAS, if you plan ahead. Always get to the gate for SAS 20 minutes before the plane takes off. At this point a trolley appears by the gate with a load of newspapers - and they go quick. To make sure you aren't stuck with some baffling Swedish newsprint get there early, and grab what you want.
Once you are onboard on shorthaul flights around Europe, in economy you realise you are in punishment class. It really isn't very comfortable, and there are no free perks.
SAS Inflight Entertainment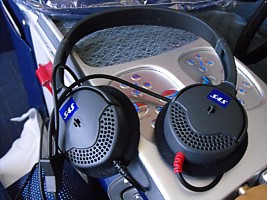 Business class SAS noise reducing headset

In flight entertainment is only offered long haul, however there are now seatback video screens with
AVOD
(Audio Video on demand) in all classes on intercontinental flights. These are true touchscreens - the menus are easy to use, and you just touch the screen for the film you want, or press the channel button on the remote. However to revert to the top level menu you have to press the menu button on the bottom of the screen.
The AVOD system is pretty good, but there aren't many films.
Films are ok, normally with just 3 or 4 mainstream films, but with a total of 14 channels. Channel 2 is BBC World news or BBC Click online (an odd choice!), channels 3 to 6 are the main films, 7 is a Scandinavia film, 8 is an oldie, 9 is a BBC series, 10 is a succession of short comedies, 11 is business TV, 12 is a cartoon, 13 has wildlife programmes, and sport is on 14. If you are watchin in non-Avod mode, the programme takes 2.5 hours to recycle, with a countdown to how long the next film will take on screen for channels when they are at the end of their programme.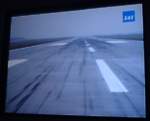 SAS A340 takeoff forward camera

There are 20 radio channels, 10 games (of the PC variety), the usual inflight map - and 2 cameras showing the outside view, one facing forwards, the other downwards. This is a lovely addition, and is available in SAS A330s, A340s, and A321s.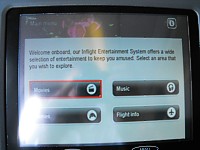 SAS A340 Inflight Entertainment

There is a booklet "Entertainment on Board" listing the channels and reviewing the films. Its one of the best on any airline, and comes in just 3 sections: from Scandinavia, to Scandinavia, and audio channels.
Business class seats on SAS intercontinental flights are fitted with a fold out 8.5 inch individual video display screen and there are electronic noise-reducing earphones, delivering pretty good sound, in true stereo. They have the usual three pin 3.5mm jack plugs. Not quite as good as the ones on other Airlines, they never the less work well in cutting out cabin noise.
SAS Inflight Magazine - Scanorama
A pretty reasonable read, if you can get past the terrible cover pictures. Circulation is good, and it should be in the seatback pocket. Mostly in English, theres a good travel section with review of places you are actually likely to go to.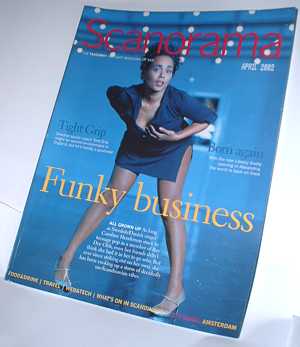 It sells its self as a "takeaway" magazine, and actively encourages you to walk off with a copy. Alternatively the travel section inside comes with a smaller, A5 size, guide to the place its talking about which you can walk off with. Useful, as it comes with some good maps.
Scanorama has a good whats on section, which does seem to be updated, and pretty relevant to where you are going.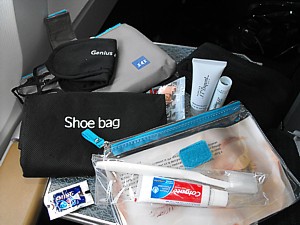 SAS new Longhaul amenity kit

SAS Longhaul amenity kit
You will get a full amenity kit in Business Class on long haul flights Transatlantic and Asian routes. They have recently had a revamp, and are called a "comfort kit" by the crew.
They come in unique double pouches, velcroed together. The clear side contains liquids, while the grey side has socks etc, which neatly solves the problem of taking it through security: indeed, it is also marked 1 litre, as as such is very useful for refilling and taking onto other flights.
The liquids side has a Dupont moisturiser and a lipbalm, a mini tube of Colgate toothpaste and an almost full sized toothbrush, plus Smint mint. The other side has an eyeshade (marked Genius at Work), earplugs, socks - and a shoebag!
Occasionally flights are still handing out the old style Amenity Kits, These contain a decent pair of socks and a very good eyeshade. Earplugs. A flimsy toothbrush and toothpaste, and three small jars of mouthwash, showergel, and moisturising balm.

Old SAS Business class amenity kit

There are also two stickers - one saying don't disturb, and one to ask to be woken up for meals.
SAS Routes
News: Scandinavian Airlines is resuming direct flights between Stockholm and Bangkok - but only from December to April - and doubling the number of daily flights to New York. However this has come at the penalty of Seattle, to which all flights have been axed. Stockholm has also had cutbacks to it's flights to Asia.
The main base is Copenhagen for international flights. There are two daily flight to New York at 1220 (and in the summer some days at 1940), a flight to Washington daily at 1220, Chicago daily at 1540. The daily flight to Seattle at 1550 has been axed.
A new destination for SAS was Dubai, however this didn't last long in the face of competition from Emirates. Instead that aircraaft has been switched to Shanghai. There is a daily flight to Tokyo at 1545, a daily flight to Beijing (or Peking) at 2100, and Bangkok every day (except Monday) at 2250. This used to go on to Singapore landing at 1900, but this extension flight has been axed.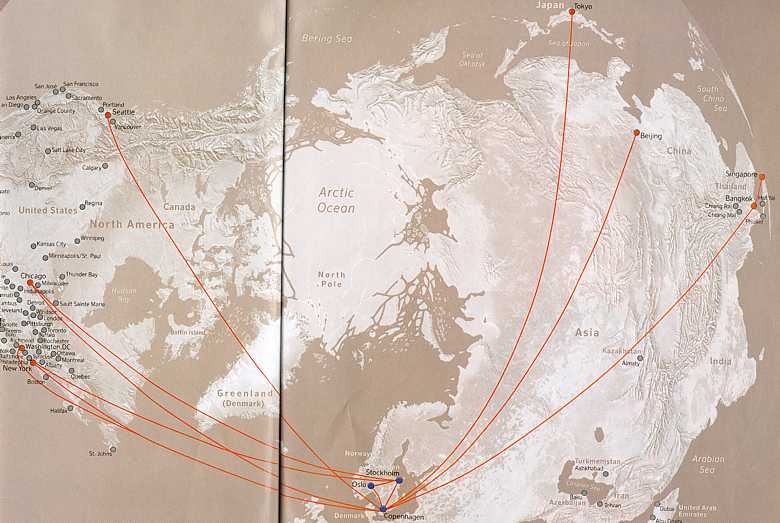 Short-haul Copenhagen has 3 flights a day to Dublin at 0900, 1155 and 1625, Budapest daily at 1050, Madrid at 1015, Moscow daily at 1020, Nice at 0850, Rome twice a day at 1000 and 1545, and 3 day to Vienna at 0845, 1430 & 2040. Plus, of course, 3 a day to Manchester, 2 a day to Birmingham and 7 a day to London LHR at 0725, 1010, 1205, 1455, 1605, 1735 & 1935.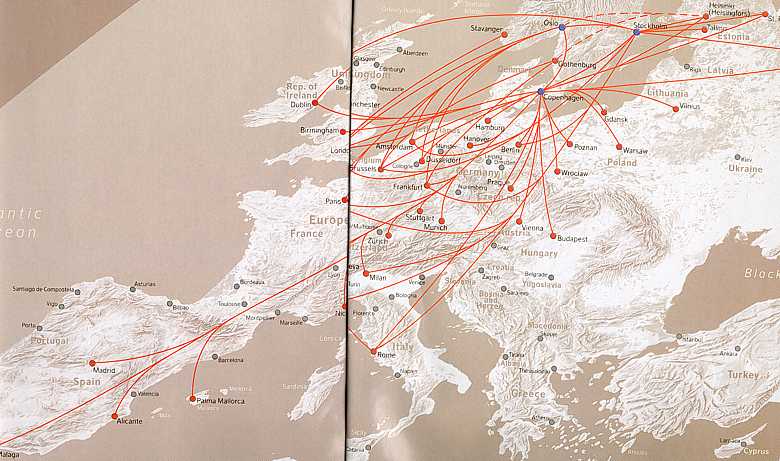 SAS MD82 at Stockholm

Stockholm
also has
Chicago
daily at 1015 (arriving at 1220) on an A330, daily flights to
New York
Newark at 1025 again on an A330 plus a seasonal flight to
Bangkok
on Tuesday, Thursday, Friday and Sunday (these are not running this winter), and a seasonal flight to
Bejing
at 2200 on an A340 . This is an Air China codeshare, and complements the real Air China flight at 1700 using an A330. China Business class tickets on these flights can be cheap, but carry restricions to stop you from swapping from the cheap flights to the "proper" SAS one.
SAS Scandinavian Airways Frequent Flyer scheme - EuroBonus

SAS's loyalty card scheme is called EuroBonus, and is part of the Star Alliance.
Its operates as a points system, and you can either use these points to get free flights, or for upgrades. There is one point per mile, with business earning exactly double points. However many of the cheapest fares - such as those on the web - are excluded from earning points.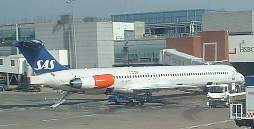 London LHR MD82 on the stand

There are two types of Eurobonus points: Basic and Extra. Both can be exchanged for flights, and Basic count towards the tier level of Silver or Gold, however Basic points lapse on a 12 month rotation, with the start point based on the month you joined.
Earning points: Stockholm to London earns 1200 points economy, Copenhagen to Singapore earns 13,200 business class, with points valid for 5 years. You automatically earn a minimum of 300 Basic points on every flight.


Copenhagen MD82
Redemption of points starts at 12,000 for short flights.
By joining Eurobonus, its possible to check in online for European routes, and the daily flight from Singapore and Bangkok. You find the Check-in under the heading Plan & book on the website. At the airport, go to the Self Service automat and insert your ticket or card. Indicate the number of bags you wish to hand in (maximum two pieces in addition to hand baggage). Fasten the baggage tags printed out by the automat to your bags before handing them in at the Baggage Drop and proceeding to the gate.
SAS EuroBonus Silver

London LHR MD90 about to taxi

Silver level can be achieved at
25,000 points
(35,000 points for Swedish residents).
You gain an extra 10kg of luggage at Silver level, priority on the waiting list, and use of the business class check in. However there is no access to the lounges.
As a Silver member you will receive 15% more Basic points in Business Class.

Stockholm ARN with two 767s and an MD82

SAS EuroBonus Gold

SAS A340 at Copenhagen
This is obtained after obtaining
45,000 basic points
in one tier level year (70,000 points for Swedish and Danish residents). This is quite a change - when domestic earning was allowed in Norway, the limit for Gold was 90,000.
You gain an extra 20kg of luggage at Gold level, and access to SAS lounges.
As a Gold member you earn 25% more Basic points for each Business Class flight operated by SAS.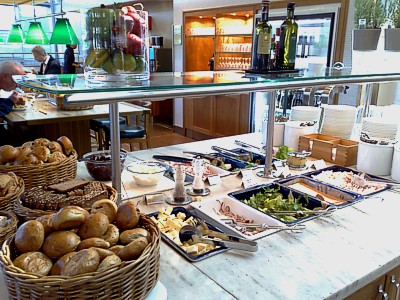 Copenhagen SAS Business class Scandinavian Lounge

SAS Business Class Lounges
SAS lounges are designed as a Scandinavian showpiece; open, light, airy spaces with different parts of the room (and different furniture) for eating, working, and lounging. And rather too much Ikea furniture.
There are 3 types of lounges: SAS Business Lounges, the more upmarket SAS Scandinavian Lounges, and the unique SAS Stockholm Lounge. All are similar, but with better food and furniture the higher up you go. A business class ticket gets access to the business lounge, but a EuroBonus/Star Alliance Gold card is needed to get into the Scandinavian lounges. With a card you can get in one guest or unlimited members of your immediate family.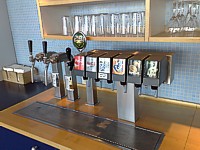 The bar beer & wine! on draft at CPH

Drinks are not that great in SAS lounges, but Newspapers are very good, with a wide selection of UK titles in most lounges, including the FT, Guardian and Telegraph. In Scandinavian lounges theres also likely to be a Daily Mail. The Magazine selection is always very good, with copies of the main Scandinavian style bibles, like Wallpaper, Cosmo and Elle.
Be warned - the loos in the Scandinavian lounges have loud music with an elaborate mix of classic and contemporary tunes.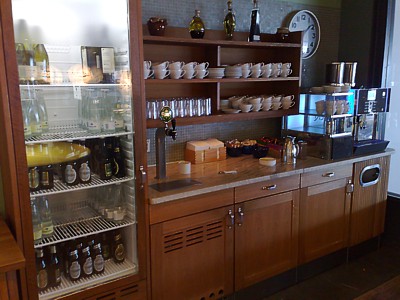 Copenhagen SAS Scandinavian Lounge

SAS maintains lounges at the three hubs.
Copenhagen
(see below),
Oslo
(both Business Lounge & Scandinavian Lounge, located after the tax free store in the international area) and
Stockholm
(SAS Business Lounge - In pier A, left after security control and then level 4. SAS Scandinavian Lounge - Same entrance. SAS Stockholm Lounge (Gold members only) Terminal 4, between Gates 37-39.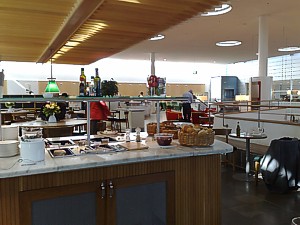 Copenhagen SAS Scandinavian Lounge

Around Europe SAS have lounges at London (see below), Brussels (at pier A, open 0600-2200), Gothenburg(Transit Hall, Gate 18, open 0600-2100), Helsinki (Transit Hall, above Gate 26), Paris (Terminal 1, 11th floor. Elevators located in the center of tax-free area), and the strange and rather lonely outpost at Vilnius (Departure Hall, open 0600-1815). Otherwise partner lounges, are used - mainly Lufthansa.
In the US SAS have lounges at Chicago (Terminal 5, although United´s Red Carpet Club Lounge (Terminal 1. Concourse C near Gate 16) is open later), and NewYork/Newark (Terminal B. Satellite B3 next to Gate 60. open 1400-2400). The Seattle (South Satellite mezzanine level) lounge is now closed.
In Asia SAS have now closed their lounge at Bangkok, following the move to the new BKK airport, and just use Thai's excellent facilities.
Copenhagen SAS Lounge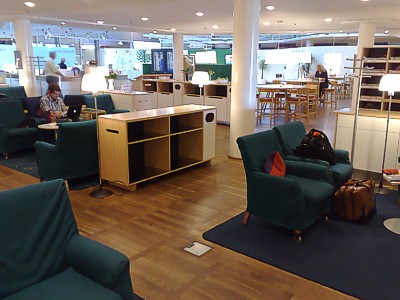 Copenhagen SAS Business class Lounge

There are two lounges at the hub of Copenhagen, and both lounges are in Terminal 3, on the 1st floor. Open 0530-2300. Lounges are on the Schengen side of security, which means accessing them on two non-Schengen flights means going through passport control twice (and security, into Schengen, once). Then again, most of the shopping is on this side too.
Copenhagen Business Lounge
Terminal 3, Airside, before Schengen security.
Open 0530-2300
Access for business class passengers, and Gold card holders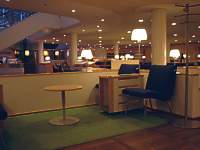 Copenhagen Business lounge

This lounge is a vast cathedral like Ikea style experience. Perhaps because of this it seems a bit impersonal, but there is no faulting the Scandinavian design, with white walls, stripped pine floors, and lots of subtle design.
As you go in, on the right hand side there are lots of chairs with reading lights and small tables with power points for laptops. In the far corner there is a real fire. On the left as you go in is a huge TV, normally stuck on BBC World, with chairs arranged in a semi-circle around the TV. Radio headphones are on the rack to the left of the TV. There is a small smoking room if you double back into the glass walled room beside the entrance - so everyone coming in can see you having a puff. Alas this is the only place where you can see the runway, and thats at some distance.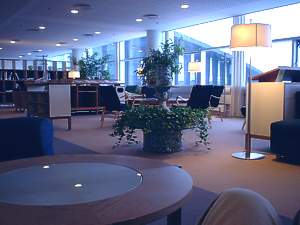 Copenhagen Business lounge - the Library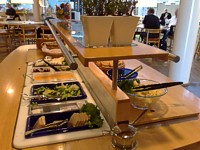 Copenhagen SAS Business class Lounge food

Through the archway are 6 computers, which are dreadfully slow, plus a photocopier, lazer printer, and fax. Further through the archway is a very pleasant area with several loungy type chairs and a small library with books on Scandinavian design. Here there are also conference rooms, for up to 14 participants.
Food and drinks are on the left of the archway, however the selection is remarkably poor. There are two serve-yourself beer pumps, with Tubourg and Carlsberg on draft, and bizarrely white and red wine on draft too. Thats it, no other bottles and no spirits. Food is also very poor, with just a few pastries in the morning, followed by cream cheese and vegetable dips during the day, along with some miniature pork sausages.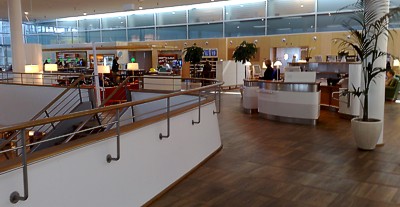 Copenhagen SAS Business class Scandinavian Lounge

Copenhagen Scandinavian Lounge
Terminal 3, Airside, before Schengen security.
Open 0530-2300
Access for Gold card holders
A much smaller more intimate lounge, access is through the main lounge entrance, but then once past the rather fierce lady on reception go right, and up the stairs over the main lounge, past the giant model of an A320, and then up to the top to be greeted by a strange orange budda, and a mobile phone cubicle. That sets the tone of this place - its much quieter, and more intimate, either for people who fly business just because they can, or for people who fly business so much, they get bored with the normal lounges.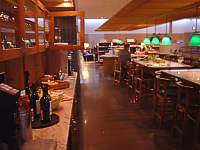 Copenhagen Scandinavian lounge

Through the arch there are more computers - faster ones this time - and settee areas with potted plants, like a comfy sitting room. There are big squashy arm chairs and another library with design books. Doubling back over the entrance is the smoking room, which also has a small bar area - and a view of the runway.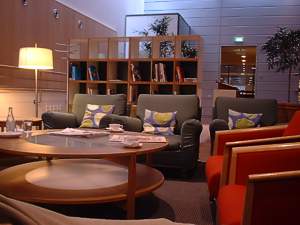 Copenhagen Scandinavian lounge - the Library

Most people come up to the Scandinavian lounge for the better food and bar service. This is to the left of the computer archway, and seems like a Nordic kitchen. There are cakes and ham, the same beer on draft as downstairs, but better wine - in bottles! White is Reisling and Savignon Blanc, while the Red is Australian Grenache and Italian Vignia Del Mono. There are even bottles of Tuborg, Carlsberg, and Guinness in the fridge.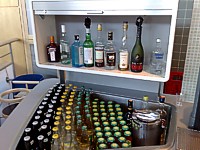 Copenhagen SAS Business class Lounge spirits

Spirits are hidden away behind a silver door that is only opened in the afternoon, but feature a good selection of Contreau, Bacardi, Bombay Saphire, Campari, VSOP, Absolut Vodka, and 3 types of Whisky.
The lounge at the top of the stairs sometimes runs out of seats: as a result there is also a sub-lounge that has opened downstairs, close to the main desk, although it can be a pain taking your food & drinks down here.
LHR - The London Lounge
Terminal 3.
Open 0600-2200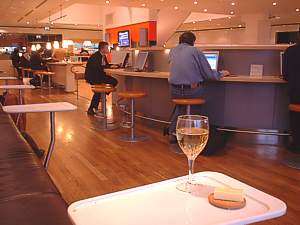 SAS London LHR lounge downstairs

Access for SAS/Canadian/Thai business class passengers, and Gold card holders
Scandinavian Airlines (SAS Business) and Air Canada (Maple Leaf) have a joint lounge. Designed by Swedish architects and opened in 2003, it combines the old SAS (which was only a third of the size) & Air Canada's previous Maple Leaf Lounge. It is also used by Thai and Varig flights.
It used to be fabulous, and has the wow factor that very few lounges have, using a minimalist land of stripped pine, white walls, and art that says art. Alas after nearly a decade of use it's all starting to get a bit tired, with worn seats and floorboards, and at peak times such as between 8am and 9am, and 5 to 7pm, it can be hard to find a seat, although you can improve your odds on this by walking upstairs.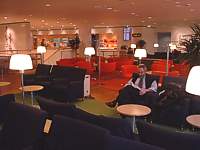 SAS LHR lounge upstairs

Called 'The London Lounge' the two-story lounge seats 350 people and is easy to find - its located directly adjacent to the duty free transit area. Due to the chaos at the terminal resulting from the need to separate incoming and outgoing passengers, you'll need to wait until the staff move the plastic barrier to allow you in.
It's has two floors with different atmospheres. The ground floor provides a livelier atmosphere, similar to a hotel lobby, while the upper floor offers a more 'relax-and-unwind' atmosphere with seating areas including massage chairs, a library (with some really good books and a big reading table) and showers.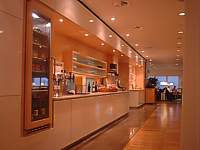 SAS LHR lounge upstairs bar

There are several works of art including mini Buddha figures by Fredrik Wretmann and Albin Karlsson's clock. Award winning Canadian textile artist Elyse de la Fontaine has two prominent pieces on display.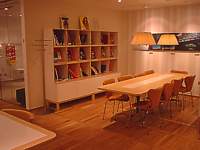 SAS LHR lounge upstairs library

Upstairs the lounge features a 12-seat cinema (a box glass room with a really big TV), along with a TV in the open (a 32" with Freeview); a games room with tabletop curling developed by a former member of the Swedish Olympic team (which is great fun to play on - mind the curtains); and a separate Kids Lounge (with lots of Lego). The seats up here are the most comfortable, and in the corner there is a view of some of the nearby gates. There is a bar here hidden by the back corridor, with beer on draft, and spirits (vodka, gin, whisky).
There are a large number of computers at the back of the top floor, which are fast and work well. There is also free wi-fi in the lounge (Network: SASWipoint Name: lhrb Password: sas).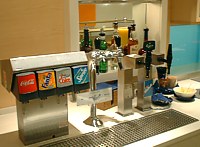 SAS LHR lounge upstairs bar

Downstairs there's a business centre with computers and high-speed Internet access including wireless options around a circular bar area. There is Sky TV on the flatscreen TV on the wall under the stairs, and a smoking glass box, next to the newspaper pod, with loads of papers (all of which you can take away) including all the UK papers, all the Scandinavian ones, a few Canadian, and a slection of Brazilian papers (for Varig flights).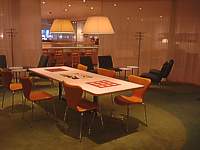 SAS LHR lounge upstairs games room

Downstairs the bar has 4 types of white and red, but no Sparkling Wine. Mineral water comes on draft, but there are no spirits, and the only beer downstairs is Singa, in small bottles.
Food on both levels comes in a buffet area. It provides fresh fruit, including peppers, carrots, and cauliflower (but no dips), and lots of cheese to choose from, with Boursin & Smoret in tubs, plus two types of cheddar and red Leicester. There are digestives or Cream Crackers to put them on. Two types of nuts in bags. Three types of fruitcake, all sealed in plastic. Early in the morning there are some good pastries.
Note that at Terminal 3 at LHR BAA have abandoned fasttrack for Gold card holders - you can now only use fasttrack if you are in a premium cabin. Note also that you can't get access to the lounge on arrival.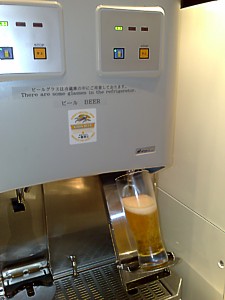 Tokyo SAS lounge beer pouring machine

Tokyo Narita Business Class lounge
Terminal 1, Satellite 5, below gate 40
Open 0600-2130
Access to Business class SAS passengers, and Star Alliance Gold and Eurobonus Gold holders.
At Tokyo SAS use the All Nippon ANA lounge in Satellite 5. It is stuck in a basement, so there is no natural light. To get to the lounge, decend the escalator in the middle of the Satellite, and pass through the glass doors, then to the right of the desk where your boarding pass is checked.
To the right is a Noodle bar, and the hot noodles here are pretty good. To the left is a bar area, with some sake and a couple of beer pouring machines - rare around the world, but very common at Tokyo airport. On the counter opposite this there are some food trays, with sandwiches. Then further on are a few computers, and finally a sleeping area at the far end of the lounge. There are showers in the lounge, computers, and free Wifi.
Full details of this lounge are contained in the ANA pages, under the Star Alliance NRT Lounge section.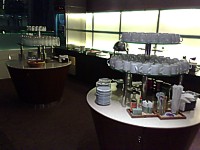 Bangkok SAS Business Class lounge

Bangkok Suvarnabhumi Business Class lounge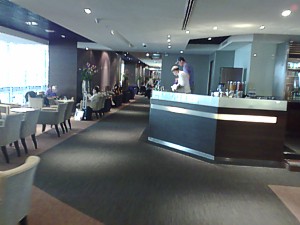 Bangkok SAS Business Class lounge

Concourse D, Level 3
Open 24 hours
Access to Business class SAS passengers, and Star Alliance Gold and Eurobonus Gold holders.
At the vast new Bangkok airport SAS use the huge Thai flagship-lounge. It has banks of seats on either side, but alas it's all rather gloomy, with no windows looking out onto the runway, and all decked out in a purple and blue colour scheme.
There are several bars, and although they have plenty of Chang beer, otherwise they are rather poorly stocked. Food is OK though, with some big silver toureens with noodles (chicken, beef, or fish: it's good to see Thai stick to the airline cliches).
Full details of this lounge are contained in the Thai Airways pages, under the Thai lounge section.
Closed: Bangkok Don Mueang SAS Lounge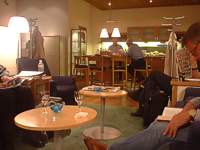 SAS Bangkok lounge

Terminal 1, open 13.00-departure
Access for business class passengers, and Gold card holders
NOTE: This lounge is now CLOSED.
This lounge is tiny and often gets crowded, not only with SAS passengers, but also Thai and Lufthansa passengers who use it as it is by far the best lounge in Bangkok, beating even the Singapore lounge, however Thai's Royal Orchid Lounge in the Corridor leading to pier number 1 in the transit area is open earlier.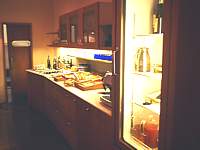 SAS Bangkok lounge

There is an attempt to create different areas in the lounge, with a bar and food area - with really good views of the planes, a squashy lounge area, and a business centre. Here there are 2 internet computers and printer. However there are no loos in the lounge, and its often difficult to get even a seat.
There is a very good newspaper rack, with 12 types of Scandinavian papers, USA today, and the Staits Times, but nothing from the UK, and a god magazine selection, with many copies of Wallpaper.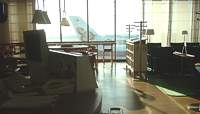 SAS Bangkok lounge

The only varieties of beer are Carlsberg and Singa, however there is a very good spirits selection, and some decent sandwiches.
SAS History
SAS was founded on 1 August 1946, when the flag carriers of Denmark, Sweden and Norway formed a partnership to handle the intercontinental air traffic of the Scandinavian countries, creating the SAS Consortium in 1951. By 1954, SAS became the first airline to operate a trans-polar route, from Copenhagen to Los Angeles, with intermediate stops in Søndre Strømfjord, Greenland and Winnipeg, which became popular with Hollywood celebrities, thanks to fares which included a free transit to other European destinations. SAS did the same trick with trans-polar routes to Japan via Greenland and Alaska. These linked up, and by 1957 SAS offered round the world service over the North Pole via Copenhagen to Anchorage & Tokyo.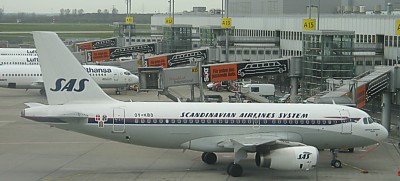 Old style livery on an SAS 737 at Dusseldorf

SAS entered the jet age in 1959 when its first jet aircraft, the Caravelle, entered service. In 1971, SAS put its first Boeing 747 jumbo jet into service.
Following the jet age, SAS had several disasters, including in 1969 when a DC8 hit the water while approaching Los Angeles, killing 15 people. In 1970 a DC8 experienced an uncontained engine fire during takeoff from Rome, but all on board managed to evacuate safely. In 1973 a DC9 overran the runway and onto the ice covered Oslofjord in Oslo. All passengers and crew evacuated before the plane broke through the ice and sank 20 minutes later. Then in 1984, an SAS DC10 from Oslo to New York touched down 1440m past the runway threshold at JFK, ending in shallow water. All on board the plane were uninjured.
In May 1997, SAS formed the global Star Alliance network with Air Canada, Lufthansa, Thai Airways International and United Airlines. Four years earlier, SAS unsuccessfully attempted to merge with KLM, Austrian, and the now defunct carrier, Swissair, in a project called Alcazar.


Barcelona SAS MD82 undergoing engine repairs

However SAS has successfully taken over other airlines, including Braathens and Widerøe in Norway, Skyways Express in Sweden and Cimber Air in Denmark, before making it's biggest takeover attempt - 18% of Continental Airlines, in a bid to form a global alliance. During the 1990s, SAS also bought a 20% stake in bmi British Midland along with Lufthansa, which owns 30% (although LH bought SAS's take in 2009). SAS also bought Spanair, the second largest airline in Spain, as well as Air Greenland.
However the ongoing financial problems at SAS have resulted in it selling off almost all those assets, although it chose to do so at the height of the Global Financial Crisis, resulting it it getting less cash than it planned.
The Linate Airport disaster, involving the highest number of SAS passenger fatalities, occurred in October 2001 in Milan when an MD87, collided with a small Cessna jet during take-off. All 104 passengers were killed. An enquiry found that the ground movement radar, which was delievered years before, has still not been installed.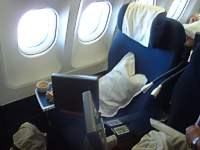 SAS old style Business class

The ownership structure of SAS has also changed, with Sweden having 21%, Norway 14% and Denmark 14%, with the remaining 50% publicly held and traded on the stock market.
SAS has also scrapped it's fleet of Dash 8s (Also known as Q400s), after an SAS flight from Bergen to Copenhagen landed in Octover 2007 with the port side landing gear up. This followed the grounding of the entire SAS Dash 8-400 fleet due to similar issues with landing gear. This incident prompted the entire Dash 8-400 fleet to be retired with immediate effect.
SAS Hints & Tips
Electronic Checkin
You can check in with a special ATM look-alike machine, if you just have hand luggage. It will even ask you to select your seat on the plane. Beware however, it will just offer you one seat! You have to reject this seat, to get an offer of all the ones that are free on the plane.
You should also insert your loyalty card before making your seat selection. This is particularly important if you are a Star Alliance gold, as you can get the seat next to you blocked.
Section 1 Shorthaul
Section 1, which is row 1-5 on both the Boeing 737 and the MDs, are reserved for business class passengers paying full fare, Eurobonus gold, and Star Alliance Gold members.
However when you can not preseat in the first rows it is due to blocked seats in the system which has to do with weight or balance if they expect the flight to not be full. Section 1 is especially sensitive on the MDs which are a real problem if they are front heavy.
This is also one of the reasons why Economy plus sometimes has such a large number empty rows if the plane is 3 class, as the first rows have to be assigned to business class.
Eurobonus member-gets-member
SAS Eurobonus occasionaly has a member-gets-member scheme. If a members signs up a non-member, you get 5000 points, and the new member gets 2500. For this you have to be in the UK, however you can apply
online
from anywhere.

SAS MD87 at Copenhagen, with A330 behind
Operational Upgrades
One of the common questions is "How do I get an upgrade on SAS to Business or Club class?". Alas, getting upgraded to business class on SAS really isn't that easy. The airline has the Western, rather than American, model for upgrades longhaul. Which is to say you'll only get an upgrade if your paid for class is full, and then upgrades are processed accordingly to a pecking order of elite frequent flyer status. You are very unlikely to ever get an upgrade unless you are at least a Gold Star Alliance member.


SAS at London LHRMD90 after pushing back

To start with, make sure you are a frequent flyer, and you do fly frequently: after all, if SAS are going to upgrade anyone, they will upgrade those passengers who fly with them pretty regularly, and hence will enjoy the upgrade enough to put more business SAS's way. Then if the flight is full in economy, and someone needs to be moved up, the check in staff will first look at Gold Eurobonus members, and then Silver level, and then at other Star Alliance members at the equivalent levels (Gold, then Silver). Another thing that SAS look at is how much you paid for your ticket: it's much more likely to happen with a full fare ticket (although occasionally you can get lucky with a discounted economy ticket). On SAS the airline has heard - probably hundreds of times a day - requests for an upgrade: the general consensus seems to be that if you ask for an upgrade, you're less likely to get it, although opinions differ on an upgrade strategy for SAS.
As always, my advice on dressing properly in the pages on how to get an upgrade applies.
SAS website
SAS's website is pretty good, once you force it to talk English to you, but beware you have to register to get at all the good bits of it. However the online timetable is useless - unless you know when the flights you want run, it won't tell you!
http://www.scandinavian.net
Theres also a UK version


MD82 at LHR

You can also check timetables online.
SAS Seatplans: A330 seat map
The new A340 Business Class seat
Check out the lounges
The latest inflight movies
The rather useless timetable which gives little information. Beware than on this, once you have a display for one day, you have to press your back button if you want to select the next day, otherwise it shows you the returns!


Note that all reviews and opinions on SAS (SK) food, service, seats, planes, upgrades, lounges, Eurobonus, and the Frequent Flyer scheme is soley at my judgement. No legal liability is accepted if you take my advice.