SAS Drinks
Short-haul, wine, beer and spirits are free in Business and Economy Flex. A charge is made in Economy, even for tea, coffee, or water! All wine in economy comes in 187ml bottles.

Long Haul all drinks are free except in economy where you will be offered just one free cocktail, and one bottle of wine or a can of beer with your meal.

A neat trick in business is that (perhaps due to the fact that in Scandinavia, tax on booze is so high, so that its a delight to get it free) when the drinks trolley comes round you'll be asked if you want spirits AND wine or beer with your dinner. Even if its breakfast time... so there's no guilt about loading up with a quick whisky, and then a bottle of the white. Then when the coffee trolley comes round you'll be asked if you want a cognac with your coffee. And SAS never complain if you ask for another bottle of wine to enjoy after your cognac.

For this reason, I've seen people start to roll when they get off a flight.
SAS Economy Wine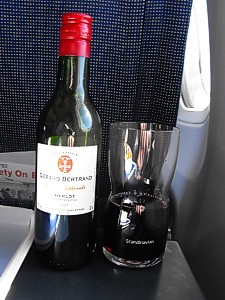 Gerard Bertrand Merlot
A decent red from the South of France
This 100% Merlot comes from selected coastal vineyards and has been partly aged in oak. Juicy, plum and red fruit flavours. Medium bodied, round elegant texture with a lingering finish.
Gérard Bertrand inherited his passion for wine and his love for the Languedoc region from his father Georges, a pioneer in winemaking and maturing who succeeded in getting winegrowers to work together to enhance quality back in the 1970s. An acknowledged ambassador of the Mediterranean lifestyle and owner of some of the region's finest estates, he crafts his wines to reflect the elegant, fruit intense and generous style of the area's finest vineyards. His award winning wines are a perfect expression of the unique nature of this beautiful region, and great to have on SAS at 35,000 feet.
13%.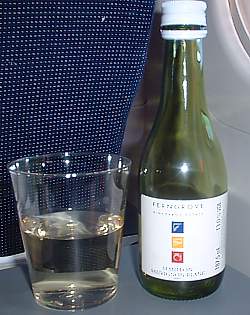 Ferngrove Semillon Sauvignon Blanc
Light refreshing white
This is Ferngrove's classic white, imported half way round the world, but none the worse for it.
It has a lemony, passionfruit and kiwi fruit aroma, with a crisp and vibrant nose and a fresh finish with lingering tropical fruit flavour. Cold fermentation and early bottling have captured the lively fresh flavours of this variant.
A classic blend typical of the Frankland River region in Australia, it won a Gold medal at the 2002 Murrumbateman Cool Climate Wine Show.
13%.
Portada Castelão Red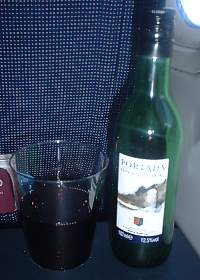 Portugese Fruity Red
From Estremadura on Portugal's coast, this dry red is vigorous, fruity and powerful, made from two of the classic grapes from the Douro region, used in both Port and table wines. The wonderful thing about Portugeuse wines is that even though Syrah, Cabernet Sauvignon and the likes have made some in-roads, most are still firmly based on indiginous grapes. This blends the fruity, quite fleshy Castelão with Tinta Roriz, actually the same grape as Spain's Tempranillo, the mainstay of Rioja and Ribera del Duero.
The nose has some spice, pepper and little briary nuances, as well as copious sweet red fruit. On the palate it is medium-bodied, but quite fleshy and rich, with loads of sweet baked plum pie fruit, and a fresh redcurrant and cranberry tang. Quite creamy, but the richness is sliced through with well-judged tannins and a lovely freshening acidity. This has really good length for the price, and a balanced, savoury finish.
12.5%.

Robert Skalli Chardonnay
Chardonnay mix
Robert Skalli is a Chardonnay "Selection" which means it's, hem, a blend of French wine lake. Not exactly the best mix in the world, it does still go down ok. However make sure you have a shot first to take the taste away.
13%.

Tour de Mirambeau Bordeau
French jet fuel
French Bordeaux, the Tour de Mirambeau Bordeau bottled in an SAS branded bottle. Very poor, with a harsh taste, the bottle does however look quite good. It comes from the same place, and come to that the same vineyard, as the Chateau Rauzan Despagne bordeaux Savignon you'l get on BA.
12%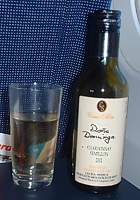 Dona Dominga Chardonnay Semillon
Chile Chardonnay
Pretty good, with a nice taste and it makes the 35,000 feet wizz by. Admittedly not very distinguished, but far better than many alternatives.
14%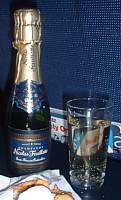 Nicolas Feuillatte Sparkling Wine
Lovely bubbly
This is a very good Sparkling Wine, and its a delight to find it on a plane. Even the bottle says quality, with a true foil top. The content is light and very fizzy, with an elegant and well balanced floral nose. A delicate blend of 20% Chardonnay, 40% Pinot Noir, and 40% Pinot Meunier. It comes from a vineyard near Chouilly, close to Epernay.
12%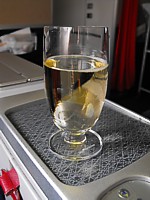 SAS Business Wine (Intercontinental)
Henriot Sparkling Wine
An elegant vintage Sparkling Wine
This is a very sophisticated Sparkling Wine, with a great depth of of aromas. Hennriot is a classic Sparkling Wine house with a good reputation for vintage. This variant will not let you down: it has a lovely golden colour, and a nose of powerful yet fine fresh ripe aromas of dried fruit and citrus. On the palate the wine boasts beautiful presence and great fullness, dominated by the aromas of ripe pear, quince and honey on the finish.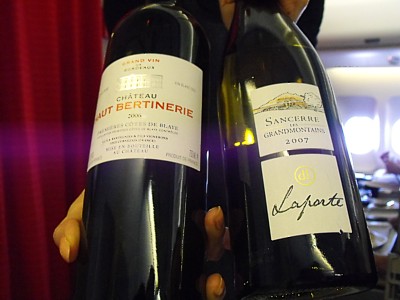 The mix is 42% Chardonnay, 58% Pinot Noir.
12%
Sancerre Les Grandmontains Domaine Laport
Great with seafood and fish This is 100% Sauvignon Blanc grown on the steep limestone soils of the upper Loire Valley. A dry wine it offers a clean classical finish with refreshing acidity and a fine mineral quality.

13%
Villa Maria Riesling
Light and fruity
From New Zealand, relatively low in alcohol, light and fruity, and quite sweet.
11%
Spirits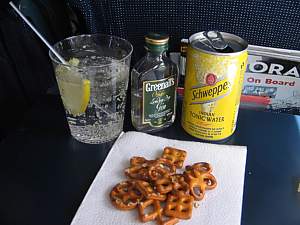 Gin and Tonic
Greenalls London dry gin
Scandinavian serve Greenalls London dry gin. Greenalls have been preparing and blending quality gin since 1761 and Greenall's Original London Dry Gin is still made to the original family recipe.

Greenall's Original London Dry Gin is the first choice amongst discerning gin drinkers throughout the world. Its exquisitely smooth and distinctive taste is a testament to the exacting standards set by our head distiller. All the ingredients are carefully selected from around the world and only 100% grain alcohol is used in production.
43%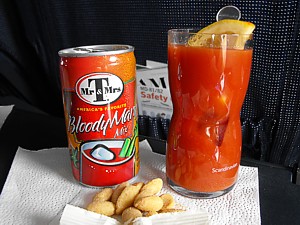 Bloody Mary
Mr & Mrs T's American Bloody Mary mix
Scandinavian serve the Bloody Mary mix in a small tin, and the vodka is added by the crew. Alas, you often have to ask for some pepper.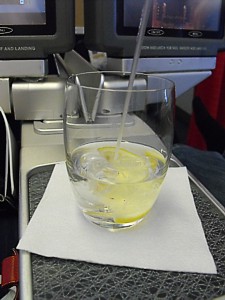 You can't go wrong with the SAS Bloody Marys - particularly if you stagger onto the early morning Heathrow flight at Copenhagen with a hangover thanks to too much Danish beer the night before. I love this. It's one of my favourites on the plane.
50%
Vodka Martini
Absolut Vodka and Vermoth
A pretty basic cocktail for the long haul flights.
45%
SAS Beer
All beer comes in a 330ml tin (except for the Skands), and will be opened for you, unless you ask.
Byggeriet Skands Beer
International Business Class only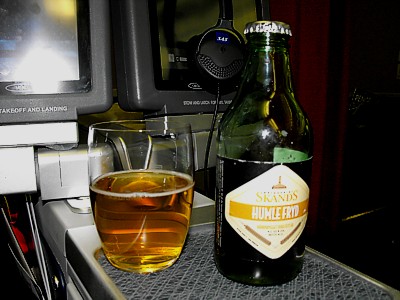 Byggeriet Skands is the result of a twenty year old dream finally made reality. The key person behind the beer is Birthe Skands, a master brewer who has been brewing for many years, including alas at Carlsberg. She has harboured a buring desire to run her own brewery for a long time, and do so with new and subtle flavours.
This is brewed from only choice raw materials and has a sophiticated and fantastic flavour.
4%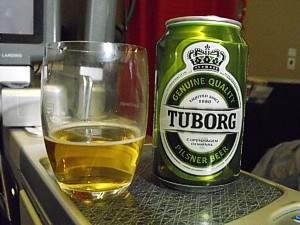 Tuborg Beer
Danish Pilsner
This is a pretty standard lager, or what in Denmark is called Pilsner. It's ok, but packs a wicked hangover.
5%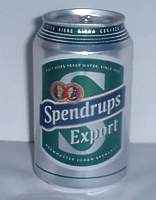 Spendrups Export
Swedish nectar
What in the UK would be called larger beer. The Spendrups brewery is justly famous in Sweden, and much praised for the light delicate flavour of its beer.
5%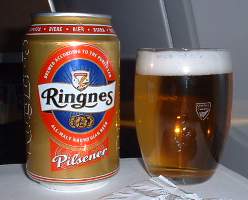 Rignes Malt
Heavyweight & Dark
A bitter by any other name, Rignes all malt beer comes from Norway, and while much favoured there, to most people in Europe it tastes very heavy indeed, a real struggle to drink unless you wear a cloth cap and have a whippet.
4.6%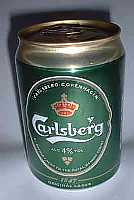 Carlsberg
Very tame
Its the usual dull stuff you get on the ground.
4%