SAS Scandinavian inflight food
SAS have axed all free food & drinks in Economy shorthaul. You can however get a free sandwich in Economy Flex, and full meals are served in Economy longhaul.

SAS Food longhaul looks a delight, however be warned that SAS don't offer alternatives. If you don't like what's on the plane tough. Be VERY careful of this in the crayfish season - that's August in Scandinavia. SAS will serve horrible crawly things for a month at this point. The only way to avoid starving on the flight is to pretend you are a veggie before you get on.

Have a look at the inscription on the pepper - it reads "Pepper - the gift of the east, though gift means "poison" in Swedish. But don't let that put you off". That's either very funny, or very true!

One tip I've found with SAS... around Europe in Business Class the wine is offered with a terrible plastic glass - but there's a real glass glass on the tray, so you're better off using that. It's about the size of a toothpaste tumbler - so you'll get enough wine to last throughout the flight.

SAS shorthaul trans-Europe Business Class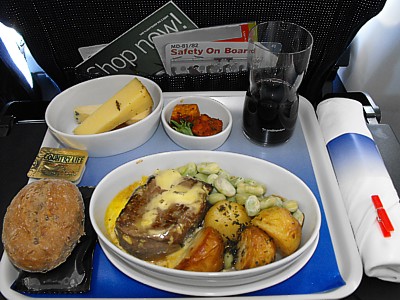 Steak & vegetables lunch
300mg of rump steak, with roast potatos and beans in butter sauce.

A tub of cheese, with a quarter of Stilton and a slab of Danish Blue. One hot roll. A bowl of peppered tuna. Countrylife butter.

This is a really good steak, nice and tender with lots of flavour. The pototoes are nice and tender, although the beans are pretty hard-boiled. The Sauce is a bit odd though - suppose you don't like butter? I went for this and though it ok, but it's an odd choice, as if the kitchen had run out of gravy.

The Starter with peppered tuna is a waste of time though: really bad, tough and string. Not worth it at all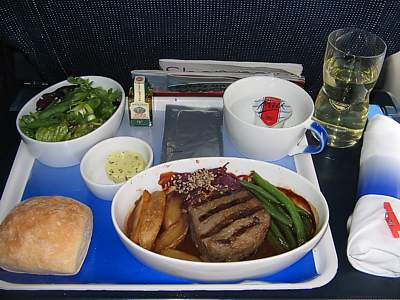 Steak & potatoes lunch
A slice of hot steak, with potatos and beans in gravy. Caramelised beatroot.

A tub of cheese, with a sliver of stilton and a sliver of cheddar, one hot roll. A bowl of iceberg salad. A small bottle of olive oil. A bowl of butter, a hot roll, and one sachet of milk.

Another really good steak, nice and tender with lots of flavour. Chunky pototoes, and good non-stringy beans. All in a dose of gravy - what more could you want?

A decent salad that's what. It is dire. Its just a bunch of bad leaves, thrown together.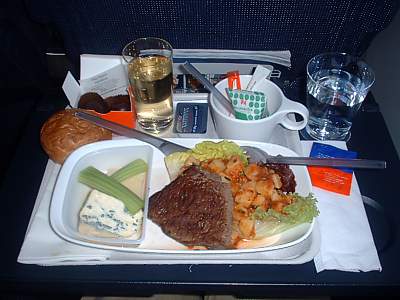 Steak on Pasta lunch
A quarter of hot steak, on pasta with 3 lettuce leaves. A tub of cheese, with a sliver of stilton and a sliver of cheddar, one hot roll, one tub of butter, and one sachet of milk. A small bottle of olive oil. A small box with two plain chocolates.

The steak was great, done just right, but I was confused by the pasta under it - its not really a dish that normally comes with pasta. Still, it all tasted pretty good.

The cheese was weird - there were no biscuits to have it with, so I ended up using the roll, which was in the usual SAS style quite hard, but edible.

Again, a nice chocolate.
SAS Business Long-Haul Intercontinental
In business class, SAS provide a small fold out menu, but have now scrapped the separate wine list: instead they both come in the 10 page booklet, which is in both Danish and English, called Scandinavian dining. On long flights there is option of all the courses - what's called "The big deal" - or just the salad, first course, and cheese - called the Light and Quick". These are alas listed very briefly on page 4: most of the menu is filled with the wine list.

Real knives and forks are used on the Asian services, plastic ones on the Atlantic routes. There are real napkins, held together with a miniature peg - which looks very sweet.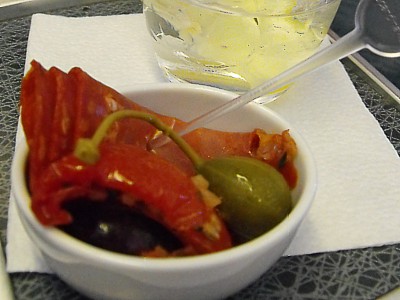 Post take off canapes
Turkey chorizo sausage, sun blushed tomato caperberry and Kalamata olive.

Canapes come round as soon as the big Airbus has reached the cruise - they are marked in the menu as "A snack with your drink?".

They used to be pretty small things on a small biscuit, but not any longer: now you get a nice bowl to keep you going until the first course is ready (which is probably rather long time).

Not everyone takes these, and the rest are left at the snackbar by Row 6.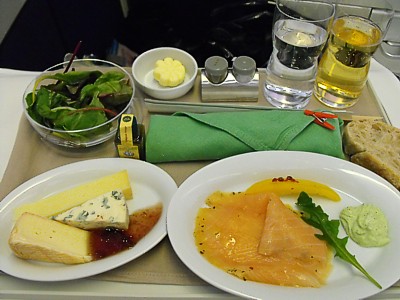 First course: salmon
Lemon marinated salmon with yellow pepper and rucola dressing. A leaf.

A green leaf salad with a pot of mixed oil and basalmic vinegar. Butter, and a hot roll.

This is very good indeed: a huge slice of salmon, alas, in the minimalist SAS style, all that comes with it is a tiny pepper and a small dollop of rucola (which is also very good).

Not so good is the Green Lead Salad, which is just that: a few bits of rather manky lettuce but in a bowl, with only a small dollop of olive oil to put over them.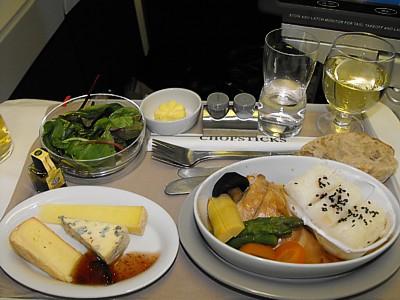 Main Course: Teriyaki chicken with rice
Teriyaki chicken breast with rice and sesame seeds, carrots, green asparagus, bamboo shoots and one shitake mushroom.

A cheese plate with Fourme d'Ambert, Munster, Cantal cheese and fig compost.

A speciality on the flights to Japan, I've also come across this on flights to other Asian destinations.

The chicken is great, although there isn't much of it. The rice is in a small paper bowl and lovely and flakey. Alas the asparagus out of season can be pretty stringy, and the single solitary mushroom looks pretty sad all on it's own.

The cheese plate is a great finish: crackers for this come around on a later trolley with the third wine serving.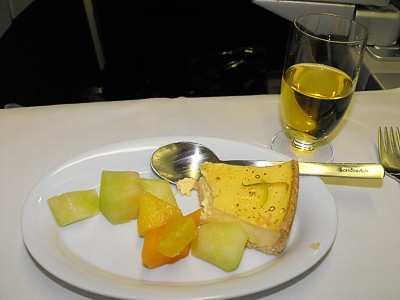 Desert: Lemon Tart
Lemono tart with fresh fruit salad.

A lovely sweet finish: the fruit salad is scouped out of a bowl infront of you, so you can have as much as you want.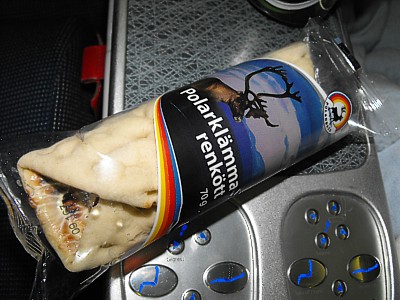 Inflight snack: Reindeer wrap
Polarklamma renkott (Reindeer wrap)

If you get peckish at any time between dinner and breakfast (about 4 hours) you can ask for an inflight snack. Beware, this comes with the usual Danish humour, and may not be quite what you expect... a wrap, sure, but with meat "culled from wild reindeer north of the Arctic Circle". Ah...

Mind you, it's pretty tasty.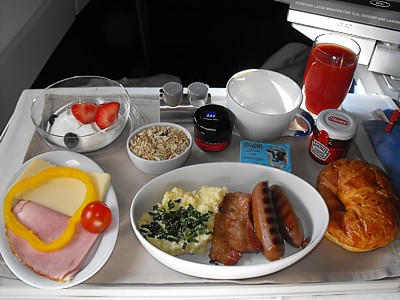 Hot Breakfast
Bacon, veal sausages, parsley potatoes, courgettes, mushroom crepes, and scambled eggs with chives. Ketchup.

Fresh fruit, yoghurt, museli.

Cold cuts of ham and cheese, hot rolls, croissants, marmalade and Smor butter.

It seems only a few hours after dinner you wake up for this lot. And what a lot there is. True, you can just opt for the cold cuts, but that would be a waste considering what else is on offer.

The hot breakfast is done very well - considering it's been near frozen in the galley for 10 hours, that's a rarity. The Yoghurt however really isn't that great, although the strawberry is first rate.

If you're feeling really cheap, you can make a roll out of the crossant with the ham and cheese, to take off the plane (NB: this is illegal in some countries).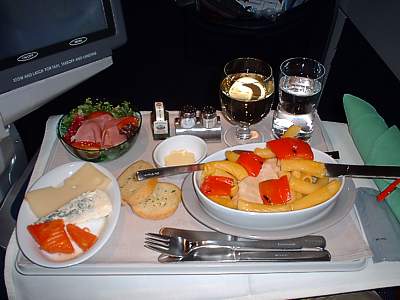 Chicken on pasta dinner
Chicken breast on rigatoni pasta, grilled red pepper and mustard sauce.

Mixed salad with slices of smoked duck and peppers. Dish with 2 slices of cheese (Edam and Stilton) and 3 slivers of melon. 2 slices of garlic bread. A small bottle of oil.

This looks revolting - while the tray and tablecloth make it clear this is a business class meal, the food itself would only past muster in economy. And yet it tastes ok, the mustard setting it off nicely, with delicate soft pasta.

The duck to start with is on a lovely bed of lettuce, and tastes good. No biscuits for the cheese, so I had to improvise with the garlic bread, which is serious negative point. There were plenty more offers of more garlic bread coming round on the trolley. The fantastic salt and pepper pots set off the tray in a great way.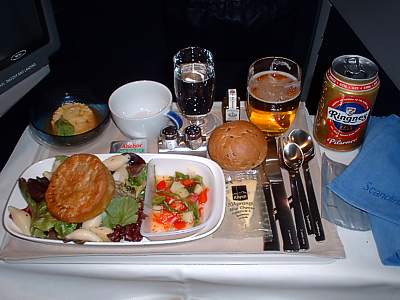 Beef pie on pasta dinner
A small round beef and onion pie, on a bed of cold pasta, with rocket. A small tub of peppers in oil. A cheese tartlet. Sliver of cheese (Stilton). Hot roll & butter.

A beef pie on pasta is a wacky combination, but in context, it works.

The desert is very good, however there are no biscuits, so the cheese has to go on the roll, which isn't quite the point.

Worthy of note are the fantastic salt and pepper pots. True to SAS's concept of looking after the minutiae of design (but sometimes ignoring the bigger picture) these are fantastic, a true piece of excelent miniature design, and are the best in any airlines business section. They are tiny, and come in a great brushed aluminium holder. A worthy souvenir.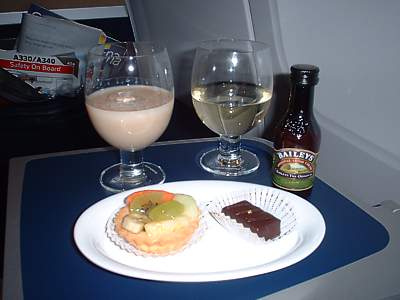 Desert at dinner
A fruit tartlet, with kiwi fruit and mellon on a shortbread base.

A small chocolate slab, and a glass of Bailey's Irish Cream.

SAS redeem themselves after poor presentation for the main course, with a lovely looking tartlet, and a decent slab of chocolate.

The serving of Baileys was great, in a vast glass, with more available if you wanted it.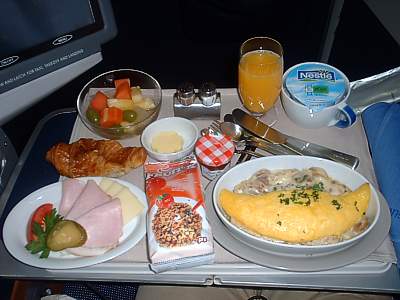 Breakfast
Omelette with fresh mushroom stew. Fruit salad with melons and grapes. A plate with three slivers of Edam, three slices of ham, gerkin, and tomato.

A packet of breakfast cereal (Fruit-R). Croissant with a tub of butter, strawberry jam, and a tub of water.

Very good indeed, the mushroom stew looks like something a dog has returned, but it does taste great - a good way of warming up after a cold flight. The omelette is also very good, soft, and tender.

Nice fruit salad, and its good to have the alternative of either cheese and ham or jam with the croissant. Or indeed both, and there were plenty of rolls circulating in the cabin. Alas every croissant had a huge thumb print in the middle! However the major cockup is that there were no bowls or milk for the cereal. The cabin crew eventually found one, but it was a struggle. Again, SAS concentrate on the small details, and miss out on the big picture.

SAS Economy Flex (Europe) - above 2 hours 14 mins
This is the food that is served in the "middle" cabin trans-Europe. In Economy Flex you get free food - unlike in full economy (punishment) class where you have to pay for food.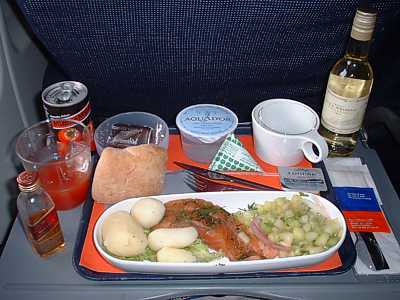 Salmon Steaks
Two slices of salmon steaks, with potatoes, onion and celery. Plus a (hot) roll (with Lurpak butter), and a chocolate sweet type thing. Plus Aqua d'orwater on the tray, sachet of milk, and a cup of what was reportedly coffee, but which came with globules of tar.

This meal look superb. Full marks to SAS for presentation. Alas the actual content is woeful - one of the worst meals I've had on SAS in a long time. I couldn't wait to get stuck in... only to find that the whole thing had been refrigerated to minus something very cold... I had to crunch through ice on the salmon, which had seen much better days. Meanwhile my knife shattered on the potatoes they were so hard. As for the weird celery gunge that come with it... yuck!

The roll itself had been superheated and hence rebaked, so it was equally solid, but at least hot, so I could warm up the fish on it.

Nice chocolate though.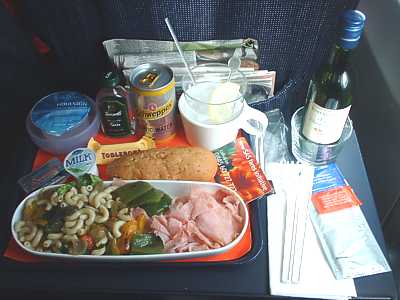 Ham and Pasta Salad
4 slices of ham, macaroni type pasta, salad, and two slices of pepper. Plus a (hot) roll (with Lurpak butter), and a mini toblerone. Plus Houston water on the tray, sachet of milk, and coffee.

Now this is more like it. Stone cold, of course, but still very edible, although you do have to add some salt and pepper to the mix to ensure it goes down well.

I was impressed by the constant offers of hot rolls throughout the flight, almost as if they were going out of fashion.
SAS Economy Flex (Europe) - above 1 hour 44 to 2 hours 14 mins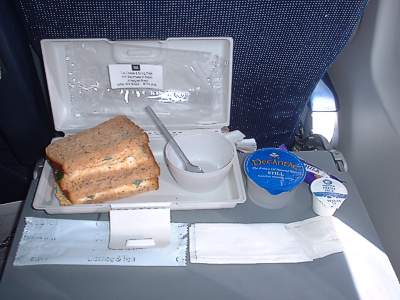 Cheese and Onion sandwiches
Two sandwiches composed of dry brown bread with a thin smeer of butter, with a layer of diced cheese paste and onion.

A pot of water and a dairy milk.

For Scandinavian this is a poor try meal, of very little content. This is a severe disappointment for an airline which once had very good meals even on short flights.

Nice chocolate though.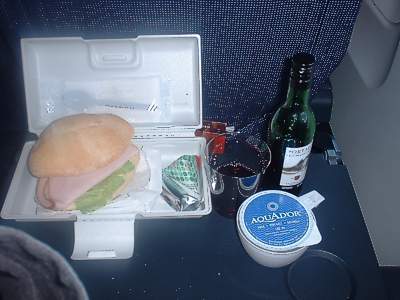 Ham roll
A roll (sliced and buttered) with two slices of mechanically reconstituted ham, and one quarter leaf of a lettuce.

A pot of water and nogat bar.

Better than the dry sandwhiches, there still isn't much content to this, and only ammuses for about 2 minutes.

It really is worthwhile just ignoring this and not eating it.