![endif]-->
Austrian Airlines Fleet, Seats, Lounges, Food
Austrian Airlines

Review Overview
Rating:

Reviewed by

Airreview with 479 photos

.
Austrian airlines run an
efficient, mid-size, moderate quality
national airline of Austria. The route network punches above it's weight, particularly on the German to Asian links, however if you don't live in Austria it means a change at the main hub, Vienna. At Vienna however there are some excellent Business Class lounges.
Read more about Austrian Airlines Lounges
.
Fares have been dramatically slashed in recent years, and that comes at the expense of quality. No longer do Austrian offer free food and drinks in economy shorthaul. The frequent flyer scheme has also been made much tougher, and on most flights there is no inflight service. Austria is rapidly moving towards the AerLingus and Iberia model of a no-frills but with extras carrier. Read more about Austrian Airlines inflight service.
At least the aircraft fleet is new, clean, and on most aircraft there is inflight entertainment in all classes. Read more about Austrian Airlines seats and cabin comfort.
The company structure is made much more complicated by Austria's effective takeover of Lauda Airways. Lauda Air was founded by Motor Racing ace Nikki Lauda and began in 1979 with charter flights on two small Fokkers to the Med. It rapidly expanded, and for many years flew ultra long haul to Australia. Austrian already had a small stake by 1997, and took it over in 2002. Since then the brand has been slowly diluted, and has now been effectively scrapped. Lauda Air now has a fleet of all of one plane, which operated Charter Flights under the title of "The Austrian way to Holidays".
Austrian has another small subsidiary, Tyrolean Airways, which flies to smaller destinations, mainly on domestic routes.
To make matters more confusing, Austrian is now owned by Lufthansa, with which it has many similarities. In particular the Miles&More frequent flyer scheme is the same, as are the lounges, and there are a lot of code shares.
Today, Austrian effectively fly to 122 destinations in 64 countries on all five continents, are a member of the global Star Alliance and focus its flights strongly on Central and Eastern Europe.
Continue to seats & aircraft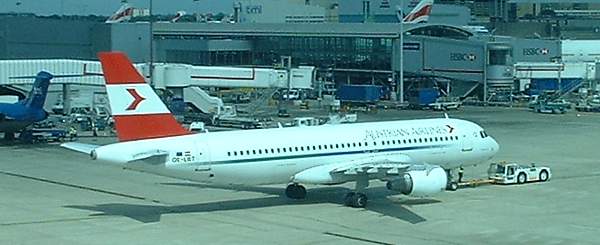 Austrian Airlines A320 At London Heathrow in old-style livery

Note that all reviews and opinions on Austrian Airlines (OS) food, service, seats, planes, upgrades, lounges, and the Miles & More Frequent Flyer scheme is soley at my judgement. No legal liability is accepted if you take my advice.