Wine, beer and spirits, are free longhaul in economy. Shorthaul, you need to buy it from the Bistro menu. All wine in economy comes in 187ml bottles.
Economy class wine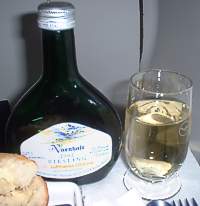 Riesling Varnhalt
Unusually shaped bottles from the Black Forest
The small Varnhalt company, located in the Blackforest around Baden Baden (in Strasburg, the Rhine Valley). Although branded for City-Line this wine appears on all flights. Fairly sweet, it is never the less acceptable, and even worthwhile swiping, if only thanks to the unusually shaped bottle.
11.5%
Business class wine
Reisling Spatlese trocken
From Mosel-sarr-Ruwer
Pretty sweet, with the aroma of apricots and peaches. Very good.
11.5%
Trumpeter Tupungato Chardonnay
From Familia Rutini, Agentina
A very deep yellow colour, its almost off-putting in the glass. Its got a lot of body, and is that decided rare thing for a Chardonnay, of being almost heavy.
13%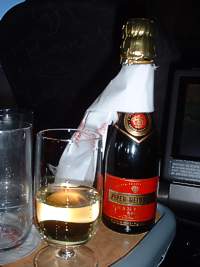 Sparkling Wine Piper-Heidsieck Brut
Great Sparkling Wine
A really good Sparkling Wine, its pricey on the ground... so you might as well get the benefits of paying a fortune for your ticket, and enjoy this proper French stuff from Reimes. The Piper-Heidsieck is also available in economy.
If you're feeling bored, take a look at the cork - its a screw top with a strange plastic moulding made to look like a Sparkling Wine cork.
12%
Sparkling Wine Schlumberger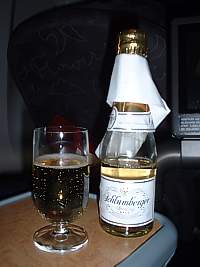 Economy Sparkling Wine
Back in the cheap seats, you'll end up with this stuff. It's actually an OK Sparkling Wine though.
Creamy, peachy, fattish, yet very dry. Good, but idiosynchratic.
12.5%
Beer on Austrian Airlines
Very unusually for an airline, all beer served in all classes on all planes is served in bottles, except for Fassl.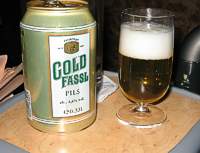 Ottakringer Gold Fassl
Light larger
This is a lovely smooth larger served in both classes. There is a huge head, which probably doesn't suit English tastest, but the flavour is worth it.
4.66%.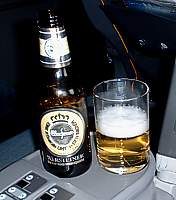 Warsteiner Pils beer
Bottled beer for business
Yes, its possible to get real proper beer in a bottle on board. The Warsteiner Pils has a lovely creamy head.
6%.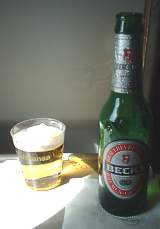 Becks beer
Bottled beer in every class
Even on European short haul flights it's possible to get beer in bottles - Becks is always available in evey class, at any time of day. True, it is rather bland, but who is to turn down an airline which serves it the proper way.
4%.
Business Class Cocktails
Bloody Mary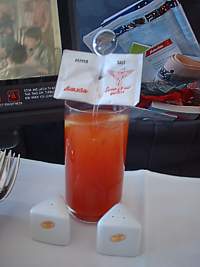 A very popular drink on Lauda flights is a Blood Mary.
The mix isn't as good as on Singapore Airlines, however the quntity is better (a good thing, if only because Lauda take so long to serve you).
The Bloody is served with pepper and salt on a stick, however there should still be the little triangular salt and pepper pots on your tray.