News: Austrian Airlines are introducing what they call their "Self Select Bistro Service". In effect this mean you pay for all your food and drinks on board except on flights from London to Vienna, and flights above 1 hour 40 minutes. Passengers can choose from salmon ciabatta, sandwiches, salads, pastries and fruit, at up to €5. Soft drinks are €2, alcoholic drinks are €3.50. Mineral water is still free.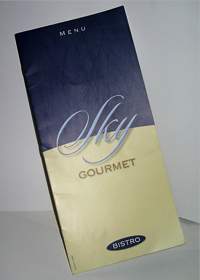 Bistro menu

On Lauda flights, the cabin crew do dress quite weirdly, with dark blue blazers, red vests for the ladies and grey vest for the men, baseball caps, and jeans. They are trying to be modern as well as formal. It is actually better than many airline's attempts.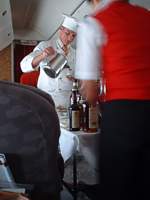 Lauda inflight service

As you board the plane, there is normally a trolley of Newspapers by the gate, including for the long-haul Lauda flights, where the remains are then brought around the cabin inflight on a trolley before takeoff. Interestingly, in business there is a selection of magazines on the lower level of the trolley - but not for economy.
As you sit down, the screens show a video with scenes from Austria, and play some truly terrible lift music. In business you have to find your own seat, and you are offered a glass of water or orange juice. On Lauda's flights leaving at 1100 from Vienna, if you ask the crew they will get you a glass of Sparkling Wine. While you are on the ground the safety video is worth listening to for the amusement value - the inability of the voiceover the pronounce an R always has passengers in fits of giggles.
On long haul Lauda destination the cabin crew get very angry if you open the window blinds at the wrong time. Even in daytime over Australia, there seems to be a ban on looking at the view. The cabin crew are also pretty annoyed with passengers who dare press the call button.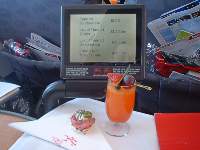 Amadeus canapes & cocktail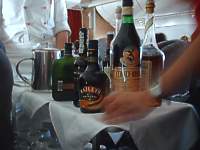 Amadeus liquour service

Headphones are handed out as you reach cruising altitude, and then the service begins - normally from the front of the plane. For this reason Miles&More senators are often seated at the front of the plane, so they get served first.
In business (Amadeus Class) there is a very good food service, and a menu (in a red folder, with your name written at the top) will come round before takeoff. Lauda boast that one of the cabin crew is always a trained chef - and will change into a chef's outfit (with a hat) for the food service in Amadeus class (although he often stays just in the galley). Here, as soon as the plane reaches cruising altitude, the service starts with a plate of canapes, and you are asked if you want a cocktail, before being asked for your selection. This is the only time the crew will address you by name - as they read it off a list. You also get a hot towel just before the meal service, and before landing.
Alas after the coffee service (with a selection of liquor bottles on the trolley) drink service is pretty poor - you have to press the call button for anything other than water.
Austrian Airlines & Lauda Airlines Inflight Magazine - Skylines
On Austrian, Lauda and Tyrolean, the inflight magazine is branded
Skylines
.
It is fairly thin, coming in at only about 100 pages, and is produced inhouse by Austrian Airlines. You can even subscribe to it - subscription cards are at the back of the magazine, next to the Miles and More cards.
It is a dual language English and German magazine. The two languages are presented in the same font, around the same pictures (not necessarily on the same page). In each magazine there are six travel articles, often surrounding themes like restaurants. At the front of the mag is GlobeMix, with toys and executive gadgets. There is a travel quiz half way through the mag, an interview with someone from Austria you've never heard of, a cultural calendar (for Austria) and then a long, bulky travel article. There is a separate section on Austria, and things you always wanted to know (but never knew until you got bored 14 hours into a flight to Australia). At the back is some group news, and details of the Austrian and Lauda fleet. At the back are some pretty good maps.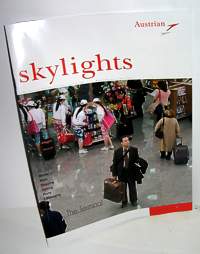 Austrian skylights film listings

Lauda and Austria separate their Entertainment magazines - the covers are nearly idential, but the Austrian version is called Skylights. The Lauda version of the Entertainment listings is Dream Factory. Again, the content is near identical.
You get a page of star gossip, then an interview with one of the leading lights of a mainstream film. Then there are pages with the films - the main blockbuster gets two pages, single pages for the two premieres, the half pages for the 16 follow up films (8 outbound, 8 in). There are then a couple of pages on the documentaries and kids films.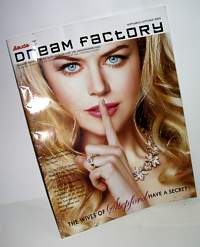 Lauda Dream Factory film listings

There are four pages of listings with the films from, and to Vienna, listed in a pretty confusing way. On the left side are the destinations, while on the top are all the possible films. There is an Austraian or a Lauda logo, then there is a film on that branded airline. The numbers show the channel numbers (with separate numbers for German and English soundtrack). If there are two numbers, the film is playing on two channels, starting at two separate times.
On 767s and A340s without seatback monitors in economy (flights from Beijing, Delhi, Osaka, Tokyo, Montreal, Toronto) the films shown on the front projector are listed in the boxes colour coded in the order of their showing.
There are then two more pages showing you how to use the handset (standard on all models) and the seat (here it helps if you know your tailfin number - Lauda's B767 LAU and B777 LPC are different).
Austrian Airlines & Lauda Airlines Longhaul amenity kit
If you're hunting for the amenity kit and washbag - good luck.
Economy
gets nothing.
Business gets a red bumb-bag, which has more carefully chosed goodies than most airlines give out. The red bumb bag is obviously an attempt to be trendy in a kind of 1980s style - it doesn't work. However most of the stuff in it is useful on the flight, and you can dump it pretty soon after.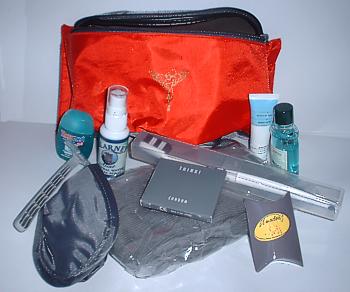 Amadeus washbag

There is a good pair of socks, and an eyeshade that actually works, along with some Amadeus logoed earplugs. There is a good, full sized toothbrush, and some eucaliptus toothpaste in a funny little pot. There is a kinf of unisex razor, and a fairly big tube of Bicosmetic Shaving Cream, a bottle of Juniper Shampoo (now just how are you supposed to use that on the plane?!) and a bottle of Blarney Water mist spray - use it to combat the dehydration, and it works, it really does!