Austrian Airlines
describe their fleet as "The perfect fleet for the perfect route". What this translates into is a random group of planes of hugely varying vintages. Thankfully however all of the old "mad dog" MD82s have retired. Alas so has the large fleet of A340 and A330s, and many are sad to see them go.
Short Haul economy seat pitch is 32 inches, and is a pretty standard airbus offering. Up the front in business, Austrian use the standard move-the-armrests seats, so there is little advantage pitch wise in paying the extra.
Long Haul Austrian Airlines call their Business class Grande Class, and it is a vast improvement on what went before. There are now flat bed sleeper seats 2 metres long, however make no mistake, these are still the first generation of business class seats, and while they are flat, they are not level, and instead you sleep at a 20 degree slope to the aircraft.
Austrian Airbus A320 / A319 / A321
Austrian have nine A320s, six A321s, and seven A319s in the fleet. All seats are in a 3+3 layout in business and economy, with a business class cabin which is changed in size by moving a curtain.
The Business Class seat is identical to the economy seat, both in pitch and in width, however if you are in business, and sit on the left, the centre seat is blocked off and the seat arms moved across to give a larger seat - accordingly it is well worth asking to sit in A or C in business. Seat pitch is 32 inches. All models have large 14 inch fold down LCD TV screen under the overhead lockers for both classes,.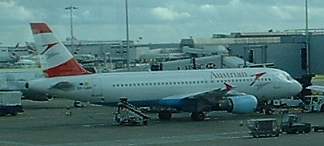 A320 At London Heathrow

There are eight A320 which seat 144, with the variable business class seats extending back as far as row 20, although in normal configuration they are only used with the first 3 rows as business class. Row 9 and row 10 are overwing emergency exits - if you ask to sit here, you will get 2 inches more legroom.
There are only six of the larger A321 which seat 181 and are comfortable and modern. Service can be a bit slow, with only a single isle for service. There are no overwing emergency exits, but there is a proper door at row 9 and row 23, so you can as much legroom as you want if you sit in the row behind it, however you do not get an sort of window, and you are seated next to a member of the cabin crew (in seat D). Row 6 also has a blanker at the window, so is to be avoided. This model has some of the largest loos on an Airbus, with 3 in a cluster at the back.
There are just three of the rather squat A319s. This variant is smaller, and has only one overwing ejectable windows - sit here, in row 9, and you'll get 2 inches extra legroom.
Austrian Airlines Boeing 767-300 ER
Austrian's offshoot Lauda has six Boeing 767-200ERs. They carry 30 business and 200 economy class passengers, with a crew of 11. Five of the fleet came direct from Lauda Air when Austrian took it over.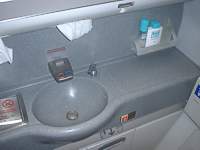 Business Class Loos in Lauda

With a twin isle at least the cabin service is quite quick, but these are getting quite old now, seats are falling apart, TV screens are CRTs overhead.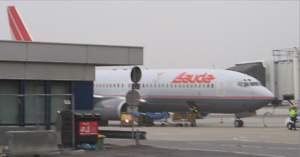 Boeing 767 at Vienna

Business Class comes in a 2-2-2 layout. All the 767s now have the new lie-level on a slope style business class seat. Row 1 gets a bulkhead with cot fitting and a danger of children. All seats come with a fold out video screen.
Economy comes in with two sections as 2-3-2 throughout. The first cabin has just 5 seats, and is vastly prefered, as it is small and quiet. Seat row 10 is a bulkhead with two clear windows (and a nice fold out table in the armrest), but often gets cots clamped to the forward wall. Row 16 gets an emergency exit, and a slim sliver of a window. There is a window in the door ahead of you - and its not over the wing.
Some passengers do get a little twitchy flying these planes on the Bangkok route. A fault with thrust reversers on an Austrian Airlines 767 flown by Lauda caused the Boeing 767 to crash in Thailand with the loss of 223 lives in 1991.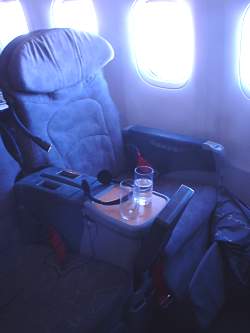 Lauda 777 The best seat in the house - Business 1A

Austrian Airlines Boeing 777-200ER
Austrian Airlines four Boeing 777-200s, which are used on the US and Thailand run (although this means that there are none spare in the event of an aircraft failure. Two of them are ex-Lauda Air planes. They carry 49 business and 258 economy class passengers, with a cabin crew of 15.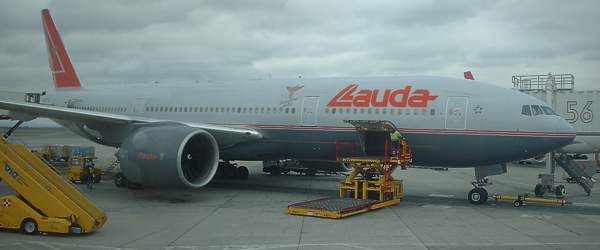 Lauda 777 at Vienna

Business Class comes in one section of 5 rows in a 2+3+2 pattern, and another smaller cabin with just two rows, using the new lie flat seat which converts into a 60" bed. Row 1 gets a bulkhead but it's a screamer seat - there are cot fitting and a danger of children. Row 5 has no window, and no view of the outside at all. All seats come with a fold out video screen, and a joint telephone and TV remote in the armrest. This design is actually pretty good, and flips up allowing access to the buttons.
Economy comes in two sections configured 3+4+3. Alas Austrian Airlines have adopted the new narrow width seats, craming 10 abreast, instead of the 9 abreast that the Boeing 777 was designed for, and it feels really uncomfortably squashed. Regular travellers know to check their seating in the booking process, and then reconfirm it, to avoid sitting here.
Row 10 is a bulkhead with two clear windows, and is just forward of the wing, (with a nice fold out table in the armrest), but often gets cots clamped to the forward wall. Row 26 gets an emergency exit, and a slim sliver of a window, which is just behind the wing. Avoid sitting in row 15, or row 23, which do not have a window.
If you are in a bulkhead or an emergency exit you get a fold out video screen which is smaller than the seat back videos, and your remote is in the armrest, so you keep on banging it when you are asleep, but it is worth it for the lack of a seat reclined into yours for the long haul to Asia.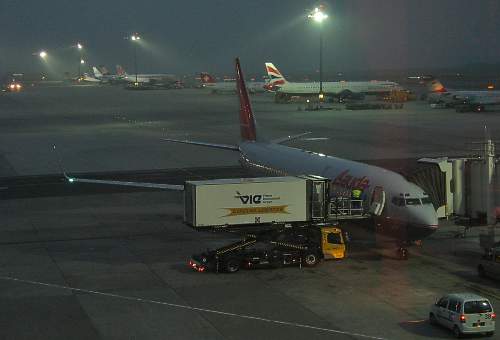 Boeing 737 at Vienna

These seats can only be booked at checkin, and have a video screen in the ceiling, so you can enjoy the moving map display when your screen is stowed. All classes also have a view of the nosewheel cameras as you approach the runway on landing.
Lauda Airlines Boeing 737
Lauda has a truly varied collection of Boeing 737s. There is a grand total of one each of the variants the 737-300, 737-400, 737-600, 737-700, and four 737-800.
Business Class seats are in a 2+3 layout, with the A and C seats are made from a normal set of three seats, with the armrests pushed closer together to give lots of seat width. It is recommended going for these seats, but here rows 2 and 3 are the best, as row 1 is the bulkhead row, which gives you nowhere to stow bags containing things you want quick access to.
All planes have had a minimum of three business class rows, but with just a sliding curtain that can move according to demand, and sometimes you'll find your seat moved if the curtain moves, thanks to a sudden influx of people in the cheap seats. On the other hand business class can go all the way back to row 20.
Economy is in the usual 3+3 pattern, with row 10 being the emergency exit seat, with a lot more legroom.
Austrian Airlines Airbus A330 / A340
Austrian Airlines have axed their fleet of A330s and A340s, and this information is maintained just for historical interest.
Austrian have four A340s and four A330s in the fleet. The A330s seat 81 business class and 150 economy, while the A340s have 30 business 227 economy. The A340-200s are used to Asia, while the 2 A340-300s are used to America and Africa.
Business Class is in A330s arranged in 4 rows of 2+2+2. The A340 has 5 rows of 2+2+2. The old style upright seats are ok, with plenty of cubby holes to put things in. Row 1 gets a bulkhead with loads of legroom - and unfortunately cot fittings. If you don't want to be blighted by sitting next to a couple with a crying baby, ask if there are any children onboard before asking for this seat.

Vienna A330, A340 & two A320s on the stand, with Austrian planes in varying Star Alliance liveries

Economy Class is in a 2+4+2 formation, giving a marginally narrower seat than the 777, however it is ideal if you are flying as a couple, as it means the end of clambering over two people when you want to leave the window seat. The seats video screen, and have the remote clamped into the arm. In the A330s row 5 gets a bulkhead, while row 20 gets an emergency exit.
Austrian McDonnell Douglas MD82 / MD83 / MD87
Austrian Airlines have axed their fleet of McDonnell Douglas planes, and this information is maintained just for historical interest.
Austrian still has some ancient McDonnell Douglas planes - one MD82, two MD83, and four MD87s.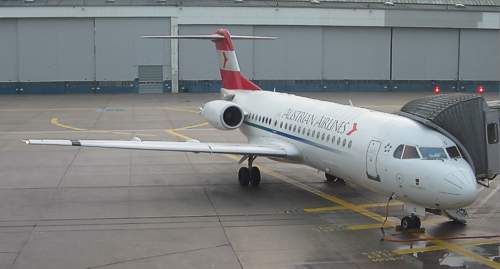 MD82 at Dusseldorf

They are well looked after, so the age is not really an issue, but even so these are wacky planes with the engines strapped to their backside. The idea (back in the days of really noisy engines) is that it's quieter for passengers in the expensive seats at the front. Very true, but if you're late at check in you'll get the window seat at the back of the plane, and spend the flight looking out over a great view of engine cowling. It'll be several hours after the flight lands that your ears stop bleeding and you can hear again.
The layout of the aircraft are pretty much idential, with two seats on the left of the aircraft, three on the right - so you're better off in seats A and B. There's a wacky formation with the galley at the back of the aircraft on the left - so if you sit opposite the galley in row 28 you get very quick service.