NEWS: Within Europe, flights now have a fixed benefit, regardless of the length of flight. Most Economy flights get 500 miles, while those in classes B & Y (flexible economy) get 750 miles. Class L & T (Restricted Economy) gets 125 miles. Worldwide you get the miles flow, except for classes B & Y (flexible economy) get which gets 1.5 times the number of miles (minimum 750) while class L & T (Restrited Economy) gets 0.5 times (minimum 125 miles). Business still gets x2 and First x3. Senator level (Star Alliance Gold) will now get two Upgrade eVouchers when getting to that level, and each year on renewing it. Senators will not now get Upgrade vouchers for each 50,000 miles flown. Your Status Level executive bonus (to get to Silver or Gold) will no longer be given for Star Alliance flights except for United and Austrian Airlines.
Miles&More is Austrian's frequent flier programme, and is part of the Star Alliance. It is virtually the same as Lufthansa's Miles&More scheme.

Miles&More, is also just like most of the rest in the Star Alliance. It is however quite hard to even get onto the bottom rung of the membership ladder - you have to fly a long haul flight, to even be allowed to join.
Miles&More - Earning Miles
Every mile flown counts as a mile for destination and status for the Miles&More scheme, at varying rates.
Worldwide, First Class gets triple miles, Business Class earns double miles, Flexible Economy Class (B,Y) gets a 50% bonus, while Restricted Economy Class (S,W) earns 50% less miles.
A321 at London Heathrow

Around Europe, there are fixed limits. Business Class has 2,000 miles, Economy earns 1,250 or 750 miles - or the really draconian 125 miles for T class.
A really nasty point is that your Executive Bonus is awarded on flights with Austrian, Lauda, Lufthansa and United only. If you only fly Austrian occasionally, you may get miles for free flights, but you aren't going to earn any status, and climb up to silver or gold level.
The Executive miles you have earned between January 1 and December 31 of any given year add towards the status you get.
Note that if you fly on cheap Austrian economy tickets, Austrian-MilesandMore heavily reduces the number of miles you get, as does Lufthansa-Miles&More, but if you put the points on a Austrian Airlines card, you get the full number of miles. Oddly, if you fly on a Lufthansa flight, Austrian Airlines will give you discounted miles, but if you fly on an Austrian codeshare on the same flight, Austrian Airlines will give you full miles. If you are trying this trick, it may be well worth while trying to book on an Austrian codeshare on Lufthansa metal.
Miles&More - Spending Miles

MD82 at Vienna

A flight around Europe costs 30,000 miles (45,000 in business). From Vienna to the US is 60,000 miles (90,000 in business), Asia is 80,000 (120,000 business), and Austria 100,000 (160,000 in business, 240,000 in first).
You can use your miles for upgrades, except of low-cost tickets (L & T around Europe, S & W around the world).
From Economy to Business around Europe costs 10,000 miles, to the US is 35,000, and Asia is 50,000 and Australia is 60,000.

Tyrolean Canadair Regional Jet & Dash 8 at Vienna

Miles&More Frequent Flyer (Basic)
Once you have flown 3,000 miles, you will receive a regular Lufthansa Miles & More Card.
Miles&More Frequent Traveller (Silver)
Silver level can be achieved at
50,000 miles
(or 40 Economy Class round-trips) in the previous calendar year.
You get access to the Lufthansa Frequent Traveller or Business Lounges all over the world, and check in at the Business Class counter, regardless of class of travel. There is also a 25% mileage bonus.
Miles&More Senator (Gold)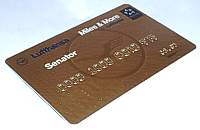 Miles&More Senator Card

Senator level can be achieved at
100,000 miles
(or 30 Business Class / 60 Economy Class round-trips), although for residents of Austria it's 150,000 miles or 120 trips. It is (uniquely) valid for two years. To renew it you then need to fly another 150,000 (or 100,000) miles in the
two
years before your card expires.
It is well worth while getting to this level. There is Check-in at a Austrian First Class or Star Alliance Gold Counter, regardless of fare paid. Access to the worldwide Austrian or Lufthansa Senator lounges and Star Alliance Gold lounges with same day Star Alliance ticket. You get an extra 20kg of luggage on all Star Alliance flights (or one more piece on US flights) and an Executive Bonus of 25% on the usual crediting of bonus (and status) miles.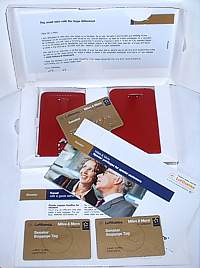 Miles&More Senator Welcome Pack

There are two free electronic upgrade vouchers for flights within Europe as soon as you get to Senator level, and two more each time you requalify for this level. Two vouchers are required for an upgrade on intercontinental flights. Note that United refuse to accept these vouchers, and you need to request a paper voucher from Vienna.
On getting to this level you'll get a nice pack with your new card, a booklet with details of the scheme, and two luggage labels. These are made out of red leather with a silver buckle (and say Lufthansa Airlines on one side - implying that they are a dual production to save money) with a plastic slip in card. These act as a priority luggage offload indicator, and means your luggage will come off the conveyor first.