Shorthaul Austrian Airlines have introduced what they call their "Self Select Bistro Service" except on flights from London to Vienna, and flights above 1 hour 40 minutes in duration. This mean you pay for all your food and drinks on board.
Tap water is still free, but a small bottle of Evian comes in at €2.50. Soft drinks are €2.50, except for RedBull which is €3.50. Beer is €3.00, wine is €3.50, and small minitures come in at a stonking €4.00.
Foodwise, the smallest sandwich is €3.00. A salmon ciabatta (which is very good) is €4.50, while a breakfast bistro (with croissant, butter, Philadelphia and Actimel is a stonking €5.00.
There is free food on all Intercontinental Austrian and Lauda flights.
Metal forks and plastic knives are used on all flights, except on flights to the US and the UK where the entire set is plastic. On approach to Australia in economy there is a plastic set, but in business the set is still metal.
Trans-Europe Economy Class - Austrian Airlines inflight Food
In
Economy
food is very limited, and indeed you'll be lucky to be offered more than a tiny roll. Above 1 hour 40 minutes, it is still free.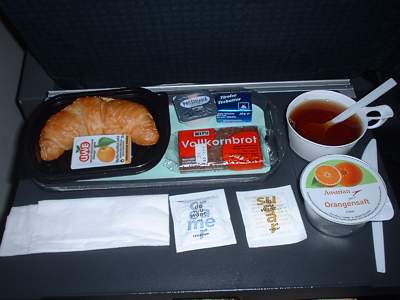 Breakfast Bistro
A cold croissant, a slab of two slices of Volkcornbrot (German peasant's Corn Bread), a tub of apricot jam, a pat of Philadelphia cheese, and a huge square of butter.
A tub of (Austrian branded) orange juice. A cup of coffee.
Not much quantity, but top quality.
It would be nice if the croissant is heated up, but this is a minor niggle. With the jam on the crossant and the Philly on the Brot, it works nicely.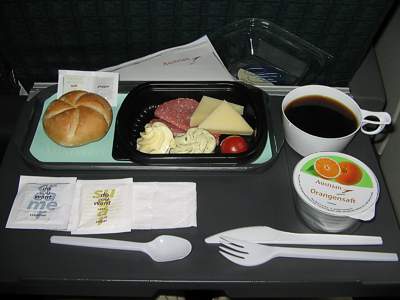 Breakfast Gourmet
A hot (hard) roll, and a box containing two squares of Edammer cheese, two slices of salami, a squirt of herb cheese, and squirt of garlic butter, and a tomato.
A tub of (Austrian branded) orange juice. A cup of coffee.
This is the gourmet version of the breakfast, and only available out of Vienna. The cheese and salami are top quality, as is the herbal cheese.
Alas, only one roll was offered, so it was quite hard to stack all of the offerings onto the roll. All in all though, not bad.
Intercontinental Business Class - Austrian Airlines inflight food
In
Business
class, the food in Lauda is justifiably famous. Created by chefs at the Vienna restaurant of Do&Co, there is even a trained onboard chef. It is well worth paying the extra for the really very good food. As always on Lauda, every meal is laid out on triangular plates, with a triangular saucer, a triangular cup, and triangular salt and pepper pots.
there is a decent looking menu, with the drinks list on the last page. Meals are laid out on a decent white tablecloth long haul (spot the Lauda logo on it!), on top of which is placed a tray.
However many Lauda flights have just a "main meal" combination at lunch and dinner times, I suspect due to the wierd times of Lauda flight, which mean it is pointless trying to tie it to a lunch or dinner.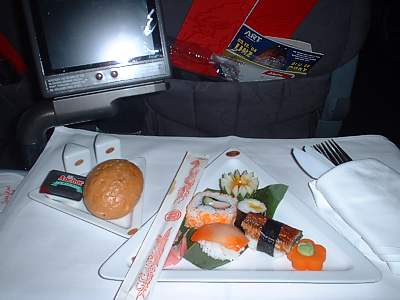 Sushi
Six types of Sushi of the trolley (infront of you) with chopsticks.
One Salmon, one rice and strip, one end of cucumber, a carrot, a strange fish of no name, and a green leaf.
This is a meal airline gourmets dream of. To get decent Sushi on a flight is fantastic, to get it of this quality is incredible. Normally this meal option is only served on the Japanese flights, however occasionally it can be found on the extended options to Melbourne.
A fully laden trolley is taken around with all the possible fish in Amadeus Class - although it does help to be at the front of the cabin so your option is available.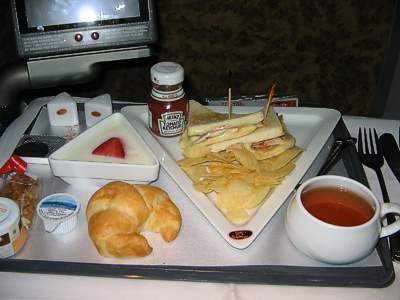 Club Sandwich
A club sandwich with alternating layers of ham and chedar cheese. Laid on a bed of crisps, with a miniture pot of Heinz Tomato Ketchup.
A strawberry yougurt, a hot crossant, and pot of do&co apricot jam. Lauda recognise that on a flight from Asia, many of the packpackers (even in Amadeus class) have spent weeks living off club sandwiches. And so, that is the meal you will get on board.
As a novel variation, it is a good one. Although, for some passengers who were really travelling on business, they can be suprised at this meal.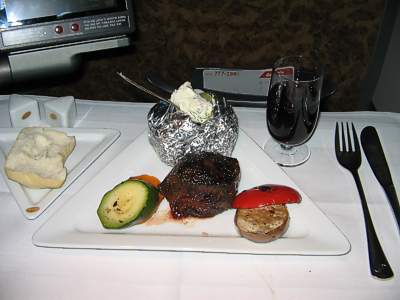 Baked Spud and Meat
A baked potato within cooking foil, with a lump of garlic butter.
A lump of char-grilled steak, one slice of gerkin, and a pepper. A hot roll with butter.
Ooo, ahh, um. On November the 5th, Lauda spot that their British customers want something a bit, well Guy Fawkes. And this is what they come up with.
As a totally unexpected variation, this wins the prize. No other airline has ever tried a baked potato inflight before. It works. It really does. Although some other garnish would be nice.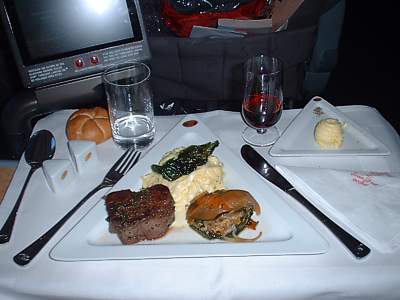 Steak and Pasta
A lump of char-grilled steak.
A dollop of pasta with a herb leaf on top. A spoon of mixed vegitables. A hot roll.
This is the famous Steak Dinner, with which Lauda manage to get much custom. And yet, despite the look which seems to imply that the chef has taken one spoon of three difference saucepoons, it seems to work.
The steak is tender, the pasta is soft, and the veg has flavour. Maybe not worth a business class fare, but decent never the less.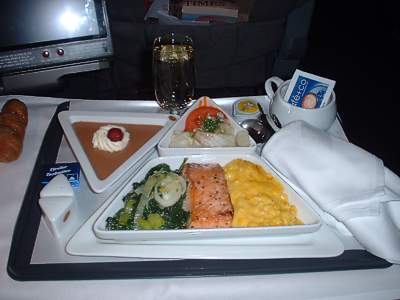 Salmon and Egg
A salmon steak. Egg diced gunk, and spinach with brocoli.
Onion Salad. Chocolate angel delight.
This representes Do&Co's madness at it's height. The salmon is great, some of the finest in the air... but egg gunk? That makes no compliment, or even a mixture, let alone the spinach and brocoli.
The onion salad to start with is bizare. To say the least. And the Angel Delight chocolate moose is memorable for being cheap. This is not a Lauda creation to be proud of.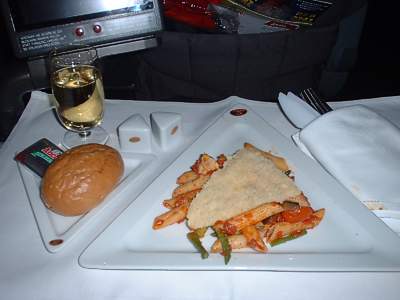 Pasta and Cheese
Mixed pasta with tomato sauce and peppers. A slice of cheese.
A hot roll.
Lauda's financial problems mean that sometimes, the business class offerings can fall short of other airlines - or even what Lauda is famous for. This is one such occasion. This is a very poor meal.
Not that there is anything wrong with this - it is a fine serving, but not what you'd pay extra for Amadeus for.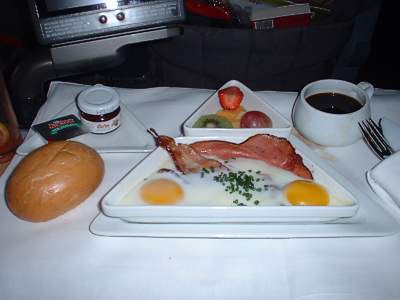 Full English Breakfast
Two slices of bacon, and two eggs (sunny side up).
A hot roll, and a pot of do&co strawberry jam.
On arrival into Australia (even though it is late afternoon) Lauda offer what is their version of a full English breakfast.
Actualy pretty good, the bacon is nice, and although the eggs are runny, it's an OK wakeup.