Special Fares
If you are travelling NZ domestically and its not included in international fare, then use the New Zealand website which will be cheaper than booking the Kiwi domestic legs on an international website. The disadvantage of doing this is loss of some baggage allowance, and less protection in the event of misconnect from or to an international flight.
Avoiding Oz Surcharges
Fares on Air New Zealand's website can be low for return tickets from Oz to Auckland. The trick is to book one-way tickets on each of its Australian and New Zealand websites, avoiding a doubling of Australian surcharges which add markedly to the fare, especially in and out of Sydney.
The Virgin Australia Air New Zealand Alliance
Virgin Australia have recently linked with Air New Zealand, in a very confusing linkup which 'sort of' sees them becoming part of a Quasi-network, although as the service offerings on each service are so different, it can be hard to work out what you are getting.
You can at least earn Virgin Australia Velocity miles on Air New Zealand. Full economy earns 1 Velocity point per mile, premium economy is 1.5 Velocity points per mile, and business is 2 points per mile. Where it gets confusing is International. Shorter Trans-tasman flights on Air NZ only earn full miles on Full Economy (Y,B) tickets. There is 75% miles on Q, H, M, 50% miles on V,W,T and a miserable 25% of miles on Discount Economy (L, G, S, K, P, F). Most New Zealand domestics earn 75%. Long haul, Discount Economy earns 25% miles (L, G, S, K, P), except for 50% (V, W, T) and 75% (Q, H, M). Business Class (C, D, J, Z) is 200%. On top of that, Velocity Silver members get a 20% bonus and Velocity Gold score 40% extra.

Virgin Australia Velocity Gold membership pack
Bags - Virgin Australia Alliance
Things get really confusing with bags. The most important thing to remember is that Velocity allowances override luggage restrictions on the ticket type. Hence, if you just buy a plain 'Seat' ticket on Air New Zealand, you won't get a free bag, as either Airpoints or Star Alliance Gold, but you will as a Velocity Frequent Flyer Gold. Confused? So are the check in staff, and so you may have to bring along this
handy little guide
to explain it to them when they refuse. Velocity Silvers receive a free 23kg checked bag in economy, even on Virgin Australia Saver or Air New Zealand Seat fares that don't allow bags. Velocity Gold members get 32kg of checked luggage, Platinum get 69kg.
Frequent Flyer perks - Virgin Australia Alliance
The trans-Tasman alliance means you can use Air New Zealand and Virgin Australia lounges, if you have access via either of the others, unless it is a contract lounge, such as at Adelaide and Perth, or a Pacific Island flight. If you are a paid Virgin Australia Lounge program member, you also get lounge access on AirNZ.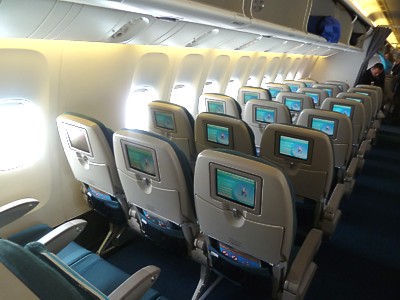 Air New Zealand Boeing 777 economy class seat and cabin
Free upgrades - Virgin Australia Alliance
This is really the perk you want. As a Virgin Australia Velocity Gold or Platinum, you should be able to get access to the premium economy seats on a Trans-Tasman flight. Alas, it doesn't always work that way. Firstly, you have to book on the few planes that have it - which means the Boeing 777, not the Boeing 767 or the A320. Secondly,
you need to buy a 'Works' ticket
: there is no access without, although occasionally the online seatmap will let you book these seats. All of Air New Zealand's frequent flyers automatically get a free upgrade to Premium Economy seating when booking economy - it comes up in the seatmap when you book seats, so you can move yourself up a class. This should also happen with Gold Star Alliance, but Air New Zealand is notoriously flaky about recognising status. And with the link with Virgin Australia Velocity being so new, it rarely happens. You can phone up the AirNZ call centre, and ask for the upgrade, but the call centre rarely understand the issue: they will try and sell you an upgrade on your ticket, which of course grants you the front row of the A320 services, but not the Boeing 777. Do not do this - you should get it for free. If this happens, hang up and try another agent.
Operational Upgrades
One of the common questions is "How do I get an upgrade on Air New Zealand to Business or Club class?". Alas, getting upgraded to business class on Air New Zealand really isn't that easy. The airline has the Western, rather than American, model for upgrades longhaul. Which is to say you'll only get an upgrade if your paid for class is full, and then upgrades are processed accordingly to a pecking order of elite frequent flyer status. You are very unlikely to ever get an upgrade unless you are at least a Gold Star Alliance member.
To start with, make sure you are an Airpoints frequent flyer, and you do fly frequently: after all, if Air New Zealand are going to upgrade anyone, they will upgrade those passengers who fly with them pretty regularly, and hence will enjoy the upgrade enough to put more business Air New Zealand's way.

Christchurch a domestic flight takes off

Then if the flight is full in economy, and someone needs to be moved up, the check in staff will first look at Gold Elite members, and then Gold Airpoints, and finally Silver level, and then at other Star Alliance members at the equivalent levels (Gold, then Silver). Another thing that Air New Zealand look at is how much you paid for your ticket: it's much more likely to happen with a full fare ticket (although occasionally you can get lucky with a discounted economy ticket).
As always, my advice on dressing properly in the pages on how to get an upgrade applies.
Air NewZealand Tailfin
The Maori symbol on the tail of Air New Zealand is known as the Koru. It is a stylised representation of a fern frond unfolding and signifies new life, growth and renewal. The Koru was used on the prows of the early Polynesian canoes which sailed the Pacific with its many islands. It is now seen on the tail of Air New Zealand's fleet as it wings its way over the same waters, not only still linking the Pacific peoples, but also reaching right across Asia, and the Atlantic to London.

Air New Zealand Boeing 767 and 747 at Auckland

Air New Zealand website
The Air New Zealand website does the job, in a modern professsional way. It is quite classy, but lacks some content. It is possible to book online, and you can search results by time, and price. However the site does seem to just sieze up sometimes, giving no results.
Main Website: www.airnewzealand.co.nz
UK version: www.airnewzealand.co.uk
Air New Zealand inflight Entertainment
Air New Zealand Baggage Allowance
Air New Zealand Baggage Seatmaps
Lounge directory
Air NZ Trans-Tasman inflight menu