Airpoints is Air New Zealand frequent flier programme, and is part of the
Star Alliance
. It has just over one million members.
Joining Air NZ Airpoints costs NZ$50 (AU$50 for Australian residents), which is waived for Koru Club members, recent business class passengers (on Air NZ and must be paid not award or upgrade), and new members can be given a flight reward by a Gold Elite member.
If you do not either live in NZ or Australia or fly Air NZ from time to time, then Air NZ Airpoints is a very poor scheme to join - there are better frequent flyer programs. If Gold Star Alliance status is important to you (as it should be) you can achieve it much more easily on the bmi or Air Canada programme.
Earning Airpoints
The currency of Air NZ Airpoints is Airpoints Dollars - often referred to as airbucks. 1 airbuck is equivalent to NZ$1, except for members in Australia (which uses A$1). Airpoints is a revenue based system, where you earn points dependant on your spend, independent of distance travelled.
If you dont fly Air NZ at least once in the membership year, a fee is charged. The flight doesn't have to be airbucks earning to count.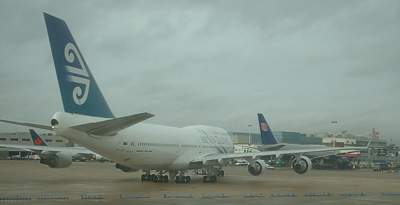 London LHR Boeing 747-400 taxing to stand
Earning on Air NZ Airpoints is quite good in first and business, but fairly poor in economy, and non-existant for discount economy. As Air NZ Airpoints earning is based on routes, in some cases this earns more than other FFPs which are mileage based, but some earn less. It depends on the particular routes.
Air NZ Airpoints has 4 status levels. Jade, Silver, Gold, and Gold Elite. Status is earned during a membership year - ie not based on fixed calendar. If you qualify for higher status this should get picked up fairly quickly and the membership year resets (note this means a good idea to use Gold upgrade vouchers before qualify for Gold Elite).
There is a 10% discount to requalify for the same status, and if you lose status you only fall one level at a time. So for example, qualifying for Gold Elite for the first time provides 2 years of *G status - one year as Gold Elite and a further year as Gold. Status is valid until the end of the month 13 months after the start of the membership year.
Spending Miles
Airbucks are valid until the 5th anniversary of joining Air NZ Airpoints following earning - ie between 4 and 5 years from earning. For Gold and Gold Elite members, airbucks will expire on the next anniversary following the later of dropping below Gold level or 4 years after earning the airbucks. The only method to extend validity of airbucks is to attain and maintain Gold or Gold Elite status.
Air New Zealand Boeing 767 at Auckland

Domestic (except as add-on for long haul) and shorthaul awards on Air NZ are redeemed at rate of 1 airbuck to NZ$1 and can be booked online to pay with airbucks. Taxes must be paid in cash (credit card for online). Any seat can be booked this way - there does not need to be any special award inventory available.
Airpoints Upgrades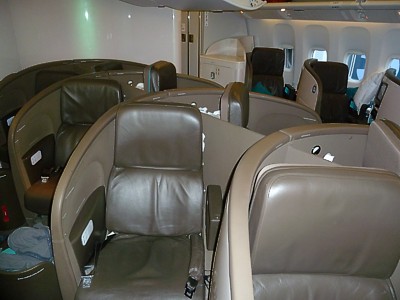 Premier Business Class an upgrade on the Air New Zealand Boeing 777 is well worth it
If you are a Gold member, you get two Upgrade vouchers a year, while Silver members get one. There are a number of restrictions and these upgrades can only be used on Air New Zealand, but from the UK you can use it from London to LA.
Upgrades on Air NZ can also be done with airbucks. Upgrades from economy to business premier (Business class) are available, but the cost is significantly higher than from economy to pacific premier (Economy plus). You can either book a confirmed upgrade (not available from some cheaper booking classes) or on a standby basis.
Upgrades may be requested online or over the phone. If you are upgraded, your ticket will be in R class (no miles earning).
How the system works is that on most long haul flights operated by 777 and 747 aircraft, there are two seats in Business available for upgrades (or indeed, just for miles). Gold Elites can use complimentary upgrade vouchers to upgrade into these seats at any time. Golds can upgrade into them using points or vouchers as standby upgrades within 72 hours of departure, and Silvers within 24 hours. If you have no status you have to buy a full economy ticket (in YBMH class) or Premium Economy (U). Finally, if all else fails and you have no status on a cheap ticket, you can wait until the day of travel (or even checkin if you really want a gamble) and see if there are any seats left, which is pretty rare.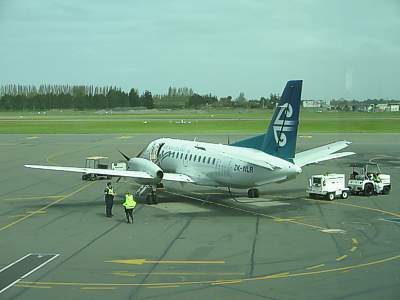 Christchurch Air NewZealand flight to Queenstown

Teal Airpoints Status
This is the most basic Airpoints level, and while you can earn Airpoints, there are no other benefits.
Silver Airpoints Status
Silver Status is equivalent to Star Alliance
Silver
Level. It can be achieved at
450
Airpoints Dollars (or 400 for Australian residents).
The very scarce benefits of Silver are one Koru Club or Air NZ International Lounge entry coupon (not good for regional Koru Clubs), valid for 1 year. There is a one-class one-sector upgrade voucher, confirmable from 48 hours to 4 hours before departure, priority on the waitlist, and the ability to redeem airbucks on Business Premier awards.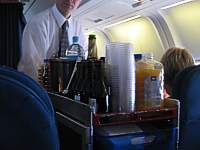 Inflight service drinks trolley

Gold Airpoints Status
Gold Status is much better - it is equivalent to Star Alliance
Gold
Level. It can be achieved at
900
Airpoints Dollars (or 800 for Australian residents).
You get free access to all Koru Club and Air NZ International Lounges, plus of course all Star Alliance lougnes, along with one guest to these lounges (but no access to the regional Koru Clubs). There are two one-class one sector upgrades (LHR to AKL counts as two sectors and economy to full business premier also counts as a two-class upgrade, so needs 2 vouchers), confirmable up to 3 days before departure.
There is more checked baggage allowance, with an extra 20kg for itineraries not including North America (or one extra piece for the US flights). There is more cabin baggage allowance on Air NZ (2 pieces totalling 14kg regardless of class of travel). Priority check in at the business class counter, priority boarding, priority baggage tags, one voucher for a hotel OR car rental upgrade (on Avis, Budget, & Hertz). There is also no expiry of airbucks.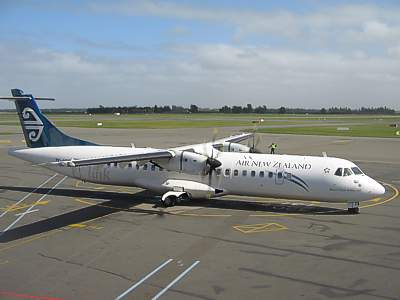 Christchurch a smaller Air New Zealand service prepares to take off

Gold Elite Airpoints Status

Auckland Air New Zealand Boeing 767

Gold Elite Status has no equivalent in the Star Alliance. It can be achieved at
1500
Airpoints Dollars (or 1350 for Australian residents).
In addition to the Gold Benefits, there are five Koru Club 24 hour valet parking coupons, which works at AKL, WLG and CHC, valid for 1 year and is not transferable. You also get a partner Elite Gold card (allowing priority check-in, baggage tags, and lounge access).