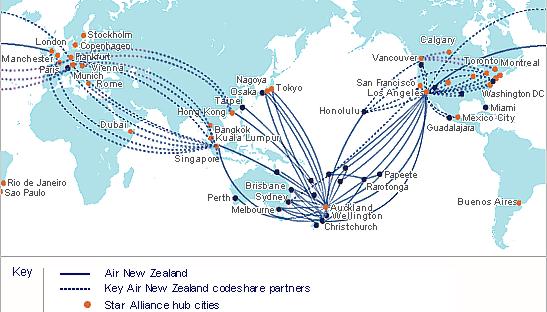 International Routes Air New Zealand

Air New Zealand is now the only carrier which offers true around the world service. You can fly from Auckland to Auckland all the way on an Air NZ plane, either going to London the short way - via Los Angeles in the US - or the long way - via Hong Kong. Air New Zealand do this because it found when it just offered just the short route it was a loosing a lot of customers who refuse to travel via the US, due to it's draconian immigration requirements for transit passengers who have no intention of entering the country. The long route has proved so popular, it still has a large 747, while the shorter route now only justifies a 777.
The "short" route from London LHR goes to Auckland (the NZ001) on a 777 leaving at 1615 via LA (2 hour stopover at 1745) arriving at 0515 two days later. The return (the NZ002) leaves AKL at 2130, getting into LA at 1355 (confusingly, earlier, but on the same day) and then into LHR at 1100. This is Air New Zealand's flagship route, although the hassle of transitting via America (which involves clearing immigration, only to re-board) means that it's appeal has declined of late.
The "long" route from London LHR goes to Hong Hong (the NZ038) on a 747-400 leaving at 2105, into Hong Kong's new airport (at 1550, leaving again at 1810) before staggering into Auckland at 0845 (a day later). The return (NZ39) leaves Auckland at 2330, getting into Hong Kong at 0645 (2 hour layover) and then into LHR at 1435, catching up with it's twin which has flown the other way around the world.
Internationally, Auckland remains the hub of things, with a flight to San Franciso on a 777 leaving at 1900 getting in at 1015. This route started in 2004, the first new international destination for many years. Tokyo has a daily flight at 0830 (1030 on a Friday) on a 767 (747 on a Tuesday & Saturday). Singapore gets a daily flight at 1130 (on a 767) plus an SQ codeshare. Christchurch also has flights to these locations. Hong Kong scores a daily flight (except Mopday) at 1000 on a 767.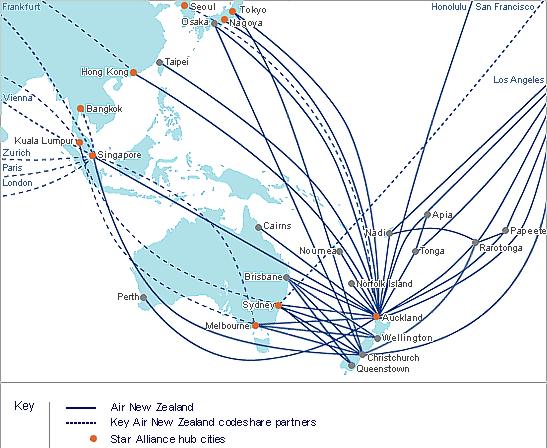 Asian Routes Air New Zealand

Trans-tasman there are five daily flights from Auckland to Sydney departing at 0700, and arriving at 0830 (on a 767), 0900 (A320), 1300 (A320), 1530 (767, but an A320 on Thur, Sat & Sun) and 1730 (A320). To Melbourne there are flights at 0830 on a 747 (or 1000 on a Tuesday), 1530 (A320) and on a Friday at 2140 (on an A320). To Brisbane theres an 0640 departure on an A320 (except Weds), 0930 (on a 747), and 1600 (except Sundays). Perth gets a single flight at day at 1505 (except Tues & Thurs) on a 767. Wellington, Christchurch and Queenstown also have Trans-Tasman flights.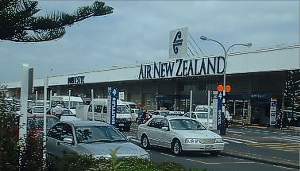 Auckland Domestic Terminal

A wacky but very useful route is from Sydney to the Cook Islands, on a nearly 8 hour trip. Air New Zeland has a direct return trip from Sydney to Rarotonga each week, leaving 2115 Saturday (arriving 0705 Saturday - yes, the same day. It crosses the date line), returning 4.30pm on Friday (arriving 2005 into Sydney).
Domestically, Auckland remains the hub of operations. There are regular shuttles to Christchurch, and Wellington, plus less regular flights to Queenstown, and Dunedin. The only locations in NZ that do not have direct flights to Auckland are Invercargill, Westport, Hokitika, Timaru, and Wanaka.
Be warned that if you're travelling from Christchurch to Auckland three of the daily flights (NZ34, NZ90, & NZ98) depart from the Christchurch International terminal, with full international customs & passport checks.
Airline schedules change regularly
This information is intended as a guide, but for up to the minute timetables, please consult Air New Zealand at www.airnewzealand.com.
Transiting from International to Domestic flights at Auckland isn't a great experiance either - you end up having to collect your luggage and get the bus down the road to the separate domestic terminal. The walk is much shorter (the bus only runs every 15 minutes; the walk is 12).