NEWS: Air New Zealand is joining the rest of the airline world, with self check-in kiosks. These will be installed at the Australian airports it flies to within the next year. It will extend the self check-in kiosks from domestic to international terminals in Auckland, Wellington and Christchurch. It is however to axe business class over the Tasman.
Read the full story here
Air New Zealand onboard inflight experience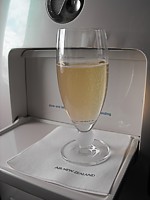 Preflight Drinks on a 777

The Air NewZealand Inflight experience is typical of the country, and is delivered in a polite, unhurried manner, giving the experience of being back in the UK 20 years ago. Again, rather like the country. Endeering, friendly, and yet occasionally when you fly the carrier on business, you can't help but want them to, well, hurry up a little, although opinions of Air New Zealand's inflight service can vary and many people enjoy the rather leisurely atmosphere.
In Business Premier long-haul there is Sparkling Wine before take-off, along with hot towels. The crew are right on the button in the new cabins when it comes to service, but on the trans-Pacific flights the attentiveness of the crews slacks off a tad in the latter section of long flights, and they can be found yacking in the Galley.
On all flights a menu is brought round with the food, however for the drinks list you have to specifically ask for the wine menu. This is a delight on Air New Zealand, with a thick booklet describing all the wines.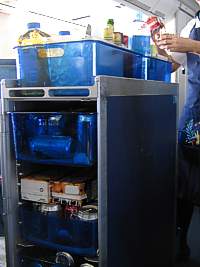 Inflight service International drinks trolley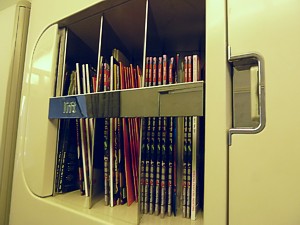 Magazine Rack Boeing 777 in Business Class
The new
inflight wine bar
in Business Premier on the latest Air New Zealand Boeing 777s is a great inovation. On the ultra long haul flights to the UK it is a great change. The wine bar area is by the front left door, and while it is in reality just an extension of the galley on which crew plonk wine bottles, it does save a lot of time requesting drinks from the galley. There are also occasional wine tastings in flight.
In Premium Economy you get served meals first, and in theory you get free alcoholic drinks thoughout the flight from the business class selection, however after the first run though the cabin, you'll have to press the call button to get any service. You can on long-haul flights also access the self-service refreshment bar for drinks and snacks. In addition, on long-haul flights you get a Pacifica Skincare lip balm and a luggage sachet in your amenity pack, which also includes socks, eyeshades, earplugs and a toothbrush. Slippers are provided on flights to and from China and Japan.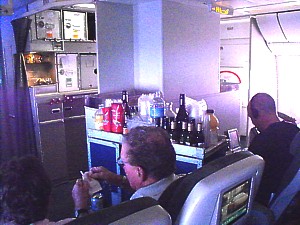 Inflight service Trans-tasman economy drinks trolley

On the latest Air New Zealand Boeing 777s in Premium Economy and Business Premier you can order drinks and food at your seat by pressing the touchscreen screen.
Trans-Tasman there is a slight different service depending on whether you are on the A320, or on one of the few longhaul planes (the Boeing 777) which also ply the route, but in effect in economy as you board the IFE is already playing, and before takeoff the crew walk around offering headphones. On the rare Boeing 777 services there is no point in buying a 'works' ticket to watch the films, as these are offered to all passengers anyway, but on the A320 you will need a works ticket. About an hour into the flight the crew rush around and hand out food to all those with a works ticket on a tray. After that a trolley leasurely makes its way down the aisles from the front selling food: you'll need a credit card for this, and will get stuck with a foreign transaction charge unless you have a NZ credit card. Finally, as the flight nears Auckland, those with a Gold frequent flyer card are handed fast track landing cards.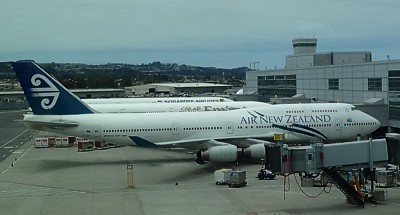 Boeing 747 Air New Zealand Boeing 747 at San Francisco
Domestic flights have a very basic service, with just one trolley that makes it's way up the isle dolling out the biscuits and tea, There is no option of buying anything more on these flights. Long gone are the old business class flights from Wellington to Auckland where you got everything handed out - but no time to eat, drink, or read it.
Domestic KoruHour flights are flights at peak commuter times within New Zealand, on a weekday before 9am, and evenings between 4:30pm and 7pm, on flights between Auckland, Wellington, Christchurch, Dunedin and Queenstown. And here's a bit of a shock - you get something to eat on the plane, and a beer in the evening! In the morning after you stagger on & the plane is aloft, you get proper (Robert Harris) plunger coffee, muesli or a muffin and a complimentary newspaper. For evening flights there's free wine, beer and L&P, served with a selection of Kapiti cheese, crackers and grapes or Abe's Bagel bites with Kato Hummus.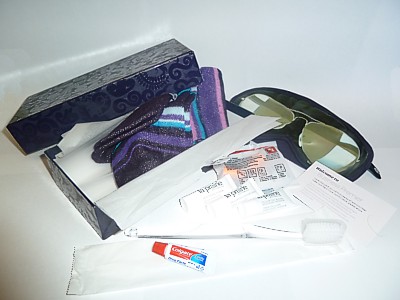 Amenity Kit Air New Zealand Business Premier gets a box
Air New Zealand Longhaul amenity kit
The Amenity Kit on Air New Zealand is typically quirky, not to say unique.
Long haul on Air New Zealand you get a full washbag:
Business Premier passengers get a large square box. It is worth planning ahead with your hand luggage for this: it won't just slip in like the old washbags. It's purple, with a ribbon, and lined with paper. You get two La Prairie moisturisers a lip balm, stripey socks, toothbrush and toothpaste, an Air New Zealand logoed pen to fill in any arrival forms, and the famous - if not notorious - eye mask. This has a load of designs on the front, from old aviator googles to cut lemons, and cats eyes.
Premium Economy passengers get a small cream and purple felt envelope - rather like a small handbag - with dark purple socks and eyeshades, along with a moisturiser, toothpaste and a toothbrush.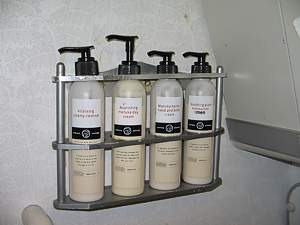 Living Nature soap in the loos

For the few remaining short-haul flight that have Business Class, Air New Zealand have adopted the Singapore Airlines way of doing things - which means that there are no amenity kits as such, but everything you want can be found in the toilets.
This includes Living Nature skincare products which are available in all Air New Zealand premium bathrooms. The Living Nature range is made in New Zealand and features native ingredients that are selected and harvested for their unique nourishing and healing properties - such as flax, manuka and rosehip.
Air New Zealand Luggage Allowance
NEWS: The Air New Zealand baggage allowance has recently changed. Now Air New Zealand use the 'piece' concept for all flights (previously this only applied to US flights). This simply means that the airline will count the number of bags you check in, and limit you according to your ticket class.
Air New Zealand has a pretty standard baggage allowance for each flight, but because it has introduced new fares for passengers without bags, and it polices the policy with tough penalties for exceeding the limit. These are applied with no leeway.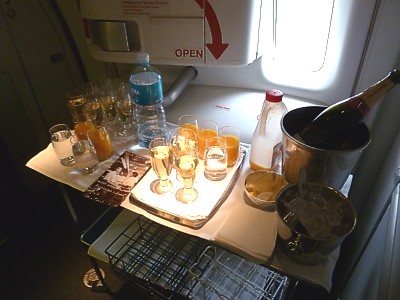 Welcome Drinks Trolley Boeing 777 in Business Class
Cabin Bags: On routes to or via the US, you can only take one bag into the cabin regardless of your status or cabin class. On all other routes Economy Class passengers can take hand luggage of one bag weighing up to 7kgs into the cabin. Premium Economy, Business Class, and Star Alliance Gold customers (including Airpoints Gold and Gold Elite) can take two plus a small slimline laptop bag. The maximum total dimensions (length + width + height) must be no more than 118cm (46.5"), which roughly means 57cmx37cmx24cm. Rules on contents (such as liquids) apply.
Check in luggage: On international flights, the number of bags you can take varies according to your route and ticket. However, the maximum weight of the bag is 23kg (50 lbs). In Economy you can check in one bag, Premium Economy can check in 2 pieces, and Business can check in 3 pieces. Koru Club members, Gold Elite, Gold and Star Alliance Gold get one extra bag except in Business, where the 3 bag limit remains. Trans-Tasman it varies according to the fare you pay. Seat + Bag and the Works get one bag, Works Deluxe gets two, and Business three.
Airpoints Gold & Gold Elite Status (and Star Alliance Gold) Frequent Flyers gain an extra 20kg checked in luggage allowance, for itineraries not including North America (or one extra piece for the US flights). There is also one more cabin bag allowed so long as you are not flying via the US (2 pieces totalling 14kg regardless of class of travel). This increase, although not advertised, applies to all Star Alliance Gold members.
As always, these rules can change. Air New Zealand's website has details of exactly what you can take onto a flight.