Air New Zealand History
Air NewZealand was established on 26 April 1940, originally named TEAL (Tasman Empire Airways Limited). It's first flight used a Short Empire flying boat carrying 10 passengers from Auckland to Sydney. After World War II TEAL re-equiped, intitally with Short Sandringham and later Short Solent flying boats (to 1960).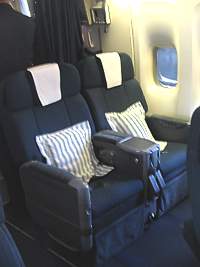 Boeing 747-400 old style Business Class

One of these is preserved in TEAL colours at the Museum of Transport and Technology, in Auckland. In 1953 it was nationalised, with the Oz & NZ government each taking half. By 1965 the Kiwi's owned it all, and the airline was renamed Air New Zealand, which bought it's first DC-8 jets. These started flying to Los Angeles via Nadi and Honolulu.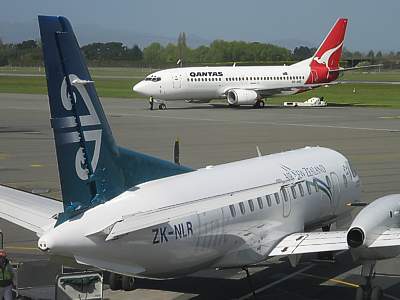 Christchurch Air NewZealand flight to Queenstown

In 1979 a DC-10 sightseeing flight crashed into Mount Erebus in Antarctica, which killed all 237 passengers and 20 crew members on board. By 1981 the airline was flying 747s, followed by direct flights to the UK; a long held ambition of the airline. In 1989 Air New Zealand was privatised. By 1990, follow a backtrack on allowing New Zealand carriers unlimited access to the Australian market, the airline bought half of Ansett Australia. A low-cost subsidiary, Freedom Air, began operations in 1996, and by 1998 the airline sold all its 747-200 aircraft to Virgin Atlantic, and then joined the Star Alliance.
In 2000 Air New Zealand bought the remaining half of Ansett for a very high price of A$680m. Lack of maintenance to its 767 fleet meant that one day before the busy Easter holiday period in 2001, all 10 of Ansett's 767s were grounded.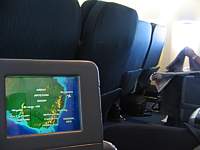 Boeing 747-400 old Business Class IFE

Hemoraging cash, by September 2001 Air New Zealand offered to sell Ansett to Qantas for A$1. Qantas declined, and Air New Zealand placed Ansett into voluntary administration.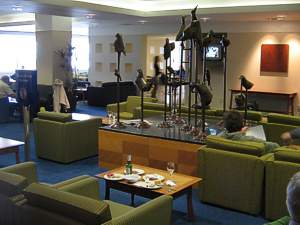 Auckland Air NewZealand International Lounge, before it's revamp in 2008. thankfully the statue has gone.

To save cash Air NewZealand reconfigured its domestic operations as a lower-cost airline, doing away with business class and meals on most domestic flights, and in 2003 extended the low-cost domestic Express concept to trans-Tasman routes. This was once again abandoned in 2008.