NEWS: SriLankan Airlines has ordered a small fleet of Boeing 777s, with which it will replace some of its Airbus A340s.
SriLankan Airlines is a small airline based, not surprisingly, on the small island state of Sri Lanka, off the coast of India. It operates quite a large number of long haul flights, and uses moderately modern planes with a full service model.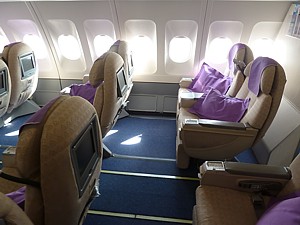 SriLankan Airlines The Business Class cabin on a SriLankan Airlines A340 is decidely second generation
SriLankan Airlines Limited, to give the airline it's full name, has it's only hub at Bandaranaike International Airport in the Sri Lankan capital, Colombo, from where it flies to 58 destinations. It has 13 longhaul widebody aircraft, which are about a decade old, and 8 smaller narrowbodies (which are now however used on some surprisingly long routes over the Indian Ocean). SriLankan Airlines's seats and cabin.
Travelling on SriLankan Airlines can be an experience rather like travelling on an airline from the past – but not very much in the past. It's almost as if the airline was frozen in time, but only a decade or so back. And oddly, that's exactly what has happened. SriLankan Airlines had a major revamp in 2001, but has remained pretty moribund over the past few years.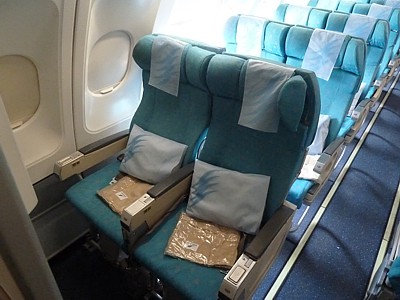 SriLankan Airlines Economy class is certainly Ok, but with few frills
The major boost to SriLankan Airlines came, unusually, from the recent Civil War in Sri Lanka, which saw 4 longhaul aircraft (3 A330s, and an Airbus A340) destroyed, and 26 aeroplanes badly damaged in one assault alone in 2001. The aircraft were all insured new-for-old, with the result that SriLankan Airlines could go shopping for brand new aeroplanes, and bought a brand new Airbus fleet, which was state of the art 10 years back. Now, it looks distinctly second generation, but it's far more modern than you'd get in many countries – the US for example.
Inflight service on SriLankan Airlines can be very different to what you'd expect on many other airlines – and this is not necessary a compliment, although it can be an acquired taste. In business class for example, the way all the inflight food is brought out on a buffet trolley and you can mix up dishes at your seat is unusual, to say the least. The in-flight beer is Sri Lankan 'Lion' beer, which can take some getting used to. The lax hand-baggage policy in economy can also have huge advantages if you've been over-shopping in Asia. Indeed, I often find the cheerfully willingness of the cabin crew to ignore the rules is as relaxing as it is unnerving. Equally, the way many of the passengers have – shall we say – never been on aircraft before is also rare experience in this modern age. SriLankan Airlines inflight experience.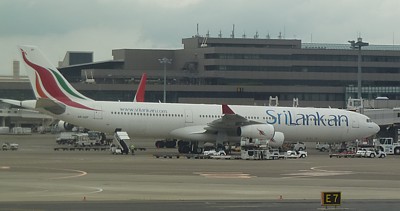 SriLankan Airlines A340 at Tokyo: a cheap desitination to head to Colombo
SriLankan Airlines Review often comment on the way it is like a cheap copy of Emirates, and indeed, that is also the case. A decade ago full control was given to Emirates Airlines, who brought in new staff, modern UK management methods, and overhauled the fleet into a two-class configuration. Alas, as many passengers on SriLankan Airlines have found, the Sri Lankan government rather likes to see the airline as its plaything, and following a series of events when fare paying passengers were removed from full flights to make way for the Sri Lankan government entourage, Emirates walked away from the deal. The government once again has total control of the national carrier's –management. And for fare paying passengers, this may not be a good thing. In particular, be wary of actually expecting to sit in Business Class even if you have paid full fare for it: downgrade bumps down to economy are alas all too common. SriLankan Airlines seatback TV details.
SriLankan Airlines was hoping to receive a large boost to tourism at the end of the war in Sri-Lanka. Alas that has been firmly squashed by the government who now require tourists to go through the time consuming and expensive process of getting visas (previously UK passport holders could enter the country at will). Now the airline is trying the other tactic of becoming a hub to Asia – offering one-stop flights slightly cheaper than the usual direct flights. However in recent months schedule changes mean that the hop to Asia can now be on small shorthaul aircraft, with an overnight stop at the rather grim Bandaranaike Colombo airport. Here, you should take advantage of the (still free if you pay in advance) transit visa and head to the city, which is a lot safer than it used to be following the end of the war. SriLankan Airlines routes & destinations.
So is SriLankan Airlines really worth the hassle of flying via an out of the way hub on second generation equipment, and getting used to a definitely Sri-Lankan way of doing things? Yes – but only a qualified yes. SriLankan Airlines is a genuine bargain if you can pick up one of their give-away priced Business Class seats from a travel agent in the back streets of Colombo. SriLankan Airlines is a genuinely very good experience if you get one of the new lie-flat business class seats for this money – and actually get to sit in it, and all the food from the in-flight buffet hasn't vanished by the time you want to eat. But as the saying goes – pay peanuts… Extreme care should be taken to check in really early to make sure you don't get bumped, and double check everything the staff say and do to make sure they haven't made a mistake. Your reviews of SriLankan Airlines flights.
On the whole though, with so many identikit airlines around the world, it's good to see a small airline doing its own thing and going its own, very different, way.