Ultra Cheap Business Class Fares
Sri Lankan Airlines offer some ultra cheap Business Class fares - if you know where to look for them.
If you start off in London, and just want a return to Colombo, Sri Lankan Airlines will offer fares at marginally below what other airlines are offering in both Business and Economy. However if you book from Colombo, the fares are much cheaper. That is nothing new in the airline world.
What is novel though are the real bargain fares to be had booking from another outstation in Asia, via Colombo, to London, and bac. While economy is certainly cheaper, it is Business Class that can be had for relative peanuts - or at least little over the cost of economy. Singapore is the best bargain, with business as low as £481 all the way to London. Alas, booking a return and the UK APD bumps up the cost quite considerably, but it is still far cheaper than the competitors.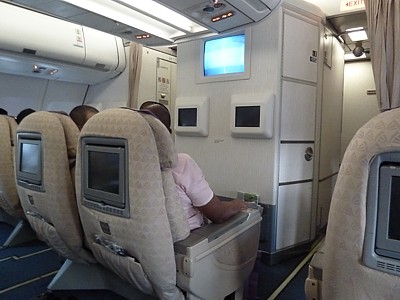 Sri Lankan Airlines The business class cabin an an A340 is basic, but servicable, being an ex-Emirates plane
It is rare to see these fares on Expedia however: you have to book directly through the Sri Lankan Airlines website.
Sri Lankan Airlines website
The Sri Lankan Airlines website is a pretty standard PR job that telss you little about the airline concerned.
There is a serious bug in the booking engine, which is just a standard imported widget, that if you enter on the first page a search for a flexible date business class, the engine will cash out, and just go to the enter search dates again. Here, there is no flexible date option, and you have to manually search all the dates yourself.
There is however a great way around the bug: go to the timetable page, and in the drop down box on the right enter the flexible search dates, and this bypasses the page with bug, showing dates +/-3 days.
There is no exchange rate calculator.
Main Website: www.SriLankan.com
Information on Flysmiles Frequent Flyer
Inflight TV listings