Malaysia Airlines Frequent Flyer scheme
Malaysia's Frequent Flyer scheme is called Enrich, and it is a full member of the oneworld alliance.

The scheme still manages to get 300,000 members, despite a major problem with cheap economy tickets - these earn no miles. Beware of trying to bypass this by putting miles on another oneworld alliance card: most of these earn no miles either.

Things are worse in cheap Business Class - here, if you put the miles on a oneworld alliance card, you either earn miles at the discount economy rate, or no miles at all!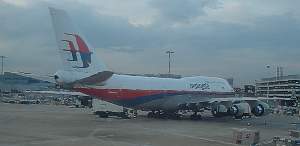 London LHR Malaysian Boeing 747-400

Unlike other FF schemes, it is impossible to work your way up status levels, to get benefits like access to the lounges, just by flying in economy. Instead members earn Enrich Gold Miles for travelling on board Malaysia Airlines First Class and Golden Club Class. You need a total of 40,000 Enrich Gold Miles to qualify as an Enrich Gold Member, and you have to accumulate the miles within a consecutive 12 month period.
Once upgraded, your Enrich Gold Miles will be reset to zero come December 31 and you will begin a new 12- month period (January-December) of accumulating Enrich Gold Miles. To remain as an Enrich Gold member, all you need to do is to accumulate a minimum of 35,000 Enrich Gold Miles within the 12-month membership period (January-December).
Enrich Gold members do get some perks, like access to Golden Lounges even when travelling on Malaysia Airlines Economy Class. At KLIA, members can get into the Golden Lounge Satellite upon arrival and departure on Malaysia Airlines international flights. Each Gold member is entitled to invite one guest (travelling together with member on Malaysia Airlines) to the Golden Lounge.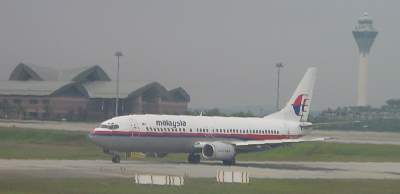 Kuala Lumpur Boeing 737 about to take off

You also get wait-listed at a higher priority, check in at First Class or Golden Club Class counters, and an additional baggage allowance of 50% over and above the entitlement of your class of travel.
Note that it is impossible to fly on Malaysian and then post off the boarding card with an application form to earn miles (which is the system most airlines have). Instead, you need to join up before flying Malaysian.
Earning Miles
Enrich Miles are based on Miles flown. There is no minimum Miles guarantee. First class earns 150% of the actual flight distance, Golden Club Class - 125% of the actual flight distance, and Economy Class the actual flight distance. Discounted Economy Class (Q,M,B,K,H) gets an ok 70% of the actual distance. L,G,V,T & Z are not eligible for earning Enrich Miles, and you do not earn miles on the Kuala Lumpur - Singapore shuttle service.

You can also earn miles on KLM (Business class gets 125% extra, Economy Class 70% on classes B,K,L,Y,M,H,Q,S,T & V), Northwest (Business Class 125%, Economy 70% for B,M,H,Q,V,K,T,L,S,X,Z & G), Swiss (Business Class 125%, Economy 70% on B,V & K) and Virgin Atlantic (First Class 150%, Discount Economy 70% of the actual flight distance on B,L,M,Q,V & X classes).
Spending Miles
Malaysia have an unusual way of calculating the points you need for flights, which can occasionally mean you can travel in business for little more points than in economy. Start by working out the distance you want to fly by using Malaysia's distance charts, with business being an extra 25%, and first class an extra 50%. Then look up the zone - Zone1 is domestic in Malaysia (0-500 miles), Zone2 is international 0-500 MILES Zone3 501-1200 miles and Zone4 1201-2400 miles.

For example from KL to Phuket, economy is 437 miles, so you need to spend 40,000 miles for a business class return.

London LHR Malaysian Boeing 747-400 about to leave for Kuala Lumpur
Next: Malaysia Airlines lounges >>>
All images and content copyright airreview.com