NEWS: Malaysia Airlines has launched Airbus A380 flights from London Heathrow. The flights will go daily shortly, with one of the two daily flights on the A380, and the other on the Boeing 747 (Malaysia Airlines Reviews indicate these should be avoided).
Malaysia Airlines Reviews
are generally rather mixed. The experience you get shorthaul will be very different from say a longhaul flight from Heathrow to Sydney via Kuala Lumpur. Longhaul in economy on Malaysia Airlines you get a pretty good full service product, which is full service with a free bar and free food. It may not be great, but it is certainly better than some other airlines (US, United and AA, take the hint)!.
While a few of Malaysia's fleet are brand new, out of the paintshop, and with 21st century entertainment, most of the planes are a touch shabby, and some are downright tired. Alas, some fleet swapping means that even if you plan carefully, your scheduled flight in an A330-200 may have been swapped for a very old 747, and your plans are scuppered.
Malaysia Airlines classes
At all seats in all cabins you will get a seatback TV on Malaysia Airlines, however only some aircraft have AVOD, and the content is very much so-so, with a whole host of non-descript middle-ranking US films. ... read more about Malaysia Airlines's inflight entertainment and seatback TV.
First has a pitch of 76", Golden Club Class (Malaysia's name for Business) is 50" with a very standard business class seat except in the A330-200 where it is 62" and an almost flat bed, and Economy is a standard 32" (or a generous 34" on the Boeing 777).
Malaysia Airlines was planning to introduce a new Premium Economy on it's new Airbus A380 Superjumbos, which it would have called "super economy", but these plans have been scrapped.
Malaysia Airlines Boeing 747-400

Malaysia Boeing 747-400

Malaysia Airlines has 17 747s in the fleet, and there is just one type of seating plan.
Economy in a 3+4+3 pattern. Row 48 is by far the best, with a window and loads of legroom by the emergency exit. Row 38 is an emergency exit, but without a window (but there is a window in the door ahead of you) however also by a cluster of toilets and over the wing with a very poor view, so is generally a poor bet. Row 26 ABC is also an emergency exit, while 28 HJK is a bulkhead - right behind the muslim prayer area, so you may get woken up at odd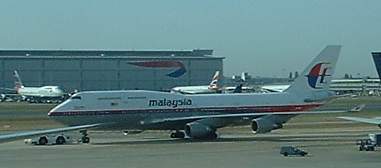 London LHR Malaysian Boeing 747-400

times, for a bit of wailing.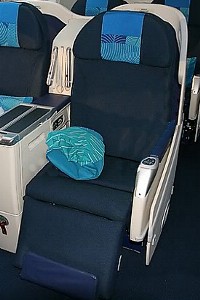 Business Class on Malaysia Airlines
Business has just three rows of 2+3+2 on the lower deck (row 17 are bulkheads, but with cot fittings), and 8 rows of 2+2 in the upper deck, which are a much better bet. Upstairs is generally quieter than the lower cabin, because children are rarely seated here, however there is no guarantee.. Row 10 is by the exit with lots of room. The right (H/K) is slight better than the left (A/C) side, where the window view is restricted by the seat offset. Avoid the rear row upstairs which is right next to the galley, and where the crew tend to hang out and chat. All 747s have the same type of business class seat, which leaves a lot to be desired and is as dated as the rest of the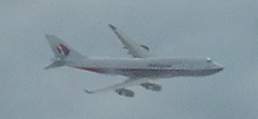 London Malaysian Boeing 747-400 on finals

interior. Recline is average, but the seat itself is like something out of the 60s. If you find the footrest does not extend enough, use a cushion to rest your legs on the protruding metal bar.
First has 4 rows of 2+2 seats, plus 2 very lonely seats in the middle of the cabin.
All of the 747s have individual 6.5" video screens in economy, as well as the overhead projection TVs showing the usual rolling map. In business and first there is a very good 10.5" screen, and telephones in the armrests.
Malaysia Boeing 777-200

Malaysia Boeing 777-200

Malaysia Airlines has 15 of the somewhat smaller variant 777-200s in the fleet.
Economy seats are in a 2-5-2 pattern, giving an ok seat width - it is certainly wider than airlines like Emirates.
The best seats in economy are 29, which are exit row seats. You are near the galley, but the enormous legroom makes it worthwhile. It gets a slim sliver of a window, a window in the door ahead of you - and its not over the wing. Row 12 is a bulkhead, but gets cots clamped to the forward wall. At all costs avoid row 20 - there is no window at seat 20A and 20K.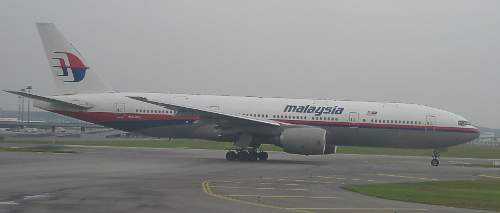 Kuala Lumpur Boeing 777

All seats have a 6.5" seatback video screen. If you are in a bulkhead or an emergency exit you get a fold out video screen which is smaller than the seat back videos, and your remote is in the armrest, so you keep on banging it when you are asleep. These seats also have a video screen in the ceiling, so you can enjoy the moving map when your screen is stowed.
Business seats are in a 2-3-2 formation, with two rows (4 is the bulkhead with an odd cutout for extra legroom) a door, and then 2 more rows (9AC is behind the "business centre" while 9JK are behind a toilet). All seats come with a fold out video screen.
First comes in a 2-2-2 pattern, in 2 rows.
Malaysia Airlines Airbus A380s
NEWS: Malaysia Airlines has scrapped plans to introduce Premium Economy into it's new A380 Superjumbos from 2012.
There are planned to be a mere six in the fleet of Malaysia Airlines Airbus A380. They will primarily serve the mainline Kuala Lumpur to London route, but may also serve the Kuala Lumpur to Amsterdam and Sydney routes, when the full fleet is flying. Five of the six on order will be in service in 2012, with the final aeroplane arriving in 2013.
Malaysia Airlines A380 have 508 seats, with eight in first class, 54 seat in business class, a massive 420 in Economy, and 26 of the new Premium Economy seats. The Malaysia Airlines a380 seating plan is quite a change from Malaysian Airlines Boeing 747, with much less First Class seating, but more Business Class. Indeed, the density of seating is far more than you get on Qantas or Singapore Airlines, resulting in a dense, not to say packed, aircraft.
First Class is on the lower deck, at the front, which is the quietest part of the aircraft. The first-class seats are called suites, and have a flat-bed with a 23 inch screen, a guest seat and a dining table. The seats are pretty basic, and not quite up to the level of the suites on Singapore or Qantas, but are quite comfortable.
Business class on the Malaysia Airlines A380 is on the upper deck, the second quietest part of the plane, and it isn't too bad either. What is surprising is that the airline has only installed 54 business class seats: the least of any airline (Air France for example has 80). The business-class seats have a 75" pitch with a fairly conventional 2-2-2 configuration, and with a 17 inch flip-out TV screen.
The rest of the plane has economy – and what a lot of economy. Malaysia Airlines Reviews always site the huge racks of economy, filling most of the lower deck, and part of the upper deck. It is the chance to sit on the Malaysia Airlines A380 upper deck that is most attractive. The best seats on the Malaysia Airlines A380 in economy are here on the upper deck, as it has a 2-4-2 layout. Row 28 is a bulkhead, and seats then extend all the way back to row 40. Row 33 is an emergency exit, with a vast amount of legroom, and 33A and 33C are by far the best seat in economy on the A380.
The economy lower deck of the Malaysia Airlines is a far more conventional 3-4-3 layout, with three separate cabins stretching from row 42 to row 81, no less. Row 42 is an emergency exit, as is row 60 and row 73: at row 73 there is no A or K seat, giving only 2 seats across if you sit here – but alas no view out of the window.
A curiosity of these planes is that it was planned to have the new Malaysia Airlines A380 Premium Economy seat, called 'super economy class' at the back of the top deck. It was the most radical change for Malaysian. There were going to be 26 seats, with slightly more legroom, however these seats were axed late in the production process.
Malaysia Airlines Airbus A330s

Malaysia Airbus A330-300

Malaysia Airlines has three A330-200s, and nine A330-300s. There are major differences in the cabins of the A330-200 and A330-300s, which will seriously affect your comfort.
Malaysia Airlines Airbus A330-200
These are two-class planes, without an First Class. They are however the newest planes, and as such have much better seating and entertainment.

Kuala Lumpur Airbus A330

Economy seats are in a 2-4-2 pattern, giving a much wider seat than in the 777, and is ideal if you are flying as a couple, as it means the end of clambering over two people when you want to leave the window seat. Row 32 AC, HK are emergency exit seats, as is (very unusually) row 31 in the middle. Row 21 gets a bulkhead.
Business class is configured with fully electronic easy sleeper seats, with a 62" pitch and great recline. The 330-200's are the only aircraft in the MAS fleet with these seats in business class but they do tend to change aircraft without notice, scuppering your plans for a comfy journey on the way down to Melbourne.
Malaysia Airlines Airbus A330-300
The 330-300s are have a much poorer interior, which seems like a throw back to the days of 707's.
Malaysia Airlines Reviews Economy Class are always somewhat better on the Airbus A330 than on the Boeing 777, because seats are in a 2-4-2 pattern, giving a much wider seat than in the 777. Row 29 AC, HK are emergency exit seats, with a bulkhead for the toilets in the middle. Row 11 is all bulkhead.
Business class is a particular let down, with ancient seats, few features (all mechanical) and no seat back videos. Business seats are in a 2-2-2 formation, with 8 rows. Row 1 has a bulkhead. At all cost, avoid seat 9A & 9K as there is no window there.
Malaysia Airlines Boeing 737-400

Malaysia Boeing A737-400

Malaysia Airlines has 39 737-400s in the fleet. Many of the 737s are in need of some upgrade of the interior, with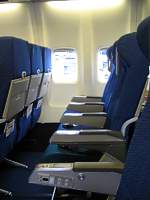 Boeing 737 seats

minor problems like tears on the seat material and very dirty looking plastics around the luggage bins, which have chipped handles. There is no inflight entertainment of any kind on these planes, not even of radio, or a moving map, however the seats are wired up for two pin headphones.
Economy seats are in the usual 3-3 pattern. Pitch is the rather generous 34". Row 12 and row 13 have overwing ejectable emergency exits, with a lot more legroom. You have to specifically ask to sit here if you want these seats, and they are only available at checkin, because the staff want to check you are fit and able to help in an emergency. On these flights the service begins at the front - so it is worthwhile asking to be as close to the curtain divider as possible.
There is a true Business class cabin, with 4 rows of 2+2 seats. These seats are Boeing's late 80s style generic business seat, having a 36" pitch, and a 21" width. It is quite comfortable for a short haul flight.