Malaysia Airlines inflight drinks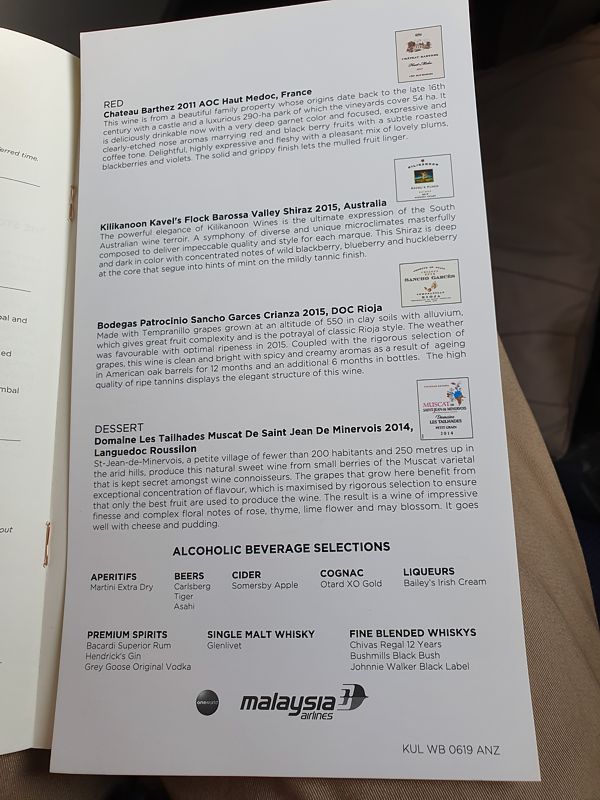 Wine, beer & spirits, are free on all international flights, including during Ramadan (although during this time, the alcohol service is much more discrete, and there is not a drink trolley service).

There is usually one drinks trolley service from the front before meals, and then the food cart has additional wine bottles for a top up as the meal is served.

All wine is in large bottles, and is poured for you.

However spirits are served in litle miniatures, which are placed on the tray, even in economy.

All beer comes in cans which are opened before you get them.

Note that alcohol is not served on flights of less than three hours duration, even in business class: in effect all short haul flights, up and down the peninsular.
Business Class: Malaysia Airlines Longhaul inflight drinks
Malaysia Airlines welcoming lime juice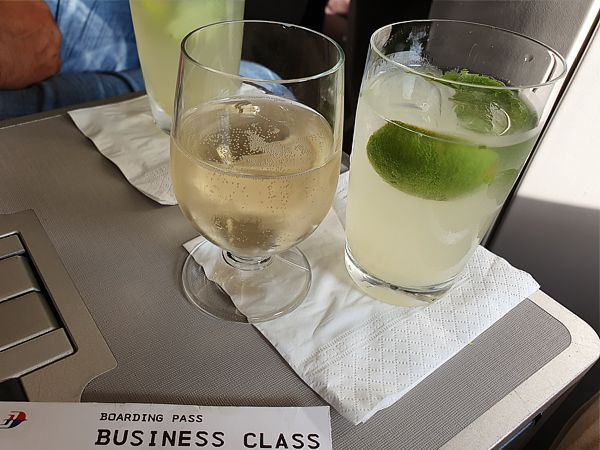 When you first step on board into Business Class, you are offered a glass of lime juice.

It's pleasant, with a twist of lime, but isn't as classy as champagne.

House champagne is available on request out of KL, but always offered on the A380 service out of London Heathrow.
Malaysia Airlines house sparkling wine
Malaysia Airlines famous house sparkling wine is called Philioponnat.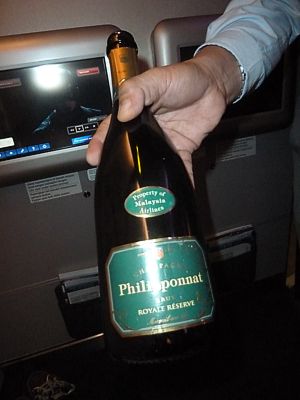 Philipponnat is a French Champagne House with deep and historic family roots since 1522. By renewing its traditions to perpetuate the best.
It has a relatively expressive house style, balancing lively citrus and peach characters with some yeasty savoury characters, the palate has great length and finesse.
White Wine
French La Roche Chardonnay
French full bodied chardonnay
Very much a classic French chardonnay from the Burgundy region, even the label gives the game away that this is wine of the old school.
A stylish and refined Chardonnay, with subtle toasty aromas and a touch of oak. The flavour is nicely balanced with creamy pineapple fruit and a nutty finish. It has a good nose, and a very strong aftertaste. This wine goes well with the inflight noodles.
12.5%
Malaysia Airlines inflight Beer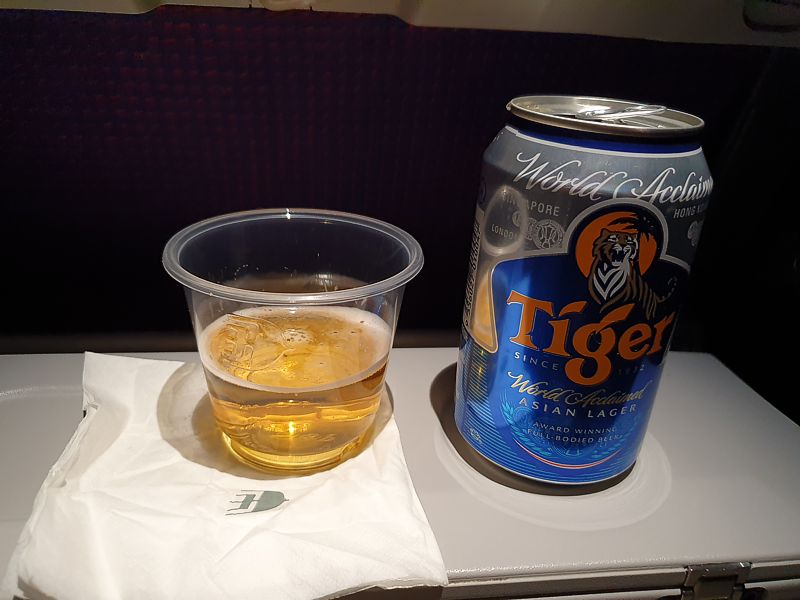 All beer will be opened for you, unless you ask. There is the same selection of beer in business and in economy. In business you'll get a glass tumbler to put it in. In economy its plastic.
Tiger beer
The taste of Asia
Tiger beer is Singapore's first locally brewed beer. A 5% abv bottled pale lager. Manufactured by Heineken Asia Pacific as it's flagship brand, it is available as the standard inflight beer of Malaysia.
Chang
Lovely flavour
This beer is great - full of an intense yet light flavour. It's one of the few beers I can drink on a plane and not get a hangover from.
5%.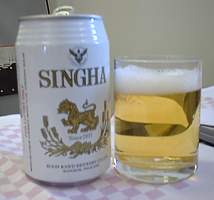 Singha
Lovely light and delicate
The finest beer made in Thailand. Its the usual selection of hops and malt making lager, which makes a mighty fine beer, and it goes down very smoothly. This creation of the Boon Rawd Brewery Co is much stronger than you may think.
6%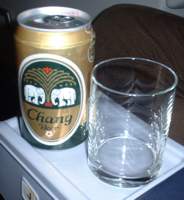 Chang
Heavyweight elephant beer
Chang is much heavier than the lightweight Singha. This lager is on the verge of being a bitter.
3.6%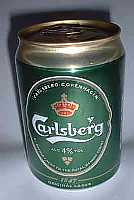 Carlsberg
Very tame
Its the usual dull stuff you get on the ground.
4%
Malaysia Airlines spirits and inflight cocktails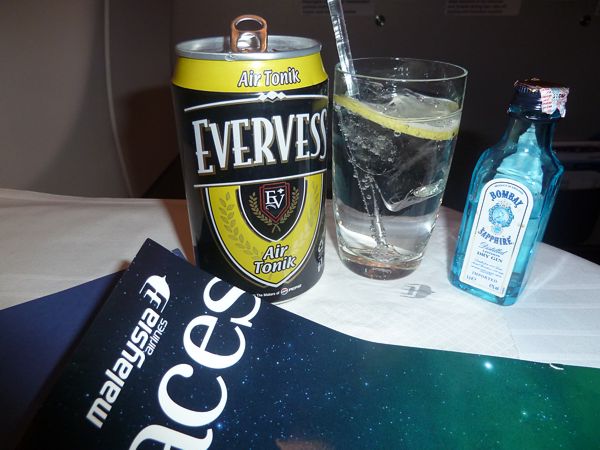 Gin and Tonic - Bombay Sapphire
Famous as the 'Hampshire' gin, manufactured at Laverstoke Mill in Whitchurch, Hampshire, in the UK, Bombay Sapphire is a lovely light gin created in 1987 by Diageo, but now churned out by Bacardi.

Flavouring of the drink comes from a recipe of ten ingredients: almond, lemon peel, liquorice, juniper berries, orris root, angelica, coriander, cassia, cubeb, and grains of paradise.

Always served with a can of Air Tonik Evervess, it tinkles nicely at 35,000 feet.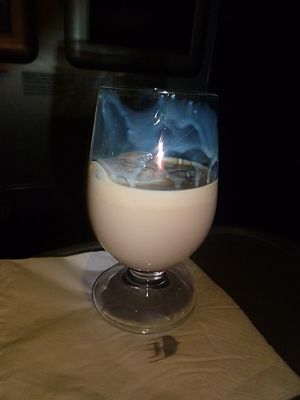 Baileys
Baileys Irish Cream, the well known whiskey and cream-based liqueur, is knocked out by Diageo, after their chemists in 1972 found a way to mix cream and Irish whiskey from mixed distilleries homogenized to form an emulsion with the aid of an emulsifier containing refined vegetable oil.

Pretty good after coffee.
Whisky
Glenfiddich Malt Whisky
On some of the routes you'll be hunting for some of the good stuff from Scotland to make the flight go by. Gelnfiddich does just the job - although getting any ice for it to go with can be a struggle.
40.0%. 5cl bottle.
Next: Passenger reviews >>>
All images and content copyright airreview.com