Cathay Pacific Tips
Cathay Pacific Ticket Types
Cathay Pacific generally have three types of ticket for economy on sale for each flight; Economy Core, Economy Standard, and Economy Flex.

All types generally let you rebook onto another flight free of charge; making as many changes of flight times as you want. Economy Core won't let you upgrade with miles. Economy Standard will, but you will need to pay a penalty if you cancel the flight: however Economy Flex is fully flexible.

Be aware with Economy Core, you will not earn any miles with G,Q,N,O or S ticket classes.
Booking Cathay Pacific seats online
Cathay Pacific held out for a long time - a long long time - before finally allowing passengers to book seats online, under the philosophy that in Asia, many passengers prefer to use Travel Agents, whereas the rest of the world got onto online seat booking a long time ago.

You can book you seat online before checkin.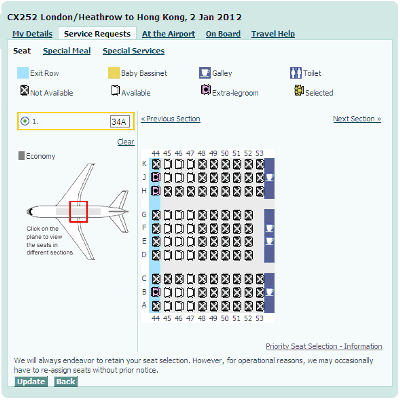 Cathay Pacific online seat booking for a 747: extra legroom seats in purple
Just go to go to "Service Requests", then click "Seat", and it'll work through your flights.
However, you can't book the famous Emergency Exits (although on the A330, you may not want to) unless you are of a high enough status in the Marco Polo club. If you try a warning comes up saying that you have selected an Extra-legroom Seat, and if you really really want it, you have to phone up to book it, and pay an extra US$100. Online checkin Cathay Pacific offer the chance to check in online. The system works well, however there is a noticeable bug that you cannot change your Frequent Flyer card at checkin, even though the system appears to let you do this: you will have to approach the checkin counter to do this manually.
It is well worth while checking in online, as this will both ensure you can see the latest seat allocations, and also ensure you have a lower Sequence number: this is the order at which people check in: it is also the order through which Cathay Pacific go through the manifest if they are looking for operations upgrades.
Once checked in, you can still change your seat allocation; so it is worthwhile checking in 24 hours before the flight departs, and then at three hours, to see if better seats have opened up. However, you are only given one chance to do this, unless you are a Diamond, Gold or Silver Marco Polo Club member, in which case you get three chances to change your mind.
Next page: Cathay Pacific inflight meals & food >>>
All images and content copyright airreview.com