NEWS: Cathay Pacific will increase services to New York with a fourth daily flight, and has launched four weekly service to Abu Dhabi using an Airbus 330-300. This is the airline's second destination in the United Arab Emirates complimenting the existing service to Dubai.
Cathay Pacific's route map spans 5 continents, 36 countries, with a whopping total of 111 destinations. It's big; really big, although only really totally dominant around its well-developed Asian network. Much of this, including through 40 Asian cities is through its sister airline, Dragonair.
Cathay Pacific are also well known for serving countries through gateway cities, and then expecting you to make your way onwards via it's oneWorld partners: British Airways, Qantas, and to a lesser extent, American Airlines.
There are certain trunk routes that Cathay Pacific are dominant on, from its hub in Hong Kong.
London, the former Colonial Capital, has four direct flights a day; choose carefully however as there are two types of aircraft used. There is a three-class 747-400 from Hong Kong to London at 2355 (arrives at 0500) and at 0105 (arrives 0620). The long flight time gives plenty of time for a decent sleep between the two meal services, but the departure and arrival times aren't great: much better is the two-class Airbus A340-300 at 0920 (arrives 1500 - at peak times this aircraft becomes a 747) and 1455 (arrives 2010).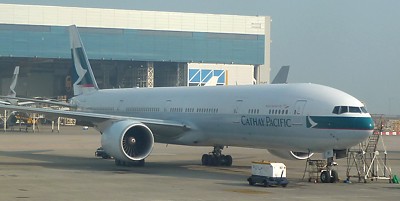 Cathay Pacific Boeing 777 at Hong Kong
Amsterdam also has a daily overnight, flight from Hong Kong, using a three class 747, leaving at 0035 and landing at 0620.
Paris has two flights a day: a three class 747 leaving at 2345, and a two class A340 leaving Hong Kong at 1455 four times a week.
Frankfurt is another one with just one direct overnight flight on a 747, leaving at 2350, and landing at 0535.
Rome has a daily flight with a A340, at 0010, arriving at 0715.
Milan, oddly, still justifies four direct flights a week, on Monday, Wednesday, Friday and Sunday, using a three class 777 no less.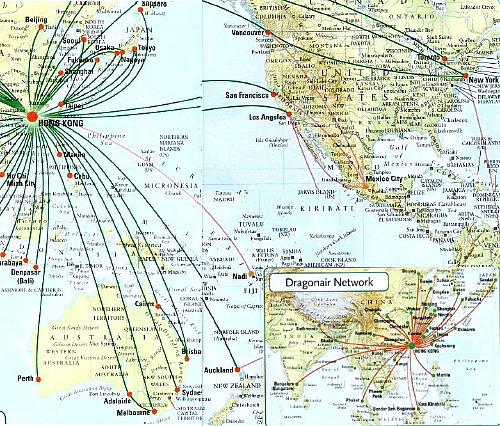 Route Map Cathay Pacific Pacific routes
In Australasia, Cathay Pacific operate only two classes: there is no First on any route. Cathay's main trunk route is to Sydney, to where there are four flights a day. All are on an A330, but only one is a daytime flight, at 0855 (lands at 2100) while the others are at 1900, 2125, and 2355. In the reverse, the late night 2220 flight back to Hong Kong, the CX138, is a complete pain, being the last to leave Sydney (when most of the airport is very firmly shut down - there isn't even a bar open at this time) and virtually the first to arrive in Hong Kong, when it is still asleep. Random meal times on the flight mean that this flight is definitely not recommended for comfort.
To Melbourne Cathay Pacific have a two class A330 only, but there are three a day, a daytime flight at 1010, and overnight (with only a few hours to sleep) at 1915 and 2340.
There is a circular route from Hong Kong to Cairns, then onto Brisbane, and back to Hong Kong, on a Monday, Wednesday and Saturday leaving at 2350 and arriving at Brisbane at 1235. On the other four days a week the A330 saves 2 hours by flying direct to Brisbane, and then stopping at Cairns on the way back. There is a direct flight from Hong Kong to Brisbane at 1235 however because it lands at the very late hour of 2320, many passengers prefer the milk run via Cairns, which is OK so long as you remember which way it runs on which days.
Adelaide gets a daily two class A330, leaving at 2340 (arriving at 1050).
Perth gets two flights a day, at 1505 and 2255, both on an A330.
Auckland in (southern) summer months gets a 747, while in the winter it is replaced with an Airbus A340, leaving at 2105 and arriving at 1305.
In North America, the main trunk route is to New York JFK, as you might expect. For many years, the distance was beyond a direct route, forcing all planes to stop off at Vancouver en-route, and due to odd immigration rules, everyone had to deplane in Canada before being allowed back on the plane. Now, the 777 will (just) do the route direct, and it is well worth while taking the direct flights to avoid the pain of getting off and on again.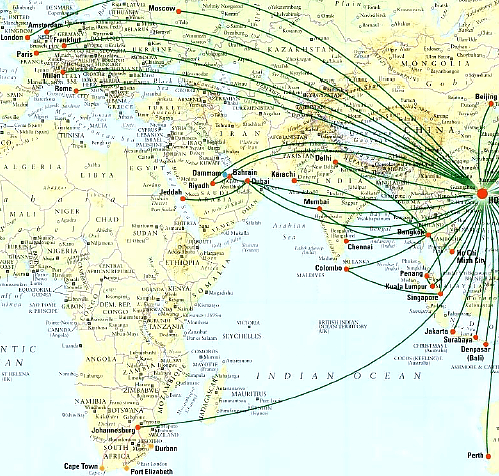 Route Map Cathay Pacific core routes to Europe and Asia
These are at very convenient times, with Cathay Pacific flying from Hong Kong to New York at 0935 (arrival at 1210) and 1725 (arriving at 2015) using the latest three class 777. This flight was also the world's first non-stop transpolar. The flight, known by the crew as Polar One, takes approximately 16 hours, and as such it is Cathay Pacific's longest non-stop flight, as well as one of the longest non-stop flights by distance in the world at 8055 nautical miles.
The flight via Vancouver really is a complete pain, leaving Hong Kong at 0100 and arriving in New York at 0610, via a stopover in YVR at 2130 to 2330, which isn't ideal, on a three class 777. You can of course use this flight to get to Vancouver, along with a separate direct flight at 1625 (lands at 1150). This flight alternates between a two class A340 and a three class 747.
San Francisco has two daily 747s, at 0100 (arrives 2055) and 1405 (arrives 1000), the latter of which is by far the better choice.
Cathay Pacific fly to Los Angeles direct using a three class 777 at 1625 (arrives at 1255) and 2345 (arrives at 2015). If you have an onward connection via LAX, allow a good six hours to get through customs and immigration, as US customs insist that you enter the country, even if you are just about to leave it.
Many Hong Kong residents have settled in Toronto, which is why it has two direct flights a day, at 1045 and 1635, on three class 777s. These flights used to include a technical stop in Anchorage, but now fly directly over Hudson Bay and pass within 50 nautical miles of the North Pole.
Airline schedules change regularly
This information is intended as a guide, but for up to the minute timetables, please consult Cathay Pacific at cathaypacific.com.
Elsewhere,
Johannesburg
joins the ranks of late night departures from Hong Kong, with a 747 leaving daily at 2345 (arriving at 0635).
Elsewhere, Cathay Pacific have four direct flights a day from Hong Kong to Bangkok, five to Kuala Lumpur, two a day to Dubai, five to Seoul, seven to Singapore, and seven to Tokyo.