Cathay Pacific History
Cathay Pacific was the brainchild of an Australian and American, Sydney de Kantzow and Roy Farrell, who had flown an airlift operation into China during the war, and in 1946 during a drinking session in Shanghai's Manila Hotel thought it would be a good plan to be able to fly to the US from China, and put up HK$1 to register the airline.

According to legend, the airline was conceived by Farrell and some foreign correspondents at the bar of the Manila Hotel. Initially flying from Hong Kong to Manila, and later on to Shanghai, the airline had a single Douglas DC-3, nicknamed Betsy. This DC-3 is still flying, having been rescued from the Australian outback.

The new company began to operate passenger flights to Manila, Bangkok, Singapore and Shanghai. Expansion was fast and, in 1948, one of Hong Kong's leading trading companies, Butterfield & Swire (today known as the Swire Group) took a 45% share in the company. Under the leadership of John Swire, Butterfield & Swire became wholly responsible for the management of the airline, and today the airline is still 40% owned by the Swire Group through Swire Pacific Limited.

The airline expanded even more rapidly by buying its archrival, Hong Kong Airways in 1959. By 1964 it was buying into the jetage, by acquiring its first jet engine aircraft, the relatively rare Convair 880, which was a commercial failure. In 1972, a bomb exploded on board a Cathay Pacific Convair 880 flying from Bangkok to Hong Kong, killing 81 passengers and crew, which effectively ended Cathay's use of this type.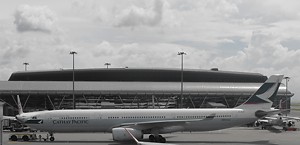 Hong Kong Cathay Pacific Airbus A330
By 1979, the airline was looking at flying to London, and acquired its first Boeing 747 to do so. Expansion continued with a growing 747 fleet, including a nonstop service to Vancouver in 1983 where many ex-pats of Hong Kong live.
Cathay Pacific has always tried to expand by buying out the competition, and in 1990 it managed to acquired a significant shareholding in Dragonair, and a 75% stake in the small cargo airline Air Hong Kong in 1994. By acquiring Dragonair the airline gains more access to the restricted mainland China market, and aircraft still continue in a separate brand.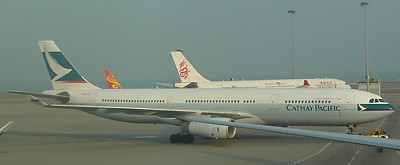 Hong Kong Cathay Pacific Airbus A330
Cathay Pacific aircraft used to be resolutely British, and carry a painted Union Jack on the tail but these were removed several years prior to the 1997 takeover of Hong Kong by China. Aircraft also now carry the B registration of China.
By 1998 when the new Hong Kong airport opened, Cathay Pacific started flying directly over the pole from New York. The world's first non-stop transpolar flight from New York to Hong Kong takes 16 hours to travel between Hong Kong and New York, saving about four hours on the journey time, compared with a stopover in Vancouver. A similar trans-polar flight from Toronto started in 2000.
Although continuing to expand, Cathay Pacific was hit by the global economic downturn in 2009, and recorded a multi-billion dollar loss. To cut back the airline cancelled some routes, and downgraded others.
Next: Cathay Pacific Tips >>>
All images and content copyright airreview.com