Cathay Pacific inflight meals
Cathay Pacific are very much a full service airline, and as such they have a full menu on board, even in economy.
Cathay Pacific Business Class inflight meals
Cathay Pacific has introduced 'dine on demand' in business class on international routes, which allows travellers to select any dishes from an expanded menu at any time during the flight.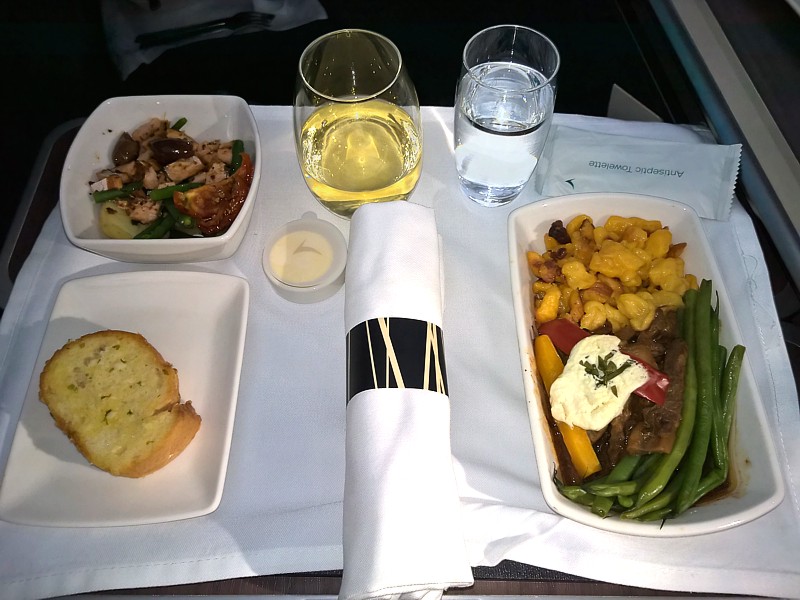 Lamb chops
Lamb chops, sweet potato mash, green beans, and mint basalmic sauce.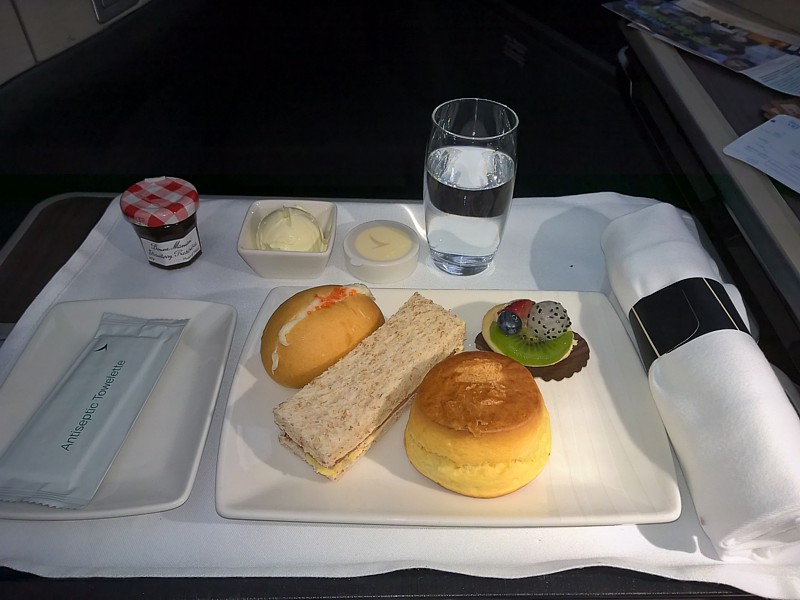 Afternoon tea
Finger sandwich, scone, spicy prawn roll.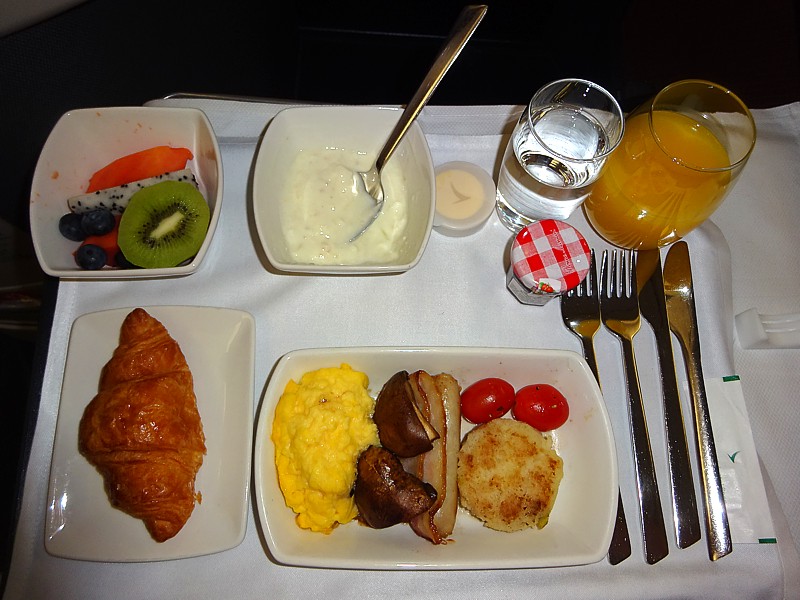 Full English Breakfast
Dingley Dell pork sausage, steaky bacon, portobello mushroom, tomato and bubble squeak.

Croisant. Fruit.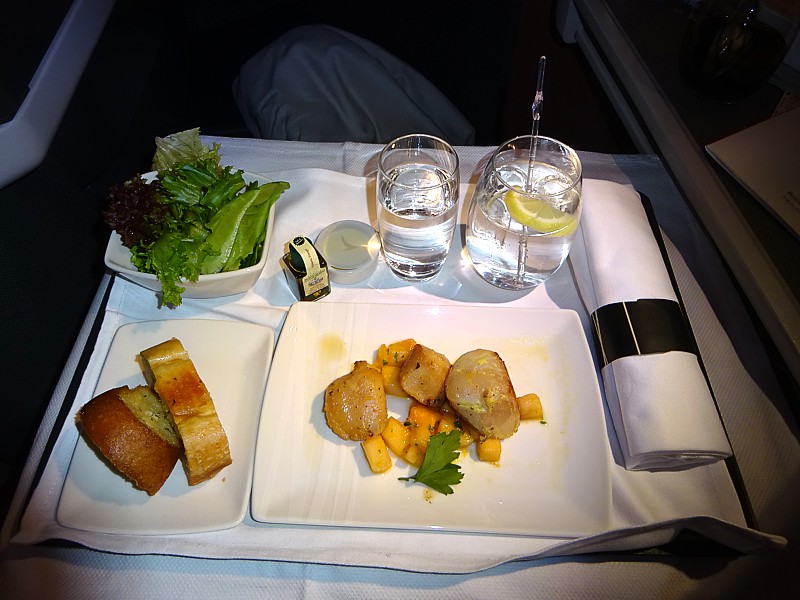 Pasta and potato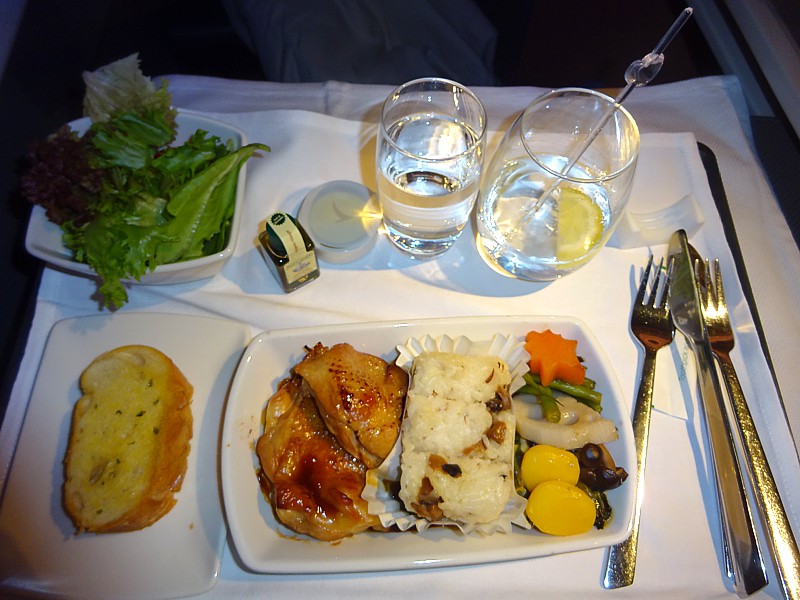 Chicken terriyaki
Chicken terriyaki, seasoned vegitables, and Japanese rice.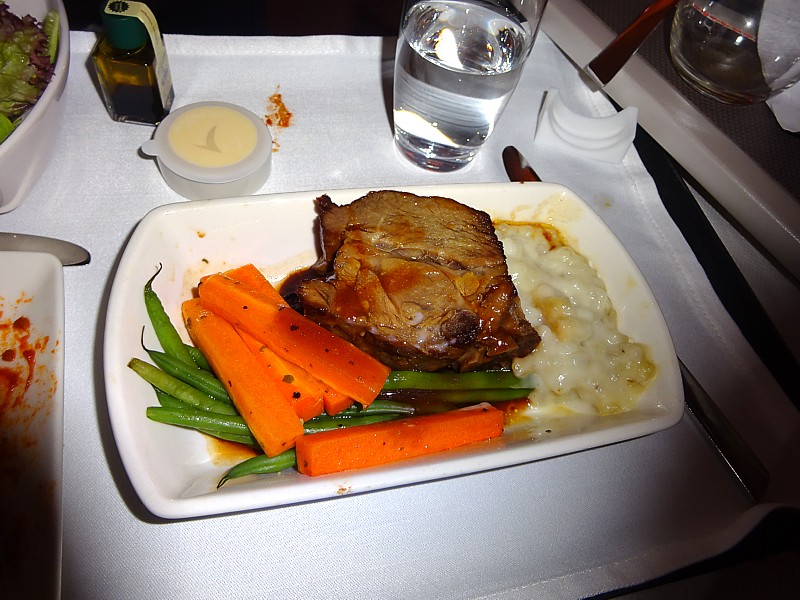 Roast Lamb
Roast lamb shoulder rack, carots, french beans, and baby potatoes.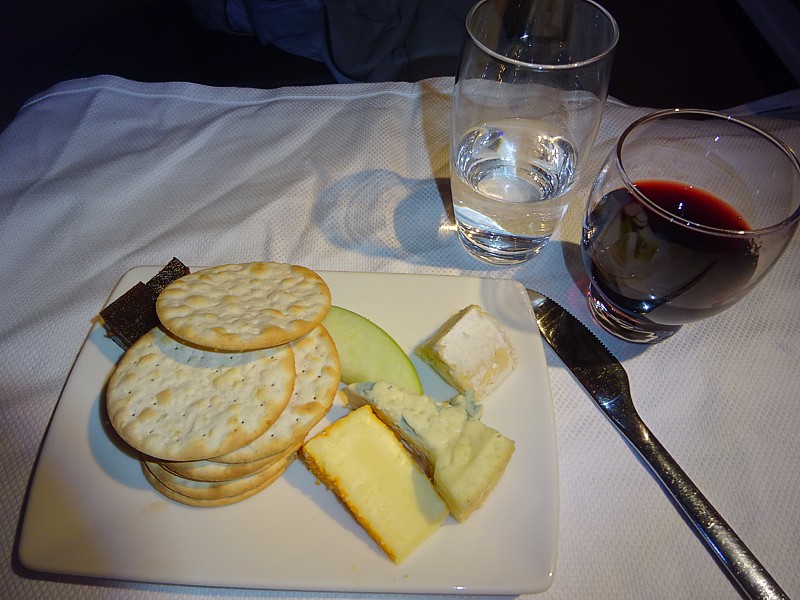 Cheese and biscuits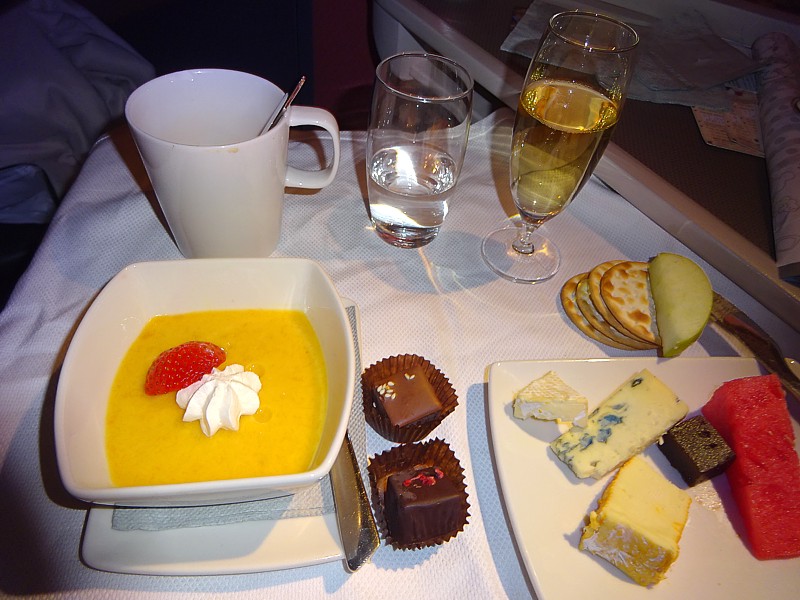 Mango pudding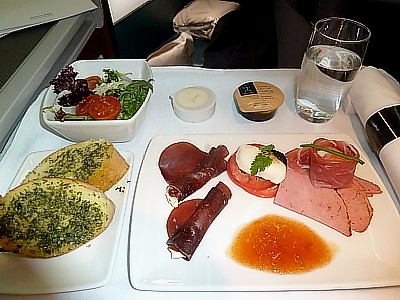 Cold cuts starter
Cold cuts of ham and salami, with raspberry compote.

Salad with greens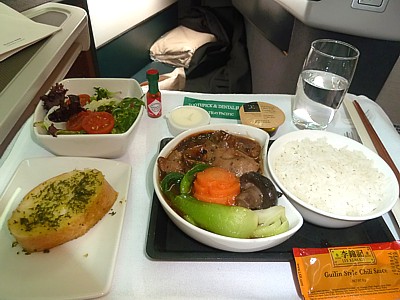 Chicken and vegitables
Chicken with mushrooms and vegitables.

Green salad. Garlic bread.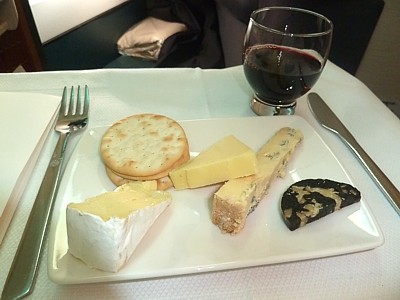 Cheese platter
Three cheese platter (blue, cheddar, and brie)

Biscuits.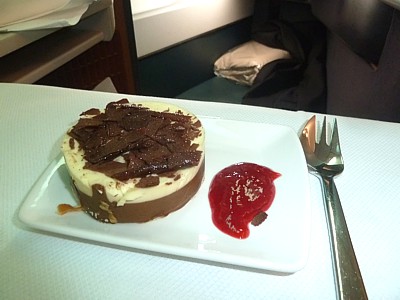 Cheesecake
Chocolate cheesecake.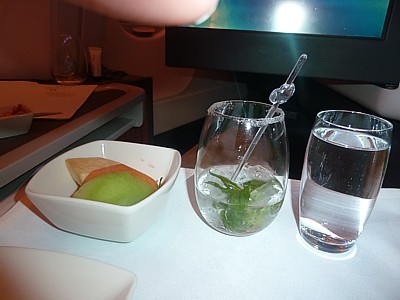 Fruit bowl
Bowl of fruit.

Mid flight snack.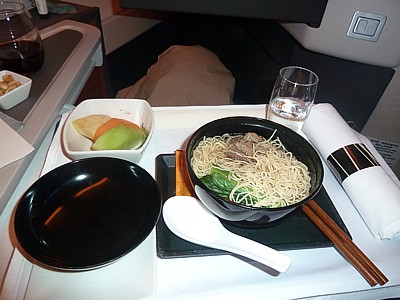 Beef noodles
Bowl of beef noodle soup.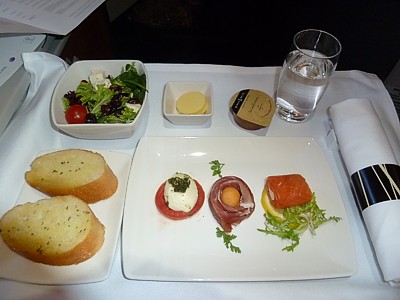 Seafood Starter
Salmon and cream cheese parcel, prosciutto with melon, radish garnish.

Caprese salad with fetta. Garlic bread.

A great way to start the flight - unless you are one of the one in ten people who doesn't like seafood. In which case you'll be out of luck!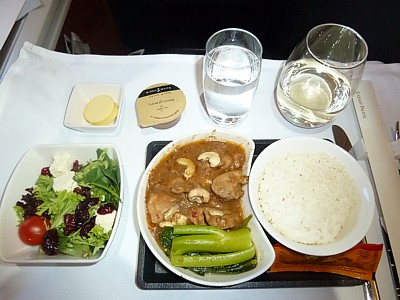 Kunged Chicken
Kung Po chicken with mushrooms and peanuts.

Steamed rice and stir-fried kalian stalks.

This looks like a basic economy meal, but it is really great.

It tastes good, and has lots of flavour, particularly the brocoli like kalian leaves.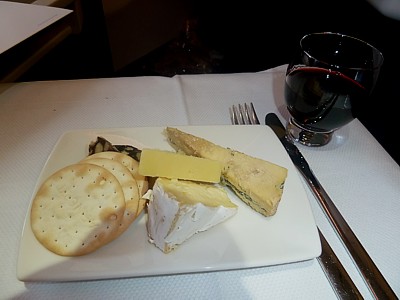 Cheese board
Maffra Sage Derby cheese, Jindi Blue cheese, Tasmanian Heritage Brie.

These are all great cheeses, but again Cathays' desire to cut costs with the small servings - and often the request that you select either the cheese board, or the main desert, but not both.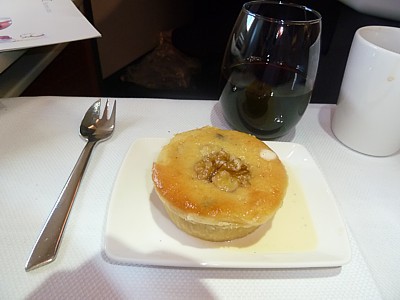 Frangipane
Apple, prune and walnut frangipane with creme angalise.

Frangipane is very much a French food traditional associated with Christmas, and curiously Cathay Pacific often serve it during advent.

And very good it is too.

Fruit bowl
One slice of melon, one qaurter strawberry, one banana (slice).

Good grief. Eat it quickly before it evaporates.

Don't order the fruit bowl if you are hungry!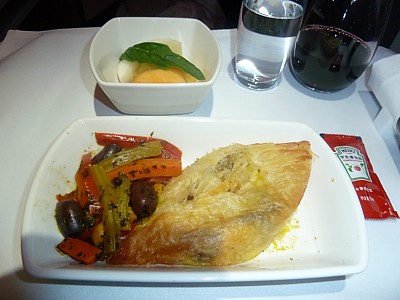 Refreshment Pastie
Pastizzi with spiced beef and tagine style vegitables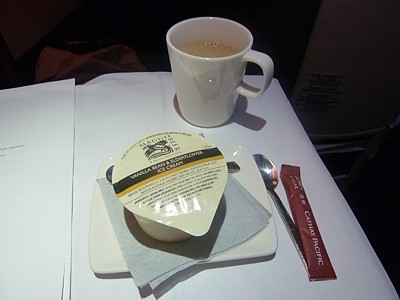 Ice cream
Maggie beer ice cream.



Premium Economy: Cathay Pacific Longhaul inflight meals
Meals in Premium Economy are 'slightly' uprated from economy, but it must be said, not by much. Meals are on Chinaware, not plastic, and there is a larger desert. That's about it.

Read the full Trip Report: Cathay Pacific A350 Premium Economy Amsterdam to Hong Kong.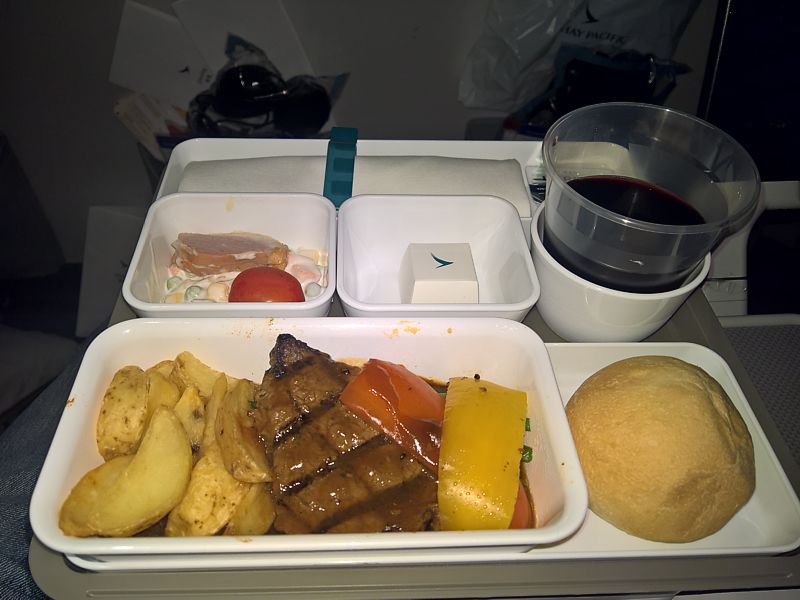 Cathay Pacific Inflight Meal Premium Economy
Steak and potatoes
Duck and pea salad.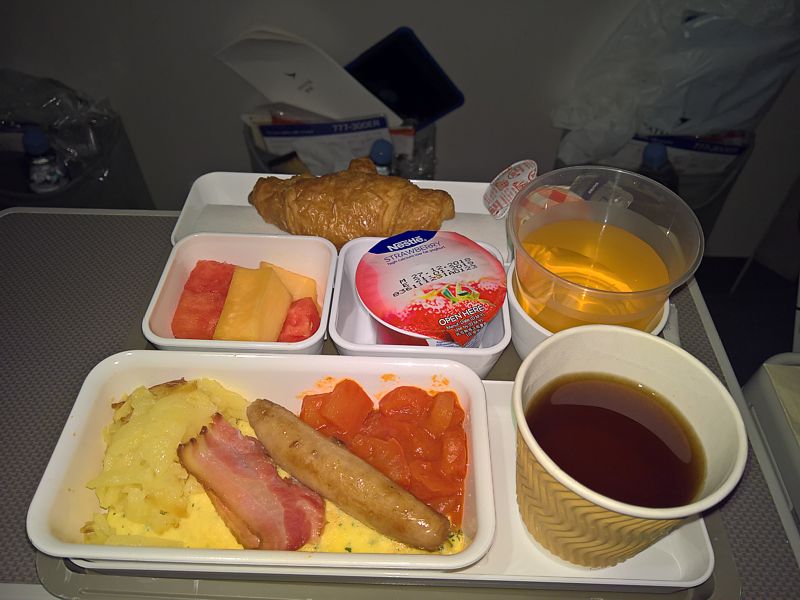 Cathay Pacific Inflight Meal Premium Economy
Hot Breakfast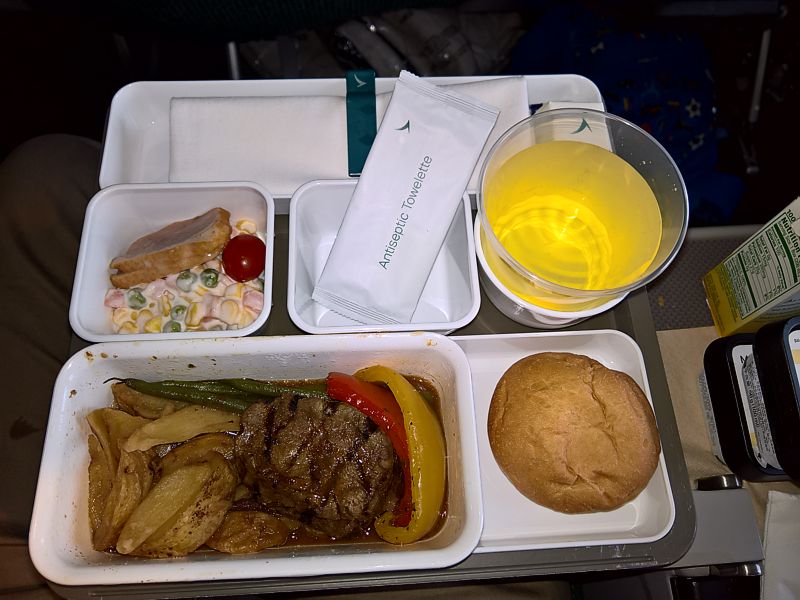 Cathay Pacific Inflight Meal Premium Economy
Steak and potatoes
Duck and pea salad.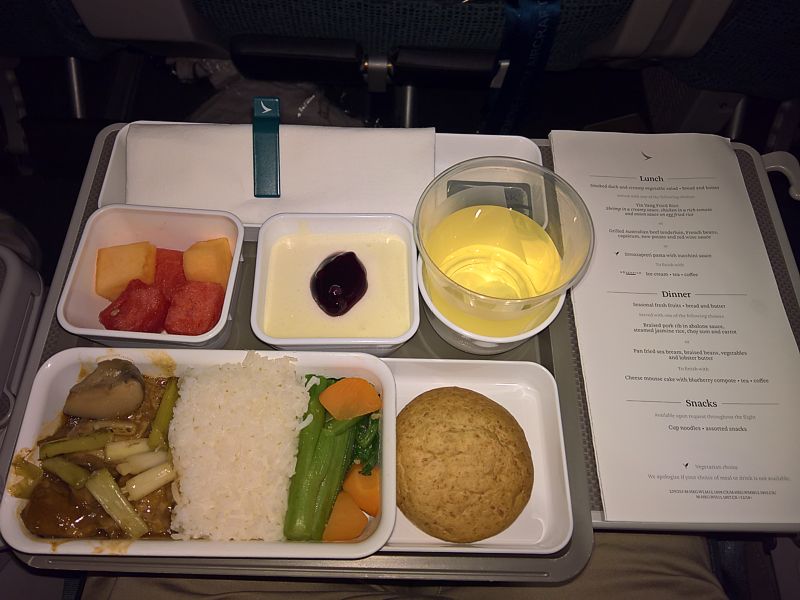 Cathay Pacific Inflight Meal Premium Economy
Pork Rice
Melon slices. Raspberry custard.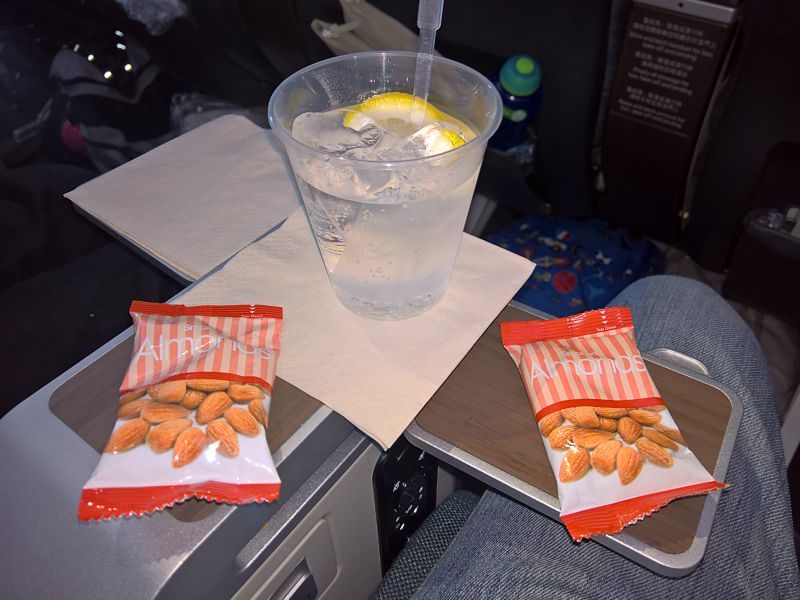 Cathay Pacific Inflight Meal Premium Economy
Welcome Drinks and Nuts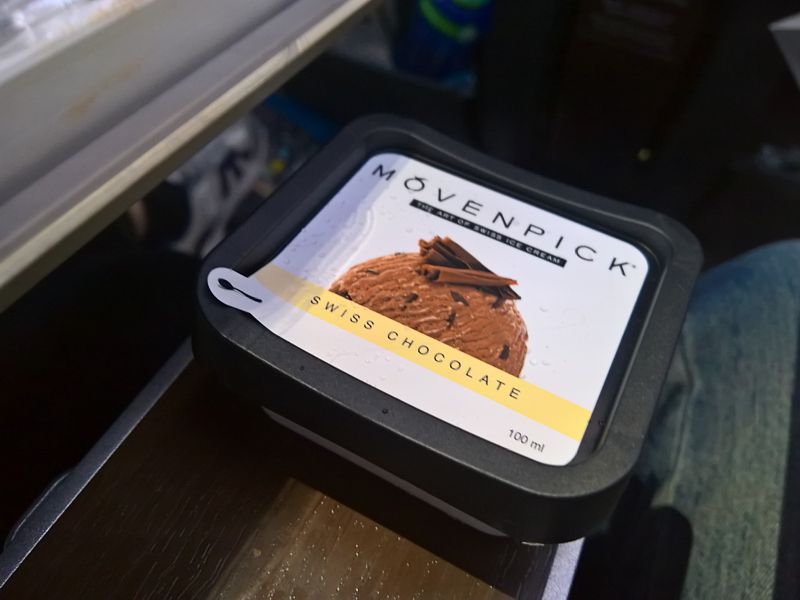 Cathay Pacific Inflight Meal Premium Economy
Icecream
Cathay Pacific Inflight Meal Premium Economy
Hot Breakfast
Cheddar cheese and tomato omelette with pork fennel chipolata, spinach, peperonata and Lyonnaise potatoes

Fresh fruit salad Fruit yoghurt Bread and preserve



Cathay Pacific Inflight Meal Premium Economy

Steamed Chicken

Steamed Chicken with seeds mushroom and rice

Olive and pepper salad.




Cathay Pacific Inflight Meal Premium Economy

Pot noodle

Cathay Pacific Premium Economy inflight snack: noodles




Pasta in cheese sauce

Ricotta raviloi, sun dried tomatoes, asparagus and lime herb cream sauce.




Lamb chops

Lamb chops with sweet potato mash, green beans, in mint sauce.




Beef goulash




Cheese quiche




Economy: Cathay Pacific Longhaul inflight meals

Meals in Economy are much better than on most airlines, and on the longest of flights you still get two hot meals, as opposed to a cold meal and a snack.


Cathay Pacific Inflight Meal Economy

Steak and potatoes

Duck and pea salad. With tomato.




Cathay Pacific Inflight Meal Economy

Hot Breakfast

Cheddar cheese and tomato omelette with pork fennel chipolata, spinach, peperonata and Lyonnaise potatoes

Fresh fruit salad Fruit yoghurt Bread and preserve




Cathay Pacific Inflight Meal Economy

Chicken and Rice

Fresh fruit salad. Cold Roll.




Chicken and cabbage

Chicken with straw muchrooms in oyster sauce with noodles and cabbage

Seasonal fresh fruit. Fruit yoghurt. Croissant with jam and butter.




Cheese pasta

Penne rigate with pumpkin parsley in white wine cream sauce.

Chick peas with mixed vegitable salad. Cherry crumble cake. A tim tam.




Chicken and black bean

Steamed chicken with black bean sauce on rice vermicelli and choy sum.

Mixed seasonal salad. Fruit yoghurt. Croissant with fruit preserve and butter.




Beef stew

Beef stew Bourguignonne style, parsley mashed potatoes, and vegitables.

Rainbow couscous, feta and tomato salad. Double chocolate mousse. Cold roll and butter.




Pumpkin Rigatoni

Rigatoni with pumpkin sauce.

Salad with one tomato and two slices of cucumber. Kitkat. Hot roll.




Cathay Pacific Economy Class Breakfast

Mushroom omelette

Omelette with creamy mushroom and parsley. Back bacon, and mushrooms.

Fresh fruit salad. Bread roll with jam and butter.




Full Cooked English

A square of bacon. One mushroom. Two tomatos. One hash brown. Three potatoes.

A fruit cup with mellon. Ski yoghurt. Crossand with jam and butter.




Asian Steamed Chicken breakfast

Steamed chicken with black bean sauce on rice vermicelli and choy sum.

Mixed seasonal salad. Fruit yoghurt. Crossant with jam and butter. Caramel custard.




Cathay Pacific Economy Class inflight snacks

Mandatory snack bag

One apple. One alive bar.

One bottle of water.




Optional snack noodles

Pot noodle with sweetcorn and spring onion.




Child Inflight Meals Childrens food: Cathay Pacific Longhaul inflight meals

Cathay Pacific have a full selection of child meals. However, you have to know you must order these in advance, by phoning Cathay or booking online. Even if you have a child on your booking, Cathay Pacific child meals are not automatically loaded.


Cathay Pacific Inflight Meal Child's Economy

Child's pasta meal




Cathay Pacific Inflight Meal Child's Economy

Child's rice meal




Childs pasta meal

Pasta with tomato sauce.

Cold pasta salad.




Childrens breakfast




Chicken nuggets




Pasta with meat in tomato sauce




Baby Meal




Cathay Pacific Inflight Meal Baby Economy

Baby meal

Next: Cathay Pacific Drinks on board >>>
All images and content copyright airreview.com