NEWS: Air China has started a non-stop flight between Beijing and the fourth largest US city of Houston. Operated by Boeing 777-300ERs, the flight departs from Houston on Mondays, Wednesdays, Fridays and Sundays.
Beijing is very much the Air China hub city.
Beijing to Europe there are flights to London Heathrow daily at 1410 (arr 1745 on a 777-300), Rome at 1340 (A330), Frankfurt at 1400 (arr 1400 on a Boeing 777-300) and at 0205 (777-300), Dusseldorf at 1340 (arr 1855 on an A330) and Stockholm. The Munich flight is an A330 daily at 0110, while the Madrid flight (at 0015) also goes on to Sao Paulo GRU, staggering in at 1455, on an A330.
Airline schedules change regularly
This information is intended as a guide, but for up to the minute timetables, please consult Air China at www.airchina.com
Shanghai also has flights to Paris CDG at 0015 on an A330, Frankfurt and Milan at 0130 on an A330. London Heathrow is served via a codeshare on Virgin Atlantic.
In Australia the only cities served are Sydney and Melbourne. Beijing to Sydney is at 1650 (arr 0650) on an A330, while Shanghai to Sydney is at 1935 (arr 0810) also on an A330. Shanghai to Melbourne is at 1915, arriving at 0805, on an A330.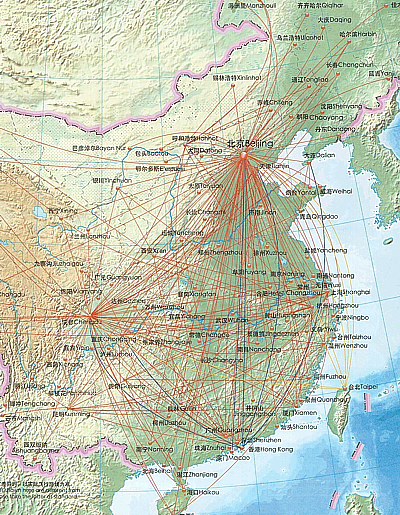 Air China Domestic Route Map
To the US there are flights from Beijing only to Los Angeles (777 at 2100), San Francisco (1540 on a 747), Vancouver, and New York. The Air China New York JFK flight leaves twice a day at 0900, arr 1020, and 1300, arr 1420, both on an 777-300.
The classic Kangaroo route from London Heathrow to Sydney is quite easy, with the 2025 from LHR going via Peking, landing at 1310, a change of planes onto the 1650 (3 hours 40 minutes later) and into Sydney at 0750. Alas on the way back the Sydney flight gets into Peking at 0550, and you have to wait no less than 8 hours 20 minutes until the 1410 back to London, arriving at 1745.