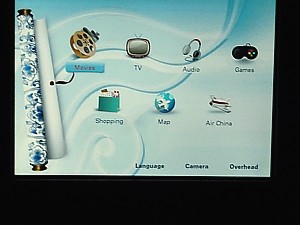 Air China IFE home screen
Air China inflight entertainment varies from just about OK, to in a few cases decent, to really totally woeful and sub-par in every category. The problem is that these differences aren't explained very well – or at all – on the Air China website, and indeed getting onto a plane can be very much a lottery. And then there is the gamble of the actual content on the Air China seatback TV system, which is a whole different kettle of worms (so to speak!).
At its best, on the very latest aircraft, Air China IFE is better than you would expect, with the latest AVOD technology, and large seatback TV screens.
On the very latest Boeing 777-300ER and Airbus A330-200 and A330-300 in Business Class there is a 15.4 inch TV screen, while in economy it is 9 inches, with AVOD on-demand entertainment. However if you see the code 330 against a booking, beware – it means it is an A330-200 with the old seats, and the old seatback enteratinment system, with video on a loop.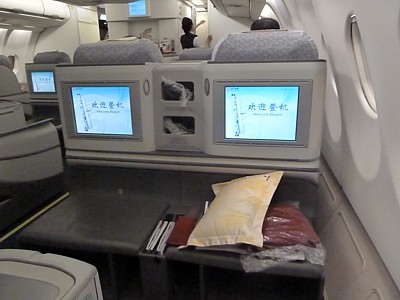 Business Class Air China seatback TV screens
All Air China Boeing 747s have the old IFE, with videos on a tape loop.
Air China Seatback TV content is however where the system comes unstuck. On the new AVOD system, film choice is uninspiring to put it mildly, with about 6 Hollywood films (all but one of which will be at least six months old) and then just Chinese films. There are no European or arthouse films, and indeed little in the way of even good Hollywood blockbusters: it's bottom of the bargain bin stuff. The TV selection is even worse (or, if it were possible, cheaper) – do you fancy six hours of 'just for laughs'?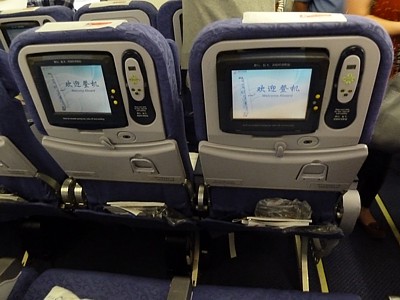 Economy Class Air China seatback TV screens
AVOD is however considered high end compared to the pits that is Air China IFE on a tape loop. Here it is very much a rarity to find anything that you've ever heard of – let along want to watch. If you're on an old plane, the advice of 'take a good book' really is the way to go.
Air China headphones are pretty basic cheap ones back in economy. In business class they are larger, but are not noise reducing. They have double 3.5mm jack plugs.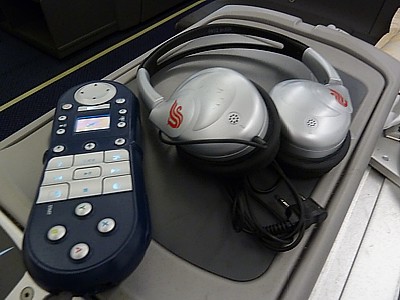 Business Class Air China headphones
Air China Inflight Magazine - Wings of China
Air China of course has an inflight magazine. And what a magazine. Big, thick, glossy... in all those long long flights when the IFE system as usual totally fails to deliver, it seems as if it is worthwhile digging into the mag.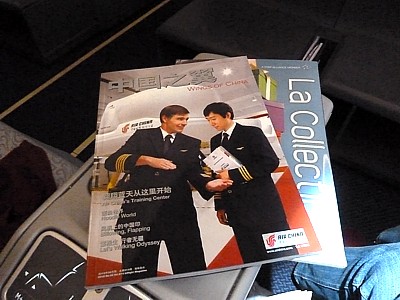 Inflight magazine Air China 'Wings of China'
Alas – no. The Air China inflight magazine – called Wings of China – is a great example of style over substance. With gloosy pictures, there are plenty of travel articles, articles about fashion, and endless, endless articles about what a CEO should wear on the golf course. But there isn't actually that much stimulating content that isn't pure advertorial.
You might also be offered a newspaper called International Aviation News. This is Air China's answer to handing out newspapers, and generally consists of wire copy, reprinted a day later. Some of the content is actually readable, but it's not the solution to picking up a newspaper before you get on the flight.