Cathay Pacific A350 seating plan

This seat map is for the Airbus A350-900 as flown by Cathay Pacific. The CX 350 is new, comfortable, and modern, but not as large as Cathay Pacific's Boeing 777. The CX350 (38J 28PE 214Y) is used on UK, German, and New Zealand routes.
Cathay Pacific A350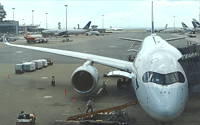 Business Class: 38 seats rated 8 / 10


Pitch 45" width 20"

IFE

15" TV AC/USB Power

Premium Economy: 28 seats rated 6 / 10


Pitch 40" width 20" recliner

IFE

10" TV Power

Economy Class: 214 seats rated 6 / 10


Pitch 32" width 18"

Recline 35° IFE

10" TV USB Power

Cathay Pacific A350 Routes: Hong Kong to London Gatwick, Dusseldorf and Auckland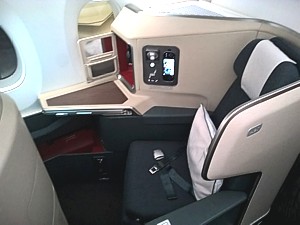 Cathay Pacific
Airbus A350-900
The Cathay Pacific Airbus A350-900 seat plan has three classes in one of the most technologically advanced jetliners flying, with larger than normal windows providing panoramic views, large luggage bins

Business Class is divided into a main and a much smaller mini cabin. All have flat beds, but there is more noise in the larger front cabin.

The Cathay Pacific A350 seating plan has a good modern Economy Class, with decent modern seats, and a large HD seatback TV.

Cathay's A350 Premium Economy is narrower than on the 777, but has an extra leg rest.
►Hover mouse pointer over a seat for Cathay Pacific Airlines A350 seat pictures, and a description of that seat.

Meals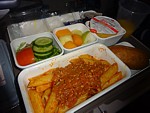 Cathay Pacific Airlines have a good reputation for in flight food, and serve complementary drinks (Free beer, wine and spirits)
Read More
&
Bar details
Entertainment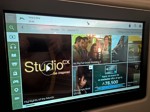 Seatback TVs in all classes on Cathay Pacific A350, with AVOD (on demand) showing 100 films, and 180 TV programmes.
Read More
Reserve seats
Cathay Pacific A350 Seat reservation before the flight is free in First and Business. Booking economy seats on low fare economy tickets cost $39USD or 300HKD. Manage seats at cathaypacific.com
Cathay Pacific Airlines have Online Checkin from 48 hours before the flight, when all seats may be booked for free.
Service
Lounges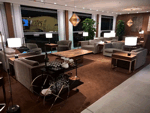 Lounges have a complimentary bar and dining.
Hong Kong HKG
London LHR
Bangkok BKK
Kuala Lumpur KUL
Shanghai PVG
Paris CDG
Best economy seats on Cathay Pacific Airbus A350-900:
A Cathay Pacific Airbus A350 economy class review shows the best seats are normally regarded as 60A & 60K, however they are blighted by lightspill from the bathrooms, and the door slide infront. Many couples prefer the seats 40A and 40K, which have plenty of room - but not such a great view out of the window.
Cathay Pacific A350 Routes:
Hong Kong to London Gatwick, Dusseldorf and Auckland..
Total in fleet: 9.
with 214 economy seats in a 38J 28PE 214Y config.
Business Class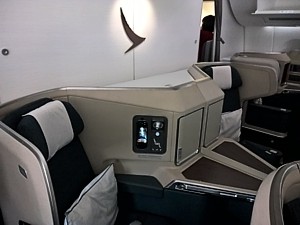 Cathay Pacific A350 Business Class is a delight, and while conventional offers high wings, a flat 75 inch bed (26 inch wide) with plenty of lockers to store shoes and headphones.
Premium Economy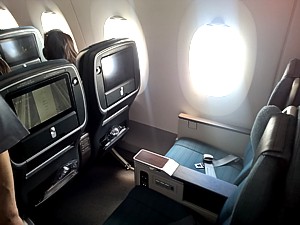 Cathay Pacific A350 Premium Economy is rather good, and similar to Qantas Premium Economy, with a a 38 inch pitch, 19.3 inch seat width and an 8 inch recline. There is a large meal table and cocktail table, plus a 10.6-inch seatback television and noise-cancelling headphones, a power socket for UK/Hong Kong plugs, and a USB charging socket.
Economy Class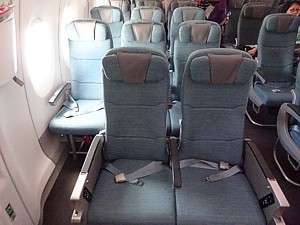 Cathay Pacific A350 Economy Class reviews tend to praise the service of the cabin crew, rather than the seat, which is pretty conventional. There is a rather good 10.4 inch seatback TV, and USB power sockets.
Cathay Pacific Airlines reviews