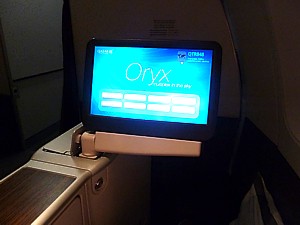 Oryx IFE Qatar Airways
The good news is that you will definitely get a seatback TV on Qatar Airways Longhaul on the A330s and Boeing 777. The system is called Qatar Airways Oryx Multiplex and comes in two types.
In First Class there is a 26 inch HD TV screen, in Business Class it's 17 inches, while in economy it is a standard definition 10.6 inch screen. All seats have a USB port for charging, and both Business and First have a multi-socket for mains AC power, which fits UK and Hong Kong plugs.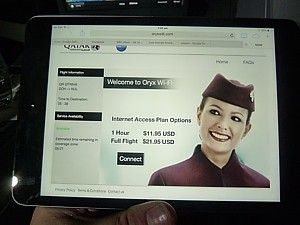 Oryx IFE Qatar Airways
A rare delight is that many of the short hall A320s are fitted with Personal TVs too: you have a 9 in 10 (90%) chance of getting personal inflight entertainment on Qatar Airways. On the ones without, there is a personal DVD player in the Business Class.
However there are two different types of Inflight Entertainment on Qatar Airways, and this REALLY makes a difference. Both are called Oryx Multiplex.
The new ex2 version is much faster and smoother with many more functions than the older version. Confusingly, both are fitted to the Qatar A330 fleet. Only the old type is fitted to the A340s, and only the new version to the Boeing 777s. Naturally the 787 and the A380 have the new type.
To tell them apart, on the older version the main home screen has ten icons on a page, like Windows, and the newer version called ex2 has buttons in a column. Also, in economy, there is a remote with the newer version, but not with the old.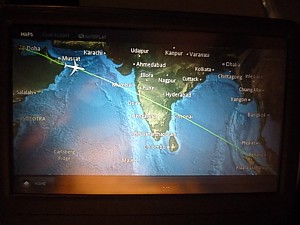 Oryx IFE Qatar Airways
The advantage of the new system is that there is inflight internet via wifi, six live TV channels (BBC World, CNN etc), there are many more films, and the system is faster to respond. However with the old system, you still get dozens of films and TV programmes to watch: the problem is that many of them aren't one you would particularly choose. True, there are plenty of middle ranking Hollywood romantic comedies, but very little in terms of off-beat films, UK TV shows, or documentaries. There is a world cinema category, but it is mainly stuffed with Asian movies.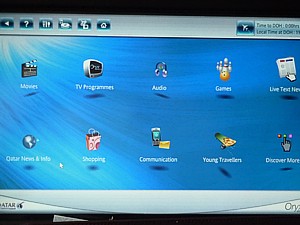 Oryx IFE Qatar Airways old system.
In business class, with both systems, you also gain a small little remote showing three of the icons shown on the big screen: on this remote you can display the moving map, while watching a film on the large screen. In Business and First you also gain wonderful noise cancelling headphones; Qatas has oddly chosen Phitek Systems' active noise cancellation headphones for its first and business class cabins. These are chunker than normal for anti-noise headphones, but work well. They come with the usual three way plug, so you can't take them home, and indeed they are collected about an hour before the flight lands, which can be annoying.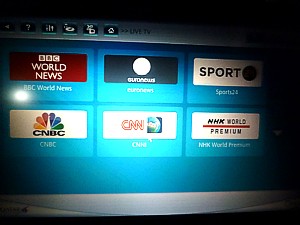 Oryx IFE Qatar Airways
There are audio channels too of course, and games, but these PC based games are now looking seriously dated.
Inflight wifi is available on most flights too, but pricey, at $12 an hour, or $22 for the flight. It's also not available over some continents, so as always, check before ponying up the dough. Incidentally, when the aircraft is on the stand at Doha, quite often you can get decent reception of the airports own free wifi, which is quick and fast. And doesn't cost a penny.
Qatar Airways Inflight Magazine - Oryx
The Qatar Airways Inflight Magazine is called
Oryx
, and as you might expect it is high quality, glossy, and not a bad read.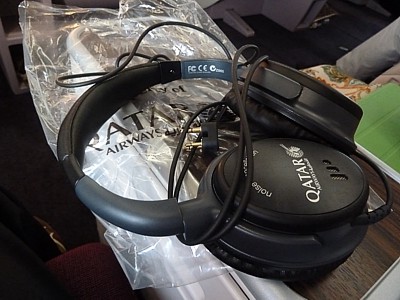 Oryx IFE Qatar Airways old system.
Published by AgencyFish in London, it has the usual glossy trave articles, plus regular features on Qatar events, shopping, and an interview with a celeb. It has the usual 'dual language' format, with the front half of the rag in English, and the back in Arabic.
Wish List is a good section at the front with design concepts. And indeed the whole mag seems to keep on recycling the design idea throughout, from Fine Food to Whats in my Bag.
The Plan Ahead and Weekend Away section is particularly good, with events coming up around the world. Alas it all kind of falls apart with the HIA airport guide, which is obviously 'placed'.