Qatar Airways Food
Qatar Inflight Meals
Qatar Airways inflight food is good. Qatar have good free inflight meals for all flights.
There are normally two trolleys on the plane, one which starts at the front, and the other at the back. Hence, if you want to get your food first, and have some chance of eating it before you get off the plane, you'll need to sit either right at the front, or right at the back.
Business Class - Qatar Airways inflight food
Qatar Airways Business Class inflight meals are good - really good. And the airline has awards to show for it too.
However the service is either amazing, or annoying, depending on whether you want a quick eat and sleep, or want someone interupting you throughout the flight. Meals, even on the shortest flights, tend to come with four or five courses, and each one of these is interupted with the crew laying out the options, describing them, going back to the galley, and finally giving you what you want - all with the comment of 'enjoy'. If you've never travelled in Business before, this type of attention to detail is great. However at other times, it can get really annoying.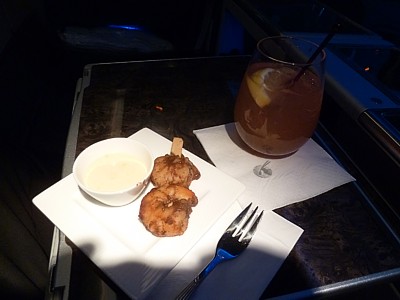 Fried Prawns
Deep fried prawns on a stick.
Really, really odd starter in Business Class.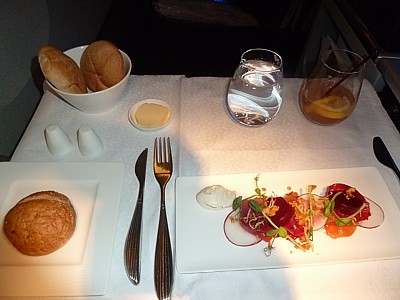 Beetroot and prawns
Beetroot and prawn salad.
Qatar loves its prawns, and even puts them on beetroot for a starter.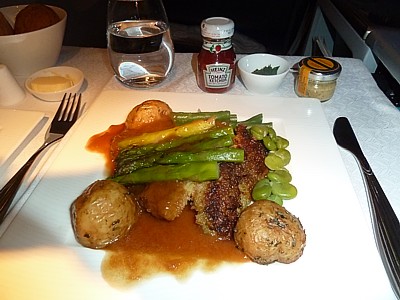 Rump steak
Steak with beans and potatoes.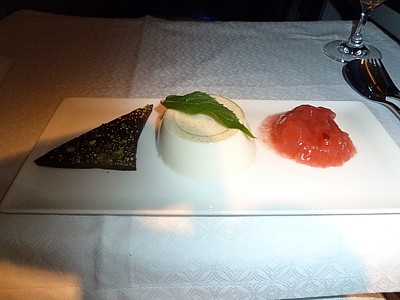 Panna cotta
Cardamom panna cotta with raspberry compote.
A really good dessert of the desert, however you want to spell it.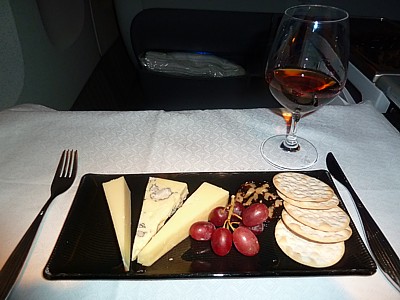 Cheeseplate
Three cheeses.
Blue, cheddar, and 'tasty'.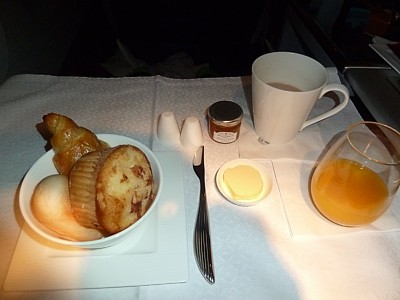 Breakfast
A bowl of three breads, and a fairy cake.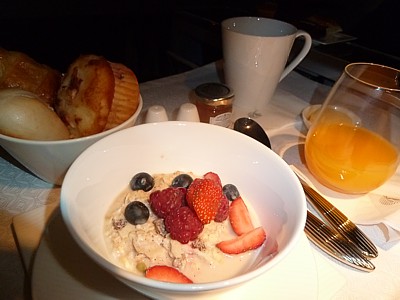 Bircher muesli
Bircher muesli with fruit.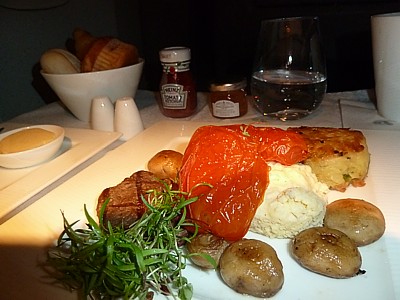 Stuffed peppers
Stuffed peppers and mash, with potatoes.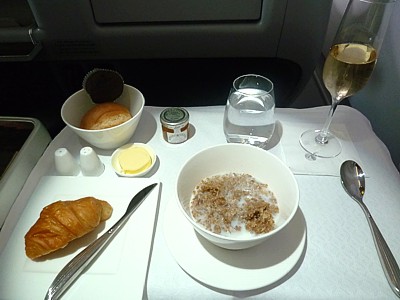 Cerial
Diced weetabix wih milk.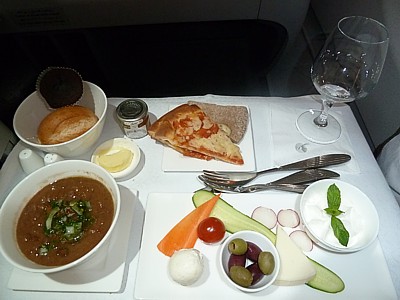 Meze plate
An arabic mezze plate served with pitta (arabic bread).
Tabouleh, hummus, artichoke and nut salad.
Onion Soup on the side.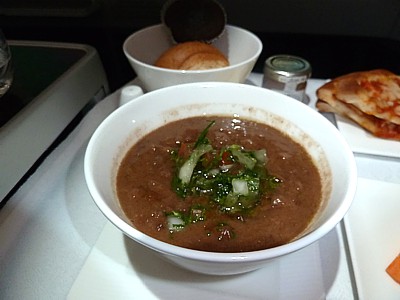 Onion Soup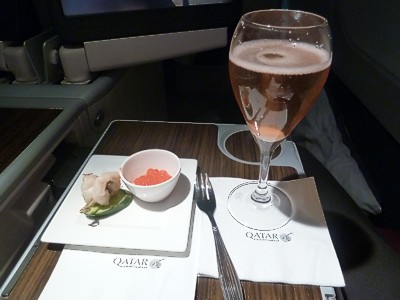 Quails Egg Canapés
Classic Quails Egg Canapés, with cold cod on a slice of cucumber
Really not the best start to a flight. It gets better.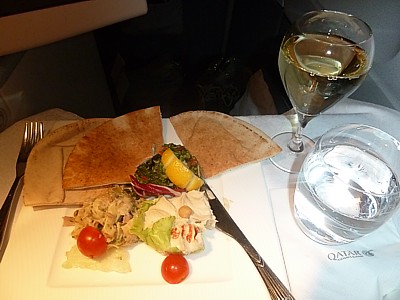 Classic Arabic Mezze Plate
An arabic mezze plate served with pitta (arabic bread).
Tabouleh, hummus, artichoke and mushroom salad. A slice of lemon.
Now this was first class in every sense of the word. Really really good quality with great flavour.
Only issue is... is that it? This was the main course of a long-haul flight.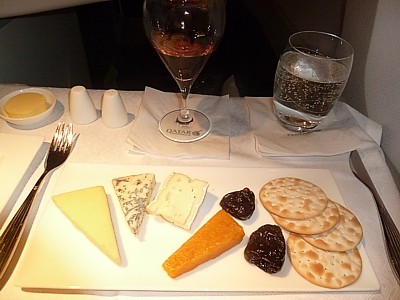 Cheese plate
An individual cheese plate of mature cheddar, brie le maubert, and foume d'ambert.
Dried prunes and apricot cake wedge.
Jolly good, particularly the Brie.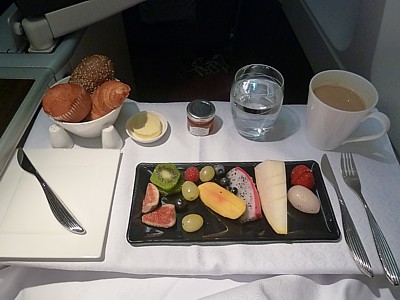 Vegetarian Breakfast
Nobu fruit plate.
Bowl of bread.
Hmmm. Not the best way to start your day. The fresh fruit breakfast is in reality just some slices - well, actually just one piece - each of some quite nice fruit.
OK, but not very satisfying.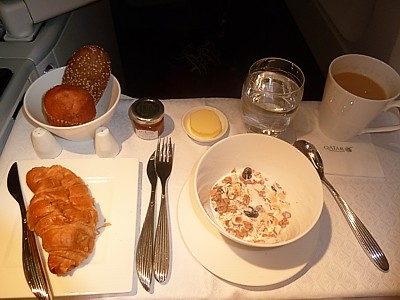 Toasted muesli breakfast
A bowl of toasted muesli.
Bowl of bread. Marmalade.
Some of the best muesli that has made it onto a plane.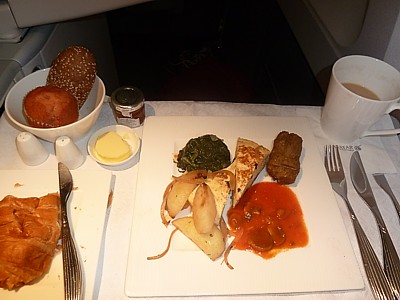 Hot mushroom frittata breakfast
Wild mushroom frittata with wilted spinach.
Sauted potatoes with onions, tomato and mushroom sauce.
So this is the famous hot breakfast everyone was hoping for as they went to sleep.
Actually, really good flavour, but woeful in terms of qualtity.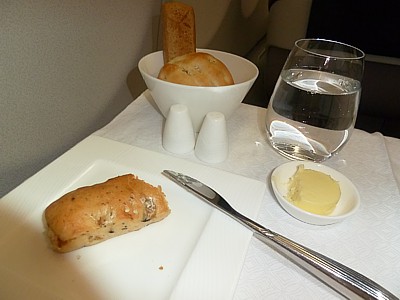 Bakery basket
Herb and multi cereal baguettte parmesane tomato and basil roll.
With each meal you get a bakery basket - in effect a small bowl with three types of rolls.
Useful to pass the time while you are waiting for the next course.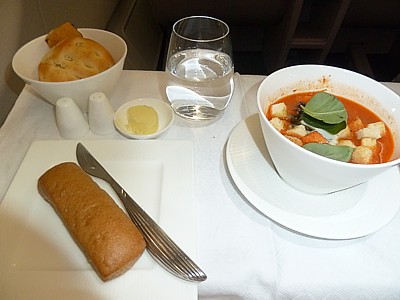 Tomato soup
Roasted red pepper and tomato soup.
Creme fraiche, tapenade and herb crouton.
Now we're talking. This is a decent way to start the meal service.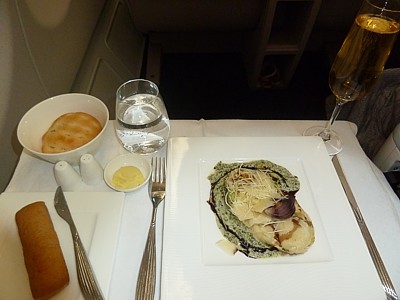 Cheese Ravbioli
Ravioli with spinach and ricotta cheese sauce.
Balsamic reduction and parmesan cheese.
This tiny lump of pasta passes for the main course on the flight.
Lots of great flavour though.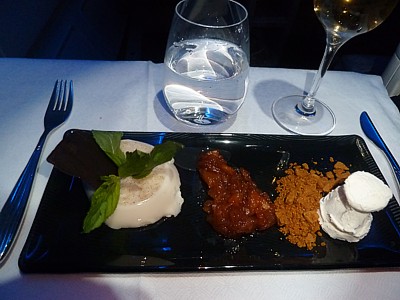 panna cotta desert
Cardamom panna cotta with rhubarb and apple compote
Wow this is good. Really really good.
Qatar earned full marks for this.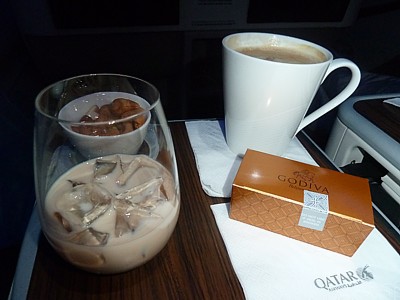 Goodnight Baileys
Baileys, coffee nuts and chocolate
There's always a coffee and Baileys run at the end of the flight.



Next page: Qatar Airways Drinks & bar >>>