Click here for Olympics' website

Olympic Air / Olympic Airways reviews & opinions
4

out of

10

from

256

reviews.
Olympic Airlines is the flag carrier airline of Greece, based in Athens. Opinions can be a bit mixed about Olympic, due to the rising losses and debts, and the airline was at one point in serious danger of bankrupcy, however the position has improved of late, and the airline is still capable of operating a full service desite costcutting impacting on service and the product. Due to the parlous financial state of the airline, aircraft interiors on almost all OA aircraft are in urgent need of a good cleaning and upgrading, and some of the crew can be rather grumpy.

Olympic offer lots of connections throughout the Middle East and Greek islands. They also tend to be the cheapest option, so it is usual to see lots of British travellers flying OA. Alas the airline has a notorious reputation for cancelled lightly loaded flights at short notice, and having technical problems that delay flights. In fact these problems tend to be the rarity rather than the norm, but at the same time it pays to be prepared.

Although the logo resembles that of the Olympic Games, the airline is not named after the biggest international sporting event but rather after the Twelve Olympians, the principal grouping of gods and goddesses in Greek mythology, residing in Mount Olympus.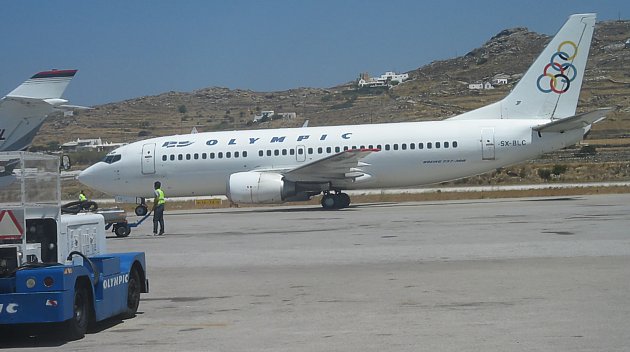 Olympic Classes, Seats and Fleet
Olympic operate a two class service on most of their domestic and all of their international services. Olympian Executive Class is the airlines name for business class, and in some of the A340s can be quite luxurious, however on shorter European and domestic hops its a question of having the same seats, but being in front of the curtain, and having a bit more food.
Olympic A340-300
Olympic has a grand total of 4 Airbus A340s. These are used on all the long haul destinations, such as to North America (Montreal, New York, Toronto) and South Africa. They also show up on rotations to London, with Olympic being almost unique in using the A340 for trans-European flight (only Iberia do likewise, and only on a very select number of routes). This can be quite a nice perk, as instead of being stuck in a slighter better seat, as you would be on a BA 767, you get all the comforts of a new widebody plane. But then, loads on the London route are some of their strongest, especially in economy, and cargo is also performing well, which is why they are using the A340 on the route.


Olympic Airways A340 at London LHR

In Business there are five rows of business class, in a 2+2+2 formation. Although the seats are not flat bed, they are quite similar to the old BA Cradle Seat, and very comfortable. They have small TVs in the armrests, and there are two TV's at the front of the cabin, plus a projection TV which is used for the moving map.
Economy Class is in a 2+4+2 formation, which many couples seem to like as it gives good pairs of seats, rather than the three seats next to the window format in some planes. All seats have seatback TVs, although they are a little small. Economy starts with in row 7, directly behind the second set of doors. This is an emergency exit, as is row 25, but it is disliked by many regular passengers due to the lack of a window, the cabin crew sitting opposite you, and the traytable in the armrest, which reduces the seat width. However, you do get a flip out video screen and acres of legroom. The seats are fairly standard Airbus economy seats: they recline a bit, and that's about it.
Olympic A320-200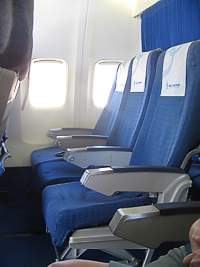 Olympic Airways A320 seats



Olympic Airways has a grand total of 2 Airbus A320s. Seats are in 3-3 configuration, and very tighly packed together. Olympic have stopped selling the middle B and E seats in business, but unless you are in row 1, you will not notice the difference in seat pitch. Row 1 (better on the DF seat, as the bulhead is slightly further back) is good for legroom. Seat pitch is 32 inches. All models have large 14 inch fold down LCD TV screen under the overhead lockers for both classes, but no individual seatback videos. There are headphone sockets at all seats and a channel selector for the audio programmes.

The variable business class seats extending back as far as row 20, although in normal configuration they are only used with the first 3 rows as business class. Row 9 and row 10 are overwing emergency exits - if you ask to sit here, you will get 2 inches more legroom.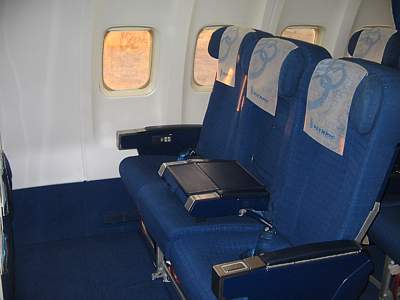 Olympic Airways 737 business class

Boeing 737-400
Olympic Airways has 15 of the very standard 737s, seating 150. They operate a whole host of short and Medium haul routes, on domestic flights to the islands, around Europe and even as far as the Middle East.


Olympic Airways 737 at Athens

Business class is in an unusual 2-2 pattern, thanks to a slot in table that goes between the two seat pairs. There is a moveable curtain to select which section of the plane is business class, depending on the loads. The seats are not particularly comfortable, and the entertainment (with old style CRT TV monitors every 7 seat rows, is decidedly out of the arc.
Economy seats are in the standard 3-3 configuration, with a pitch of 31", and few frills or refinements, although there are sockets for the headphones, and a selector for the audio channels. On a 737-400 row 14 is the overwing ejectable window, with 38" of legroom.
ATR 42 / ATR 72
Olympic has 6 ATR 42s seating 50, and 7 of the larger ATR 72s seating 68, in a single class configuration.


Olympic Airways ATRs at Athens



The ATRs are overwing prop planes fleet, which fly lower than the jets, and give a great view of the ground, but its very noisy, bumpy on landing and thanks to weight problems has a "lightweight" seat which bend as you sit down. Note that the overhead lockers on this plane are only 4 inches high, so your "carry on" case won't, and you have to check it at a trolley as you board: it is then loaded into the hold for you.
Olympic Inflight experience
Olympic have several tiers of inflight service, which alternates between the very good (in Business on Trans-Atlantic) to downright shoddy (on domestic). As with many things, you get what you pay for, however it is normally done with a smile and a general willingness to help. Olympic are clearly one of the old Grandfather carriers, and still try to have that level of service, which means that you can be fussed over in business, and in economy you still get free food on some trans-European flights. However, there are some grumpy staff at Olympic. These then to be the people who have had a job for life - and look as if they are coming to the end of it (their life, that is). They may not go out of their way to help you, and tend to stick to how service should have been done 20 years ago. There is one other trap for the unwary. Athens Airport has no closure time, and there are flights throughout the night. Staff here, particularly for the overnight flight from the UK to Athens, connecting to the Greek islands early in the morning, are really not happy to help. There is no checkin open for several hours, and staff really try to get you to go away.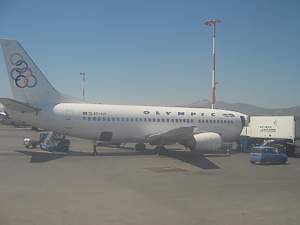 Olympic Airways 737 at Athens

As you board the plane, music plays over the PA, with Eurovision hits of years gone by.
In Business (Olympian Executive Class) Newspapers and magazines are available to all passengers, as pre-flight drinks are served (Sparkling Wine, orange juice or water). The safety video then follows on the main screen in Greek and English. You get hot towels, followed by the aperitif service. There is a drinks service while the meals are taken out individually. Coffee and liqueurs were offered afterwards. If you go for Sparkling Wine you are given your own half bottle, complete with an ice bucket, on long haul flights.
In Economy there is one hurried drinks service, and then you have to wait a long time for the meals to come around - the two trolleys run from the back of the cabin, but will at least offer three choices. Finally, a long time after the meal service, you will get a coffee trolley coming past which also has beer & wine.
Note that Olympic - and Greek airports - have some oddities you may not get elsewhere. In particular all Greek airports are very hot on banning photography, and you will be pounced upon by uptight securitiy officials if you whip out your camera to take photos of the plane (or even meals on board). Curiously, there are no signs annoucing this (except at Santorini where there is one small handwritten sign in the arrivals hall) however if you are nabbed and subsequently questioned, you will be told that "everyone knows all photography is banned as a matter of upmost national security". As the Greek Planespotter case shows, the Greeks are very uptight about planes. Curiously, their airport security can sometimes seem very lax.
Olympic Inflight Entertainment
Longhaul on the A340, all seats get a seatback TV. There is no AVOD on the A340, but you do get 7 video channels with films and short documentaries, and 12 music channels.

The video program includes two fairly standard Hollywood movies, a Greek channel, a documentary channel, a dual-language movie for children, and a moving map. The audio channels include a greek language learning program.

Around Europe, there is also entertainment on the 737s and the A320s. Here there is just 1 video channel on the overhead screens, and 6 music channels. Don't get too excited - the video program includes some short, Greek, films and a few documentary films along with music video clips.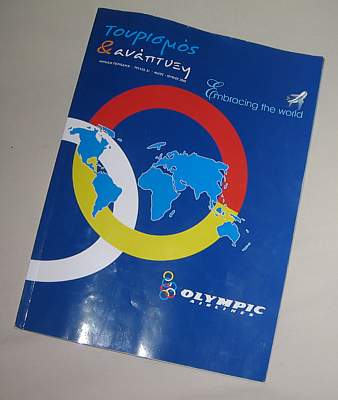 Olympic Airways inflight magazine

Olympic Inflight Magazine
Olympic Airways inflight magazine is one of the worst in the world. It is a facinating throwback to when airlines could print anything, and passengers would read it out of boredom.

Essentially, it's a series of articles from the Greek tourist board telling passengers how wonderful things are, with little in the way of facts (and when there are any, they tend to be wrong), and poor pictures crudely cut and pasted into the pages.

The magazine is English on one side: flip it over, and you get the Greek version, with the same bad pictures. It contains little in the way of information about Olympic Airlines.

You can find out about the entertainment program in the "Orama" booklet, which is on all A340 aircraft.
Olympic Routes
NEWS: Olympic is currently rumoured to be axing its Paris route shortly.

Olympic's main hub is at the new Athens Eleftherios Venizelos International Airport, from where it flies to 35 domestic destinations and to 39 destinations world-wide. It also has a hub at Thessaloniki, and Rhodes Airport.

The flagship intercontinental route from Athens is to New York JFK, with two flights a day at 0855 (arrives 1225) and 1125 (arrives 1455), using an A340. There are also intercontinental flights to Dubai on a 737 at 1810, Johannesburg three times a week at 0105 (on an A340), Montreal at 0905 on a Monday, Tuesday, Thursday and Saturday, a flight which then carries on to Toronto, and returns from there overnight.

Airline schedules change regularly.
This information is intended as a guide, but for accurate timetables, please consult Olympic.

Around Europe, from Athens Olympic fly to London three times a day, at 0915, 1330, and 1915, returning from LHR at 1215, 1635, and 2215 (which rolls in at 0350 - not to be recommended). All three flights using a long-haul configuration A340. Business class in these flights certainly beats the competition from BA. There are also direct flights to Manchester once a day at 1915 on a 737. There are also flights to Berlin, Brussels, Cairo, Dusseldorf, Frankfurt, Geneva, Madrid, Manchester, Milan, Munich, Paris, Prague, Rome, Stuttgart, Tel Aviv, and Vienna.

Domestically, there are frequent shuttles to Thessaloniki up to 8 times a day. There are also frequent Olympic flights to the islands, although the number and frequency declines rapidly in the winter. Rhodes is the main route, with 5 flights a day. Santorini (Thira) has three flights a day, although the 0545 flight is not recommended. The 1825 is the only flight at the decent time, while the late night 2120 is equally uncomfortable. Mykonos also has three flights a day.


Olympic Frequent Flyer Program - Icarus
Olympic have a fairly standard mileage system for their Frequent Flier club. In the Icarus Frequent Flyer scheme you essentially earn 1 mile for each mile that you fly. Olympic is a member of no alliances, and you can put miles from no other airline onto your account.

Joining is a real pain: you cannot join online, instead you have to pick up an application form at an Olympic ticket desk. You get a 500 miles bonus when you join, but that's about it.

Your membership year starts the date you first join, and carries on year to year from that date.

Olympic's policy is that miles expire within 3 years of posting to the account, with the only means of extending the expiration date being the booking of a ticket in that 3 year period for travel within the next year. Quite simply, if you earn points on Olympic, keep them active by flying on an Olympic flight once every three years.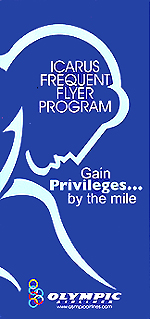 Icarus Frequent Flier scheme

Base level - Icarus card
This is the first card in the Icarus Frequent Flyer Program, which you will receive immediately, irrespective of the number of miles you travel every year. It is called the Join & Fly card, but there are no perks or benefits with this card.
Silver level Icarus card
You will receive this card, if you accumulate 30,000 miles, over a period of 12 months, on Olympic Airlines services.

The main perk of this level is that you get Check-in at the Business Class Olympian Executive class counter irrespective of your class of travel. You can also reserve the seat of your choice in the aircraft, and get priority in loading and baggage collection. For this, you get a special Icarus luggage tag.

You get an additional 5 Kgs baggage allowances for domestic flights, and 10 Kgs for international flights plus one more piece of baggage for Transatlantic flights. You also get free 48 hours parking at Athens Airport
Gold level Icarus card
When you have accrued 60,000 miles over your 12 month membership year, you will be able to enjoy the prestige and comfort of a gold member.

The main perk of this level, over and above the Silver card, is that you get access to the two Olympic CIP lounges, reguardless of the class you travel in. And other than that, you get Free parking at the Long Term car park, for up to 7 days, but to get this you need to ask for special vouchers at the check-in desks.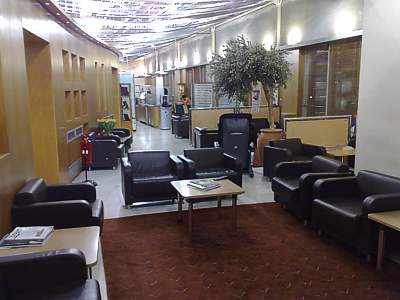 Athens Olympic Airways Aristotle Onassis business class lounge

Olympic Business Class Lounges
Olympic has a grand total of three business class lounges - two at Athens, and one at Thessaloniki. To get into the "Melina Merkouri" and "Aristotle Onassis" lounges you need a Business Class ticket, to be a Golden Card members of Icarus Frequent Flyer scheme, or have a "Priority Pass" card.

There are two lounges at Athens: one is on the Schengen side (the Melina Merkouri, for domestic and short haul flights) and one on the non-Schengen side (the Aristotle Onassis, for US, Canadian, African, and UK flights). Both are identical, although the Melina Merkouri is open 24 hours a day. They are after boarding card checks, but before security checks, so don't wander through the X-ray in the hunt for the lounge.
Athens Aristotle Onassis Business Class Lounge
Non-Schengen, by gate A13.
Open 0400-2230
Access to Business class passengers, and economy passengers with an Icarus Gold card.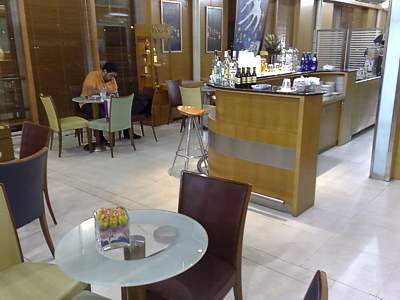 Athens Olympic Airways business class lounge

This is the flagship Olympic Airways lounge, and is a very pleasant place to wait for your flight, with views over one of the runways at the new Athens airport.
There are deep leather Armchairs & strange waist high dividers, a smoking area, a TV in one corner, and a magazine rack with lots of Greek and American papers.
The lounge is names after Onassis, who was the founder of Olympic, and in the lounge there is what only can be described as a shrine to him, with pictures of the man posing by his planes in the 1960s and 70s, beside pictures of doves swooping over a blue background. It's all rather tacky.
There is a pretty decent bar with a couple of bar stools, and there is a Food area with half a dozen trays with sandwiches, and one hot cabinet.
The lounge is next door to the BA lounge: if you have a BA Gold Card, it is usually much better to pop in here using open doors access, and only pop into the Onassis lounge in the last 20 minutes or so.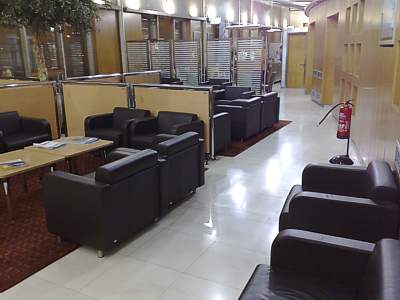 Athens Olympic Airways Melina Merkouri business class lounge

Athens Melina Merkouri Business Class Lounge
Schengen side, by gate B11.
Open 24 hours
Access to Business class passengers, and economy passengers with an Icarus Gold card.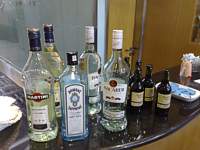 Athens lounge bar



The is the much more workaday lounge for the Olympic Airways shorthaul flights around Europe, and domestic. It is however identical is size to the Aristotle Onassis lounge, despite seeing more traffic. Usefully, it is open 24 hours a day to allow for some of the silly flight times that Olympic has, although between 2am and 5am it is more usually used as a crew rest area. At this time you may almost feel as if you are disturbing the staff and getting in the way of their canteen. There are likely to be a lot of between-shift Olympic employees passed out on the sofas and enjoying the bar at this time, which really says a lot about Olympic, and the state it's in.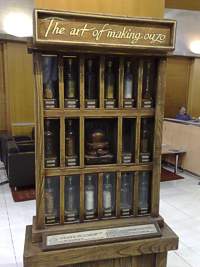 Athens the Oozo demo

As you enter, instead of the shrine to Onassis, you get the rather odd tribute to Oozo, screwed to to the wall. There are very poor views of the runway: if you want to see what's happening outside, you may be better to wander out and squint through the other side of the corridor.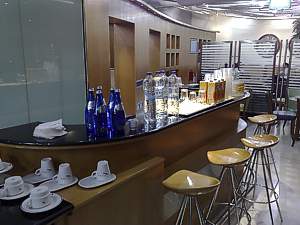 Athens Olympic Airways business class lounge bar

There are leather armchairs & sofas, with strange waist high dividers, a smoking area, a TV in one corner, and a magazine rack with lots of Greek newspapers & magazines. There are now English papers, but some American ones. There are two TVs, normally on very loud to one of the myriad of Greek channels. At the far end, around the false wall to the left, are four beds. Alas, the light here is very bright, so sleeping isn't really an option.
The bar looks like a rather 80s version from a dodgy business hotel, however there are a couple of bar stools if you feel like perching there: much more comfortable tables are next to it. The bar itself is really nothing to write home about. There are cans of Mythos, and mini bottles of white and red. It's the same muck as you get on the plane, but don't think about taking it out of the lounge - the lounge dragon and security are very hot on this.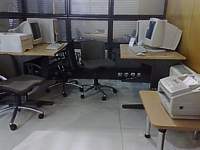 Athens lounge computers

There is a Food area, but it is much poorer than the international side. All you'll get here are some pastries and cakes. Sandwiches (again, idential to those on the flights) make an appearance later in the day.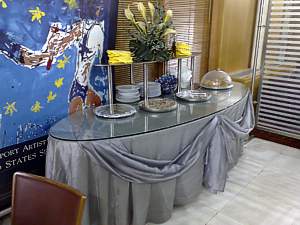 Athens Olympic Airways business class lounge food

At the far end there is a Business Center with four of the oldest computers you are ever likely to see. There is even a dot matrix printer, along with a fax and photocopier. Internet Access is very slow. At the far end, unusually for a short-haul lounge, there are a couple of shower rooms which are actually OK.
London LHR Servisair Lounge
Terminal 2, upper floor, behind pizza express Open 0500-2130
This is an airline contracted lounge, which is used mainly by Olympic, along with Swiss and Aeroflot - although some of the other smaller eastern European airlines also use it from time to time. It is tucked away behind the restaurants on the upper floor of the complete mess that is Terminal 2. It really isn't great.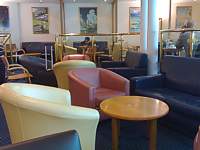 Heathrow Servisair Business lounge - left side

It is split into two sides - from the days when there was a first and business class section. Now there is nothing to stop you from choosing the side you prefer best, although as you enter the left hand side has more comfortable armchairs, while on the right there are stiff dining chairs. There is a flat screen TV with freeview on the right, and a small TV with a DVD player on the left. Both sides have the same bar.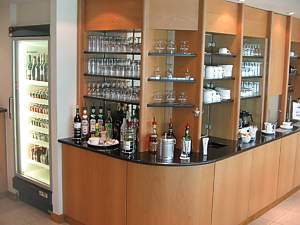 Heathrow Servisair Business lounge

And this lounge is all about the bar. It really puts other lounges to shame. In the fridge you have a rack of 6 different white wines, of most of the common grape denominations - and good ones too. Even a decent Rose. There is a Cava too, but you should ask for the Sparkling Wine. They are more than happy to serve you a glass - it's Piper Heidsieck Brut. Further down you have the beer selection with cans of Fosters, Stella, and J Smiths, then bottles of Becks, 1664, and Castle lager. There are also lots of mini cans of mixers. On the worktop are 10 spirits (with slightly more in the right hand side) and four bottles of red.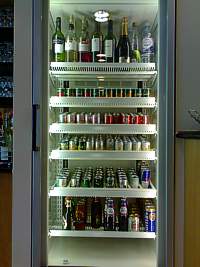 Heathrow Servisair bar fridge



Food is however very poor. There are only some crisps, nuts, and small slices of fruit cake.

Newspapers are equally basic - there are just two racks by the door, and all are marked "for lounge use only". There are 2 internet Computers however they are paid for, with a coin in the slot - and a basic 50p initial charge.
Olympic History
The origins of Olympic Airways was in 1930, when the first predecessor airline was established. The airline was called Icarus but after just a few months went bankrupt and it was taken over by the Greek Company for Air Transport . This was merged into Olympic in 1951 with two other airlines by the state. In July 1956 an agreement was made between the Hellenic State and Greek shipping-magnate Aristotle Onassis to sell the company, and in 1957, Olympic Airways was born.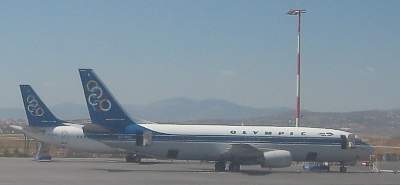 Olympic Airways 737s at Athens

By 1960 it had bought the De Havilland Comet 4B, and linked in codeshares with British airline BEA. In 1965, Olympic placed its first orders for the Boeing 707 jet aircraft, and were used to fly nonstop to New York (JFK), along with Africa in 1968, in 1969 Canada, and the long flight to Australia by 1972: with a lot of Greek ex-pats living in Melbourne, this quickly became a popular route. The airline had a disaster in 1969 when Douglas DC-6 crashed near Athens. All 85 passengers and all 5 crew members perished.
In January 1973 the death of Aristotle Onassis' son, Alexander, in a plane crash came as a shock to the Greek people: a few months later, Onassis sold all of the OA shares to the Greek state and died in 1975. In 1977 in the mid of the oil price shocks, Olympic axed the Australia and Canadian routes. Things had improved by 1984 and the Canada and Australia routes were reopened, using three Boeing 747-200s, which were purchased from Singapore Airlines.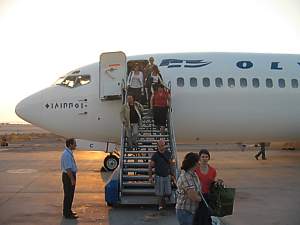 Olympic Airways 737s at Santorini

In 1986 there were a series of strikes at Olympic and losses mounted, partly becuase Greek politicians and their families travelled free on the airline, and other favoured groups like the press got a 97% discount. A nonstop route to Tokyo was launched but soon shut down. In 1989 a Shorts 330 crashed near Samos Airport, killing all 31 passengers.
By 1999, Olympic purchased four Airbus A340 aircraft, to replace the ageing B747-200s, which were scrapped, but this was a risky purchase considering how bad finances were looking. In December 2004, the Greek government tried to privatize Olympic Airlines, calling it Pantheon Airways, but there was no interest due to the huge debts.
In 2006 Olympic was thrown a life line, when the courts ordered Greece to repay them almost 564 million euro owed to the airline from subsidized routes to Greek islands. The cash was used to pay back State aid declared illegal by the European Commission. This covered most of the debts, and since then the airline has stablised it's position.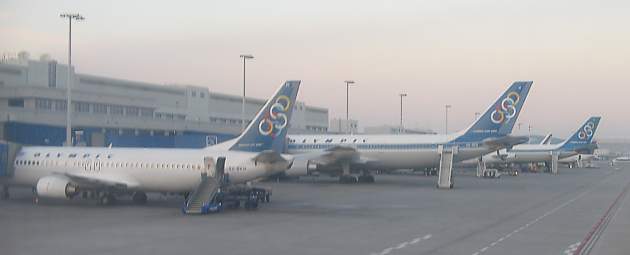 Olympic website
The Olympic website clanks a bit, but does an OKish job.

Main Website: www.olympicairlines.com
UK version: olympicairlines.co.uk
Frequent Flier programme
Meals
Lounges
Entertainment
Olympic A340 seat map.

Note that all reviews and opinions on Olympic (OA) food, service, seats, planes, upgrades, lounges, the Aristotle Onassis Business Class Lounge, and the Frequent Flyer scheme is soley at my judgement. No legal liability is accepted if you take my advice.