Olympic Airlines Drinks
Wine, beer and spirits, are free in business class on all flights (however only beer is carried on domestic flights). Sparkling Wine or juice is also served before take off. In economy wine & beer is free on even the shortest of international flights, but you have to pay (or it is not available) to domestic locations. All wine comes in 187ml bottles.
White Wine

Santo Wines Santorini Chardonnay
From Santorini
Pretty sweet, with the aroma of apricots and peaches. Strong aroma of jasmine, hyacinth and rose. Intense acidity with a long lemony aftertaste. Very good, from the volcanic vineyards of the lsland of Santorini.
11.5%
Red Wine

Cabernet Syrah
From Mykonos
A dull, middle of the road red. Aged for one year in French oak barrels this syrah delivers flavors of vanilla, clove, pepper and spices.
11.5%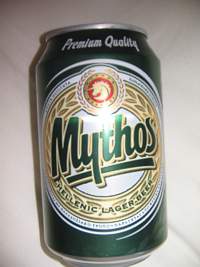 Beer
Beer comes in just one variety - Mythos.

Mythos is a light straw-colored, pilsner style lager. It is available on all flights. It is the usual tame stuff you get on the ground, in a 275ml tin.

The beer was introduced in 1997 in a response to the Greek preference to less sweeter beers than are brewed in Northern Europe. The name Mythos means 'legend' in Greek. The Mythos Brewery is the second largest Greek brewery. Scottish & Newcastle brewery are now the majority shareholders.

Former Latvian Football star Karls Ackasovs was drinking Mythos when he drank 53 cans of lager on an Olympic Airways Sydney to London flight (before the route got the chop), beating the legendary drinking record of Australian cricketer David Boon. This record still stands for the number of beers on a single route with one flight number.
5%.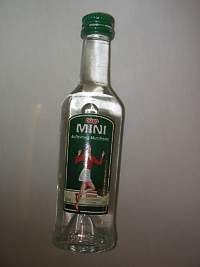 Oozo Mini
Oozo Mini is an anise-flavored liqueur that is widely consumed in Greece. It is available on flights too, and is very popular on the Trans-Atlantic route before dinner.

Oozo is traditionally slowly sipped (usually mixed with water or ice) as an aperitif, served in a shot glass on the first run of the drinks trolley through business class. It is deeply chilled; enough to make some crystals form in the drink as it is served.

When water or ice is added to ouzo, which is clear in color, it turns milky white; this is because anethole, the essential oil of anise, is soluble in alcohol but not in water. Diluting the spirit causes it to separate creating an emulsion, whose fine droplets scatter the light. This process is called louching, and is also found while preparing absinthe.

Beware of the hangover from this - it is beyond brutal, which makes transfering flights in Athens much more painful that it should be.
40%.