Trans-Atlantic or Trans-Pacific all wine, beer and spirits are free in economy. Around North America there is a paid for service, and domestically there is no bar except on some of the longest routes. All wine in economy comes in 187ml bottles.
Business Class Sparkling Wine
Sparkling Wine Piper-Heidsieck Brut
Great Sparkling Wine
A really good Sparkling Wine, its pricey on the ground... so you might as well get the benefits of paying a fortune for your ticket, and enjoy this proper French stuff from Reimes.
The Piper-Heidsieck is only available long-haul.
12%
White Wine
Jardin de la Vigne Elisa Chardonnay 2006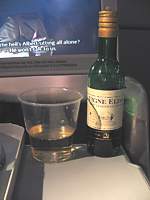 From Bordeaux
From the Jardin de la Vigne, this is pretty sweet, with the aroma of apricots and peaches. Very good.
11.5%
Red Wine
Vigne Elisa Merlot Cabernet 2006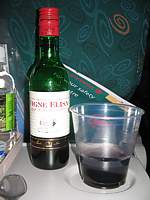 From Bordeaux
This is pretty much like a Claret, and it hasn't travelled very well. As is common with most wines in Bordeaux the quality is highly variable. Dark red and murky, with a very bad aftertaste.
11.5%
Beer
Beer on Air Canada comes in 275ml tins, with two types that are very much a speciality of Canada. If you just ask for a beer you are likely to end up with a Sleeman.
Sleeman Cream Ale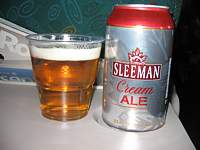 Sleeman Breweries
date back to 1834. The company is currently owned by Japanese brewer Sapporo Breweries, however the beer comes from the Ontario brewer, which has created "craft beers" in Canada since the name was recreated in 1988.
The Sleeman Cream Ale is very light with a huge, vast, head. It is light and refreshing with a straw to pale golden colour. Pour carefully at your seat - the bubbles go everywhere. It is well known for being a beer that rarely gives a hangover - ideal for a long flight.
4%.
Molson Canadian Premium Lager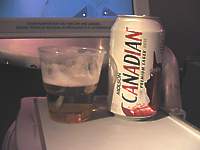 Molson Canada is North America's oldest brewery - Molson operates a micro brewery, at the Air Canada Centre in Toronto, which probably explains why its carried on flights.
This is very much a standard normal lager. In a taste test, noone could tell this difference between this and Carlsberg or Heiniken. Still, it's acceptably drinkable.
5%.