Qatar Airbus A330 seating plan - Airbus A330 Long Haul cabin layout - pictures of every seat & colour interactive Qatar Airbus A330-200 seating plan. Qatar A330 seat plan and review of best seats in economy and business class.

Seat map: Qatar Airbus A330 seat plan
This seat map is for the Airbus A330-200 as flown by Qatar. The QR 332 is new, comfortable, and modern, but not as large as Qatar's Boeing 777. The QR 332 24J/236Y is much more common (9 planes) than it's very similar sister, the QR 332 24J 248Y which has one less row of seats (2 planes).
Nine Qatar Airbus A330-200 are in the fleet configured 24J/236Y
This version of the Qatar A330 seat plan has two classes, and these Qatar Airbus A330-200 have a small Business Class cabin with flat beds, and a much larger economy cabin.

The Qatar Airbus A330 seating plan has a good modern Economy Class, with decent modern seats, and a large flatscreen seatback TV.

A good feature of Qatar is that the bathrooms are in the four corners of the economy cabin, rather than in the middle block by door 3 as with most A330s.
►Hover mousepointer over any seat for Qatar Airbus A330-200 seat pictures, and a Qatar Airbus A330 seat review.

Food: Qatar Airlines have a great reputation for inflight food, and serve complementary drinks (Free beer, wine and spirits).
Details: food wine & beer»
Entertainment:
Seatback TVs in all classes on Qatar A330, with E-Box AVOD (start,stop,pause) showing 100 films & 180 TV programmes.
Details: IFE, films»
Lounges: Qatar Airlines have Lounges which are open to First & Business Class passengers.
These lounges have free food and drink with a complementary bar.
Lounge Details...»
Lounge Locations:
Doha
London LHR
... more

Seat prebooking: You can book your seat on Qatar Airbus A330 before the flight.
Online Checkin: Qatar Airlines have full online check-in from 24 hours before the flight.
Qatar Airbus A330-200
overall rating:

in total

260 seats with 423 photos

.
There are eleven Airbus A330-200 in Qatar fleet, with 9 in this 24J236Y layout. This Qatar A330-200 seat plan applies to registrations A7-ACG, A7-ACH, A7-ACI, A7-ACK, A7-ACL, A7-ACM, A7-AFL, A7-AFM, A7-AFP.
A Qatar Airbus A330 economy class review shows the best seats are normally regarded as 10A & 10K, however they are blighted by lightspill from the bathrooms, and the door slide infront. Many couples prefer the seats 28A and 28K, which have plenty of room - but not such a great view out of the window.
Qatar A330: Qatar fly the Airbus A330-200 on routes including from Doha to Berlin, Frankfurt, Kuala Lumpur, Manchester, Rome, Stockholm and Istanbul.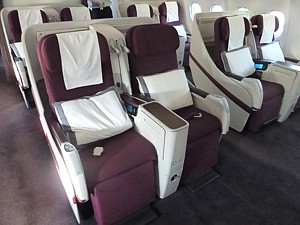 Qatar Airbus A330 Business Class seat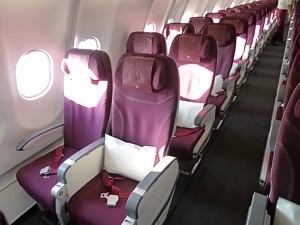 Qatar Airbus A330 Economy Class bulkhead seat