Finnair A350 seat map - AY 350 - Airbus A350 Long Haul cabin layout - pictures of every seat & colour interactive Finnair Airbus A350-900 seating plan. Finnair A350 seating plan and review of best seats in economy and business class.

Seat plan: Finnair A350 seat map
This seat map is for the Airbus A350-900 XWB as flown by Finnair. The AY 350 is new, comfortable, and one of the most modern aircraft flying. The AY350 (46J 43P 208Y) is used on Asian, and occasionally UK routes.
The Finnair Airbus A350-900 seat plan has two classes in one of the most technologically advanced jetliners flying, with larger than normal windows providing panoramic views, and large luggage bins.

Business Class is divided into a main and a much smaller mini cabin. All have flat beds, but there is more noise in the larger front cabin.

The Finnair A350 seating plan has a good modern Economy Class, with decent modern seats, and a large HD seatback TV.

Finnair does not have Premium Economy, but instead offers Economy Comfort with four extra inches of legroom and more amenities for an extra €50.
►Hover mousepointer over any seat for Finnair Airbus A350-900 seat pictures, and a Finnair Airbus A350 seat review.

Food: Finnair Airlines have an OK reputation for inflight food, with a complementary bar on Asia flights (Free beer & wine).
Details: food wine & beer»
Entertainment:
Seatback TVs in all classes on Finnair A350, with AVOD (start,stop,pause) and wifi access (free in Business).
Details: IFE, films»
Seat prebooking: You can book your seat on Finnair Airbus A350 before the flight.
Online Checkin: Finnair Airlines have full online check-in from 24 hours before the flight.
Finnair Airbus A350-900
overall rating:

in total

297 seats with 423 photos

.
There will be nineteen Airbus A350-900 in Finnair fleet eventually in this 46J43P208Y layout, called the AY 35G. This Finnair A350-900 seat plan applies to registrations OH-LWA, OH-LWB, OH-LWC, OH-LWD, OH-LWE, OH-LWF, etc.
A Finnair Airbus A350 economy class review shows the best seats are normally regarded as 42A & 42K, however they are blighted by lightspill from the bathrooms, and the door slide infront. Many couples prefer the seats 21A and 21K, which have plenty of room - but not such a great view out of the window.
Finnair A350: Finnair fly the Airbus A350-900 on routes including from Helsinki to Hong Kong, Bangkok, Beijing, Shanghai, Seoul, Singapore, and once a day weekdays to London Heathrow.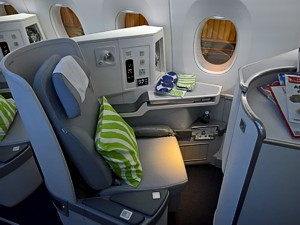 Finnair Airbus A350 Business Class seat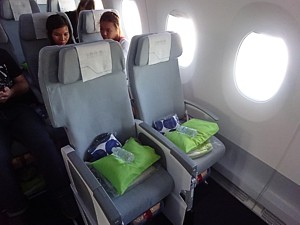 Finnair Airbus A350 Economy Comfort Class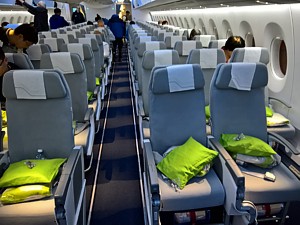 Finnair Airbus A350 Economy Class emergency exit seat