Just over half of Virgin's flights leave London from London Heathrow, with the remainder leaving from London Gatwick. There are also daily services from Manchester International Airport to Orlando, and weekly services to Bridgetown and St Lucia.
Airline schedules change regularly
This information is intended as a guide, but for up to the minute timetables, please consult Virgin Atlantic at www.virginatlantic.com.
Virgin Atlantic's main base is at London Heathrow Airport (or LHR).
From Heathrow there is a good route network to the US. Virgin Atlantic fly six times a day to New York at 0930, 1400, 1600 (to both JFK and Newark), 1800, and 2030 (to Newark). Los Angeles gets flights at 1130 and 1500. There is just one flight a day to San Francisco at 1100, along with Boston at 1430, and Miami at 1115.
There are a couple of flights to India - these are some of Virgin's shortest flights. There is Delhi at 2100, and Bombay daily at 2100.
Down in Africa, Johannesburg has a daily flight at 2005, while Cape Town only has flights on a Friday and Sunday at 1700.
There are flights once a day to Lagos at 2200, Shanghai at 1430, and Tokyo at 1300. There are also codeshares to Singapore on Singapore airlines.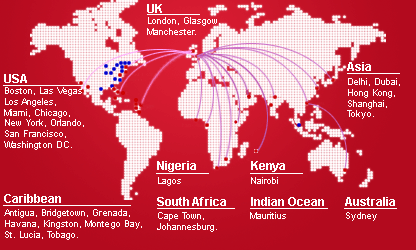 One of the most interesting routes, and one which introduced the Kangaroo route to Australia, is Hong Kong. It gets a flight at 1920, which carries on to Sydney arriving at 0710 the next day. Virgin Atlantic always had high hopes for it's "Sydney Extension" however loads on this flight have always been pretty light past Hong Kong, and Virgin have abandoned plans to build a clubhouse in Sydney. Never the less, Richard Branson spends a lot of time in Sydney (in the Australian Hotel in the Rocks, and of all places the Holiday Inn in Potts Point) and has long held out hopes for the Australian branch line, which links to Virgin Blue flights around Australia, plus of course the Virgin Australia flights over the Pacific.
From Gatwick there are flights twice a day to Orlando at 1115 and 1230 (plus a third flight on 1300). ...body...
Airline schedules change regularly
This information is intended as a guide, but for up to the minute timetables, please consult Virgin Atlantic at www.Virgin Atlantic.com